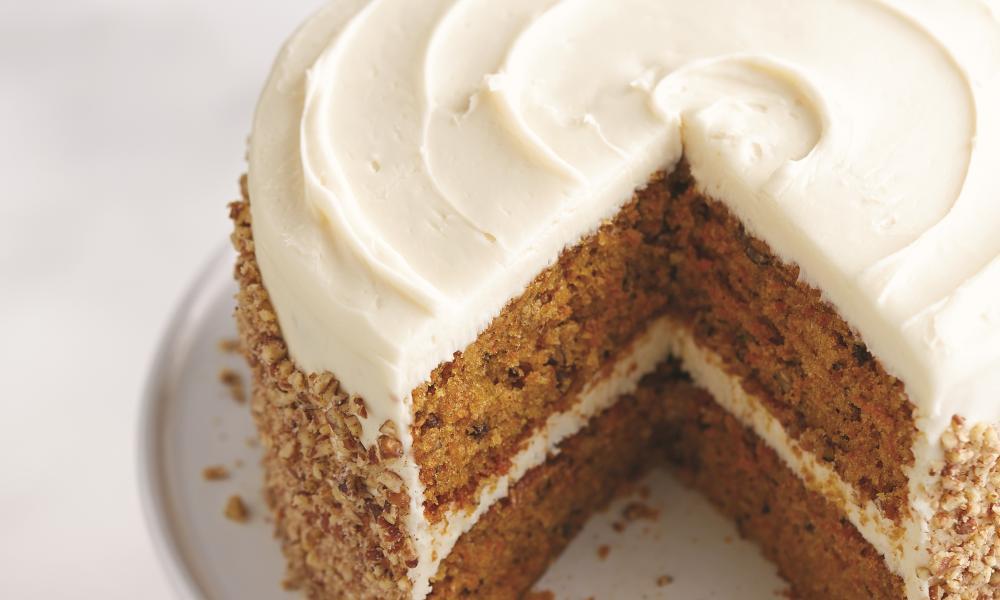 ---
Piece of Cake
"Vegetables are a must on a diet. I suggest carrot cake, zucchini bread, and pumpkin pie." – Jim Davis, 'Garfield'
The creator of the cynical, yet beloved, orange cartoon cat, Garfield, had a humorous way of proclaiming the fictional character's passion for comfort food. While his favorite was lasagna, Garfield loved just about any type of food he could get his paws on. But all humor is grounded in some bit of reality, and it is because we can relate to the impossible desire of getting healthy vegetables in the sweet form of desserts that we laugh with Jim Davis' cartoon.
But there is something to be said about our human nature that wants to "have our cake and eat it too." I'm reminded of a recent Lent when my husband "abstained" by eating king crab legs. Hmmm … not quite the sacrifice we should be enduring for Lenten penance. Like Garfield, my husband was trying to get the healthy benefits of the Lenten fast in a tasty and gratifying form.
And yet, in other ways, our Lord does ask us to blend the "sweet" with the "sour" in our lives. At times, our faith calls on us to find pleasure amidst the hardships and sacrifices of life. We are not supposed to bring attention to the challenge of our fasting and almsgiving, but to offer it joyfully, and to be happy amidst our own sacrifice.
And even in their persecution, anguish and death, the saints model for us joyful acceptance of their fates, so long as they were endured in his name and for his glory. In truth, what is spiritually good for us can in worldly ways seem less sweet, but also be a source of inner joy, comfort and peace.
I think of this often, especially in this month of May, which is of course dedicated to our Lady. The Blessed Mother's life was by so many accounts painful: the potentially scandalous pregnancy, the harrowing and frightful flight to Egypt, and the torturous execution of her beloved, innocent son. So much pain and sacrifice. But amidst all that, she is pure peace and joy and for us all, a source of hope and love!
I understand that this juxtaposition, which works in our spiritual lives, does not translate to food. There isn't really a "healthy" form of carrot cake as Garfield suggests. And for many of us, vegetables in their healthy form are a form of sacrifice. But whether you are going to eat a healthy carrot stick or a Garfield-sized slice of carrot cake, it's good to ponder the sweetness and joy that comes from the discipline and sacrifice of a true Christian life.
The following recipe is a favorite that has brought sweetness and joy to many of our family gatherings. As we approach Mother's Day and continue to celebrate the Easter season, may it bring the same to yours!
---
Super Delicious Carrot Cake
1 ½ cups vegetable oil
4 eggs
1 cup white sugar
1 cup brown sugar
2 cups all-purpose flour
1 ½ teaspoons baking powder
1 teaspoon baking soda
1 teaspoon salt
2 teaspoons cinnamon
3 cups finely grated fresh carrots
1 cup chopped pecans or walnuts (plus more for garnish)
Cream Cheese Frosting
1 8-ounce package of cream cheese (softened/room temp)
1 stick butter (softened/room temp)
4 cups powdered sugar
1 teaspoon vanilla
¼ teaspoon salt
DIRECTIONS
Preheat oven to 350°. Grease and flour two round pans and set aside.
In a large mixing bowl cream together the vegetable oil, eggs and sugars (brown and white).
In a separate bowl, combine flour, baking powder, baking soda, salt and cinnamon. Add to wet ingredients and beat until combined (do not overmix). Fold in the grated carrots and pecans/walnuts until incorporated. Add to prepared pans and bake for 30-35 minutes or until toothpick comes out clean.
While cakes are cooling, make the frosting. Combine all frosting ingredients and blend until smooth. When the cake is completely cooled, place one cake, domed side down, on a platter. Spread 1/3 of the frosting evenly over top. Place the other cake domed side up, on top. Spread top and sides with remaining frosting. Garnish with pecans or walnuts.