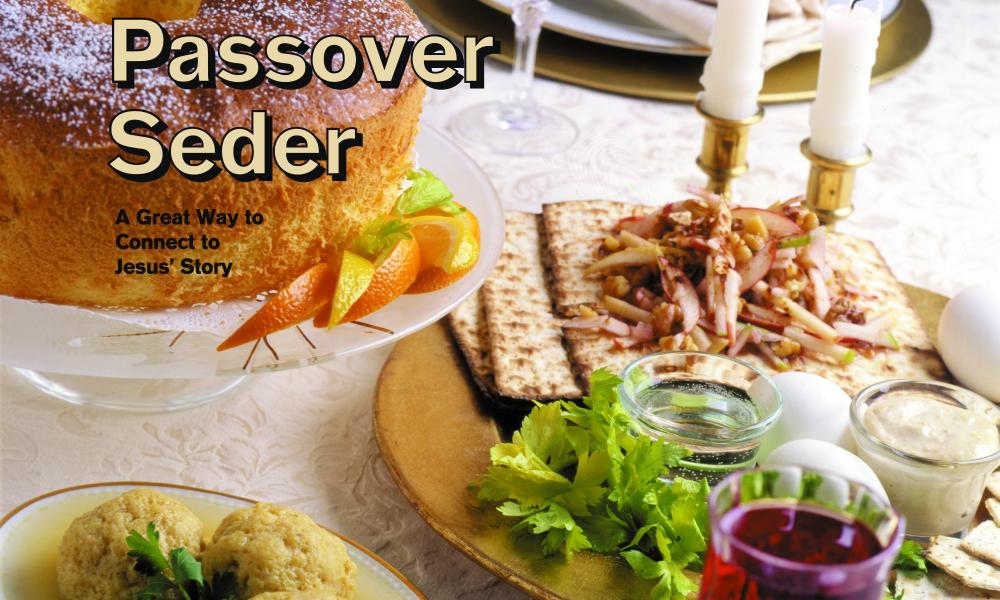 ---
Passover seder – a great way to connect to Jesus' story
Celebrating a seder meal can really bring our Catholic celebration of the Eucharist into focus. After all, this was the meal that Jesus celebrated with His disciples on Holy Thursday. As we recite the blessings over the matzoh and the wine, we echo the words we hear during the consecration at Mass. So this is what Jesus was doing when He said those words, we realize.   
The word "seder" means "order," and refers to the order in which the Passover meal is presented. The traditional foods, the retelling of the Exodus story, the actions, the prayers, even the songs and games connected with Passover are bursting with meaning.
The seder is a celebration of freedom from slavery, so the dining room and meal reflect the luxurious life of a free people. Use your best china, silver, and table linens. Your main course could be a beef brisket, turkey, or roast chicken. But the centerpiece of the table will be the seder plate with items that represent the Passover story. These include:
Matzoh – Because the Israelites left Egypt in such haste, they did not have time for their bread dough to rise. Unleavened bread, or matzoh, reminds us of this.  (Eucharistic bread is also unleavened.)
Roasted lamb bone – symbolizes the lamb that was sacrificed on the eve of the Exodus. Today, many families substitute a chicken or turkey neck for the lamb.
Roasted or hard-boiled egg – symbolizes the cycle of life, and renewal.
Bitter herbs – fresh horseradish, symbolizes the bitterness of slavery.
Greens – usually fresh parsley or celery tops, represent re-birth and spring.
Salt water – symbolizes the tears of the Hebrew slaves.
Charoset – represents the mortar the Hebrew salves used to make bricks for the Pharoah. The sweetness represents freedom.
It's not that difficult to put together your own family seder. The directions for the Passover seder are found in a haggadah, a booklet that includes all the parts and prayers of the seder. There are more than 2,700 different haggadahs, from very simple illustrated versions for children to elaborate presentations with annotated commentaries from rabbinical leaders. There are even books for Christian seders available at religious bookstores. And the Internet is a treasure-trove of Passover recipes, history, and stories.
---
Easy Matzoh Balls
2 T oil
2 eggs, slightly beaten
1/2 cup matzah meal
1 tsp. salt
1 T water or chicken soup
Mix oil and eggs together in a bowl. Add matzah meal and salt. Mix well. Add water and mix again. Cover with plastic wrap and refrigerate for half hour. Fill a large pot half full with water and bring to a boil. Wet your hands and take about a tablespoon of the mixture and roll into a ball. Repeat until all mixture has been formed into balls. Drop into boiling water. Reduce heat to a slow boil. Cook covered for 30-40 minutes. Remove from water and serve with chicken soup.
---
Charoset
1 1/2 cups shredded apples
1/2 cup finely chopped
walnuts
2-3 T honey
1/2 tsp. cinnamon
2 T Kosher red wine
1-inch piece of fresh ginger, grated
Mix all of the above together. Chill. Charoset is eaten at a specific time during the seder. It tastes great on matzoh. Other versions of charoset have apples, raisins, dates, almonds, and pecans mixed together with wine and spices.
---
Orange Sponge Cake
Rich and sweet foods are an important part of the seder.
1/3 cup Passover cake meal
1/2 cup potato starch
Pinch of salt
10 eggs, separated
1 cup granulated sugar
Juice of one lemon
Drop of vanilla extract
Rind of one orange, grated
Preheat oven to 350°. Into a bowl, sift together 3 times: cake meal, potato starch, and salt. Beat egg yolks until thick.  Add 1/2 cup of the sugar, lemon juice, vanilla, and orange rind. Continue beating until foamy. Fold in dry ingredients.
In a separate bowl, beat egg whites. Gradually add the remaining 1/2 cup of sugar and continue beating until stiff peaks form. Using a spatula, fold egg yolk mixture into egg white mixture. Pour into a lightly greased 9-inch springform tube pan. Bake 45-50 minutes or until a toothpick inserted in the center comes out clean. Turn pan upside down and cool. Serve the sponge cake with a fresh raspberry sauce.