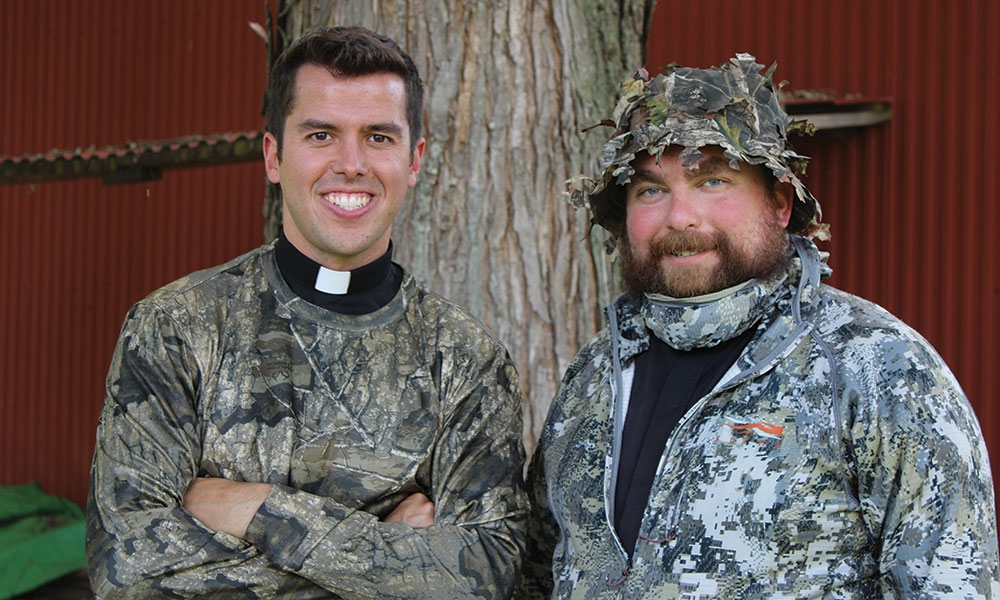 ---
Participants in God's Creation
This month, Michiganders welcome the return of deer hunting season. While ultimately a means of harvesting and providing food, hunting also allows camaraderie, solitude and immersion in nature as hunters retreat to their stands and blinds. 
Father Dan Westermann and Father Paul Erickson, pictured above, are two of many priests in the Diocese of Lansing who look forward to November for the challenges and rewards that hunting brings.
"I think one of the misunderstandings about hunting is that there's a hatred for the animal when, in reality, there's a great reverence and appreciation for it," Father Dan points out. "That has grown in me — it's not just dominating creation; it's participating in it." 
Having had some experience of hunting with family friends as a child, Father Dan only returned to it "with the encouragement of Father Todd, Father Gary and some others about seven years ago now. When I got back out there, I remembered some of those rules: you shoot it, you eat it. It is never mindless killing. As a kid, we'd hunt squirrels — they didn't taste good, but if you killed it, you ate it. So I learned a great respect for the animal and the process. The purpose of harvesting is feeding people."
Grateful for the silent time in nature as a break from his busy life as a pastor, Father Dan encouraged other friends to hunt. 
"He kept bugging me to go!" Father Paul remembers. "I grew up in a more rural place, so I knew people who hunted, but it had never been an interest of mine." 
It was a line in a TV show that made Father Paul reconsider. "In 'Parks and Recreation,' Ron Swanson said, 'Not enough people in this world have looked their dinner in the eye and considered the circle of life.' I realized that was me! I wondered if I had what it took to go from 'there's a thing that lives in the woods' to 'there's a meal on my table.' I wondered if I could do that myself. So I went out with Father Dan."
In nature, Father Paul found a confirmation of God's order and design and a greater reverence for creation. "I don't want an ounce of my venison to go to waste, because I understand the process. I respect it more because the life cycle means something to me. 
"I am grateful for that deer's life and death and my sustenance and connection to creation. It's an exciting experience. You can tell the Lord ordains it — he gives us dominion over it all, which you see firsthand when you take part in harvesting your food."
Dominion, Father Paul explains, is a gift to be used according to its proper order. "We are superior to the animals, but it's not disordered. As a human being, you fit in creation — you have an important role to play. I was always of the mind that I didn't know if I could pull the trigger, and I sat there the first time, not sure if I could." 
"And," Father Dan adds, "if you lived 100 years ago and your answer was no, you didn't survive. It's our role and the most natural way to bring food to our tables. I'm grateful for my brother-in-law Joe because we do all of the processing ourselves. Regarding farm to table, non-GMO is as good as it gets because we see this through the entire process."
"Without Father Dan and his brother-in-law," Father Paul considers, "I couldn't have answered the question I had for myself. I needed help to do what I wanted to do, I wanted to be a part of every step." 
Being part of every step not only brings a greater appreciation for the food an animal provides but it also reinforces gratitude for God's design and order. 
"There's an excitement to creation!" Father Dan says and, rather than a conflict between hunting and faith, there is a connection between the two. "Hunting provides a reason to get into the woods and be as we were created. You can't do anything else, there's no checking your phone or talking. It requires 100 percent dedication to doing nothing. You must be still. I'm not a big morning person, but being out early and taking it all in feels good. I've had beautiful prayer times out there." 
As for the result? "The animal achieves its highest end, and the person is immersed in awe and wonder. In a broad sense, hunting is about the majesty of God's creation."