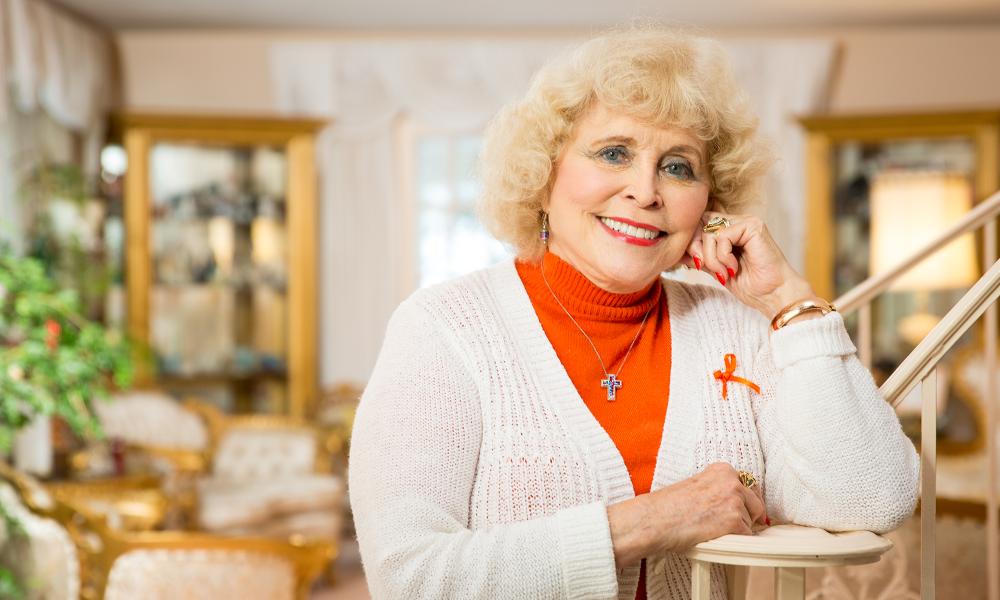 ---
'Overwhelmed by the value' of her Catholic education
Trudy's convictions never waver
Stepping into Trudy Ritter's Ann Arbor home is stepping into history.
Born in 1929 in Reading, Pa., Trudy has seen the white smoke of eight newly elected popes, and lived through World War II, the Civil Rights Movement, 9/11, the first African-American president and more.
Through it all, she has remained devoted to the Catholic Church, its faith and its education.
"My parents loved the Lord and they passed that on to me and my sister. My husband, Frank, and I passed that on to our eight children and 17 grandchildren," Trudy says.
Trudy attended Catholic grade school, high school and nursing school despite the financial strain it placed on her parents – her father lost his job as a newspaper reporter when she was in elementary school and passed suddenly, of a heart attack, when she was in ninth grade.
Trudy's mother took on second jobs to pay for her daughter's education, and Trudy absorbed those values of hard work at a young age.
She also absorbed her parents' commitment to Catholic education, and sent all eight of her children through Catholic schools.
Trudy's Catholic education, with its commitment to teaching right from wrong and morality, was one of the motivating factors in her lifelong commitment to civil rights.
"In third grade, a friend joined the Maryknoll missionaries and was sent to China; back then, the newborn females were thrown into the rice paddies, and our nuns needed funds to care for these babies, so they established a campaign called 'Ransom the Pagan Babies,'" says Trudy, a natural storyteller.
"I was only 9 and asked neighbors if I could scrub their floors for 25 cents. I was determined to raise the most money, because the nuns would name these pagan babies after you.
"I have always thought, 'There must be some Chinese women in their 70s wandering around wondering how they came to be known as Gertrude.'"
Decade by decade, she weaves through her life, regaling with memories of her husband and their budding romance at St. Louis University in the 1950s; accounts of Joseph Cardinal Ritter (her husband's uncle), who became a prominent desegregationist, first in Indianapolis and then in St. Louis; her opportunity to attend Masses in Vatican City presided over by Pope St. John Paul II and Pope Francis; chronicles of her responsibilities at St. Thomas Catholic School and Father Gabriel Richard in Ann Arbor; and work with many other charitable organizations.
The time spent in her kitchen feels less like an interview and more like a fireside chat, relaxing over a cup of hot cocoa as Trudy fills in the pages of a history book with the perspective of a woman who, with her family and buoyed by her faith, thrived through the ups and downs of the 20th and early 21st centuries.
Her hero is Cardinal Ritter, a man who faced down hate – and death threats – to truly preach the Golden Rule.
"He was being sued by a group that didn't want to see Catholic institutions desegregated, but the cardinal got wind of this and sent out an edict that said if you don't treat everyone the way you want to be treated, you will be excommunicated," Trudy says, delighting in the conviction of her uncle-in-law.
"One night, in a big auditorium, these people came together and the very first speaker was a lawyer and he said, 'I'm not going to pursue this legal action. You do what you want to do, but I will not lose my faith.' He got off the stage and no one said a thing. And that was that.
"That's what we need more of today. God is constantly calling us to be his voice in this world. Why are we shunning that responsibility? Of whom are we afraid?"
All her life, Trudy has been conscious of heeding God's call – even directly, sitting down to pen a prayer for the martyred men and women defending the Christian faith domestically and, especially, abroad.
"I had never done any writing, but something made me sit down and write it," she said, adopting an orange ribbon as a symbol for the martyrs. "After I was done, I had no recollection of why I had sat down. I attribute the prayer to the Holy Spirit. He called to me and I listened."
Trudy has been listening all her life, and hopes today's children are listening also.
"I am so overwhelmed by the value of my Catholic education and I think it's even more important today than when I was growing up, because there is so much hate and disrespect in our society," she says.
"When you attend a Catholic school, you learn to respect authority, you learn morals, you learn to adore the Lord and you're provided the tools to hear him calling for you."
Learn More
To inquire about Catholic schools in your area, visit dolcatholicschools.com and Witness the Difference.