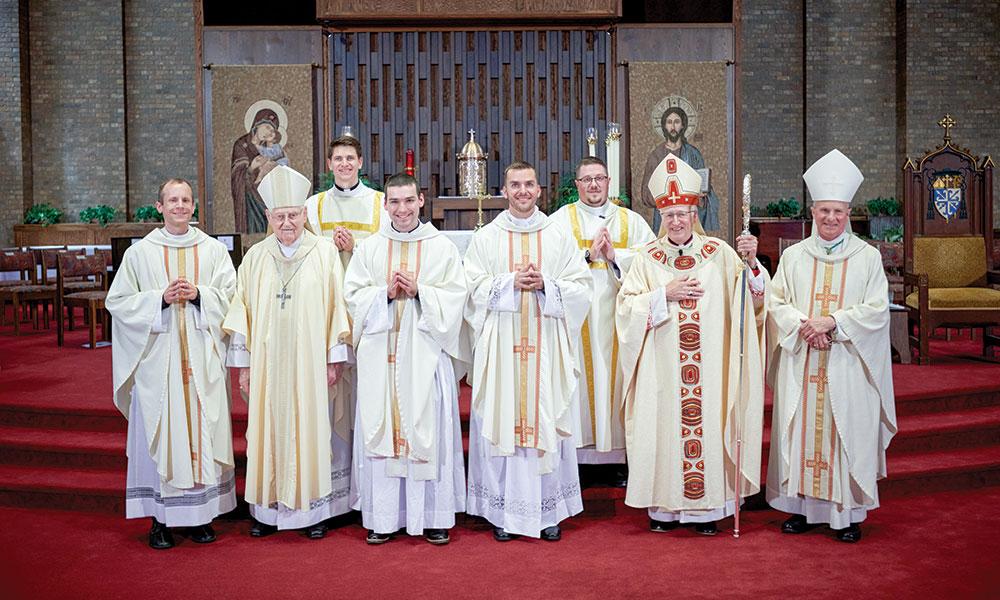 ---
Ordination 2022
The Diocese of Lansing was blessed with two new priests and two new transitional deacons on June 11. Bishop Earl Boyea ordained Tyler Arens and Peter Ludwig to the priesthood and Corey Bilodeau and Seamus Kettner to the transitional diaconate at St. Thomas Aquinas Parish in East Lansing. In the following pages, meet our newest priests for the Diocese of Lansing and enjoy photos of their ordination.
---
Father Tyler Arens was raised attending St. Mary Parish in Westphalia. He is assigned to St. Mary Star of the Sea, Jackson.
What message would you pass along to those who want to serve God, but do not know how?
It's not just priests, deacons or religious sisters who are called to holiness. Every one of us is called to holiness in our unique state of life. And our vocation is the unique way we are called to love. We all have a vocation to love. That is, to love Christ so much that we do whatever we can to become more holy, and then love others so much that we do whatever we can to bring Christ to the world.
What has seminarian life been like for you?
This time of priestly formation has really been a privileged time. An unmistakable blessing has been the friendships and brotherhood that I've formed. Some of my closest friends have been brothers here at Sacred Heart. So many of the highlights and memories made here are filled with joy because of that brotherhood. One of these highlights for me was the month-long pilgrimage to the Holy Land, an extraordinary opportunity to experience firsthand the places Christ walked and taught, suffered and died, while seeking his guidance in our walk toward priesthood.
What advice do you have for discerning a vocation?
First, keep doing whatever you're doing well and for the glory of the Lord, whether it's professional work, school, family relationships, etc. Remain faithful to daily prayer. Focus first on falling in deeper love with Christ and his Bride, the Church, especially with the help of Our Lady, Mother of the Church. Discernment happens in relationship with Christ, and relationship grows by often small and continual steps. Even when it's not "noticeable" to oneself, God is still working. The priest makes Christ's priesthood present, so a man discerning priesthood, especially diocesan, should continually ask himself, "Am I drawn to being Christ in the midst of his flock?" If God is calling a man to a priestly vocation he will be forming in them Christ's own priestly identity, and they'll notice it, and the people of God will. It'll be observable through his way of life.
To be in seminary is an awesome gift, an opportunity to grow in love for Christ and deeper trust. I'm convinced, if the man gives himself wholeheartedly to the program of formation, God will make it clear to him at his chosen time whether he is calling the man to be a priest.
---
Father Peter Ludwig was raised attending St. Peter Parish in Eaton Rapids. He is assigned to St. Thomas Aquinas Parish and St. John Church and Student Center, East Lansing.
What led you to answer God's call to become a priest?
Peace and joy. Put very simply, I was much happier living for God rather than living for myself. When God put it on my heart to become a priest, I had some obvious reasons for hesitation, but I had recently found true joy and peace in renewing my pursuit of the Lord. I would have been a fool to say "no."
What advice do you have for discerning a vocation?
Take the next right step and persevere. Following Jesus is not always easy. In my own life, graced moments of clarity are often followed by periods of temptation and spiritual dryness. When the clarity comes, I am called to take the next right step. When I am experiencing temptations, especially discouragement or anxiety, I am called to persevere in the last right step I took. Sometimes, it's hard to see what that next right step should be, and that is a time to wait for the Lord in prayer.
What message would you pass along to those who want to serve God, but do not know how?
I would refer them to John 15, where Jesus talks about the vine and the branches. No saint receives a list of instructions from heaven. Saints become saints and bear much fruit because they keep their hearts firmly rooted in Jesus Christ. "What am I supposed to do with the rest of my life?" The answer to that question begins with cultivating our relationship with Jesus Christ. Just as the question is lifelong, so is the answer. The next right step in our lives should always involve steady communication with the Vine. The image of the Vine and the branches comes right between peace (Jn 14:27) and joy (Jn 15:11). Even if the Lord asks something difficult, he promises peace and joy to those who abide in him.
Who influenced your decision to become a priest?
First and foremost, Jesus. A vocation is God's call. Nevertheless, God used many people to speak his call into my life. I was blessed to grow up in a practicing Catholic family and a zealous charismatic community, both of which encouraged vocational discernment. Many of our faithful priests here in Lansing helped me answer this call simply by their kindness, reverence and generosity. I am very grateful to have so many good role models.
---
On the path to priestly ordination: Transitional deacons
Deacons Corey and Seamus will be ordained to the priesthood on June 10, 2023 at St. Mary Cathedral in Lansing.
Deacon Corey Bilodeau was raised attending Immaculate Heart of Mary Parish in Lansing. He graduated from Hope College with a B.A. in religion with a youth ministry minor. He currently attends Sacred Heart Major Seminary in Detroit and is in his third year of theology. After his ordination in June, he will be assigned to St. Mary Magdalen in Brighton to help out on the weekends during the school year.
Deacon Seamus Kettner's home parish is Sts. Charles and Helena in Clio. He grew up in Pinckney and attended St. Mary's School through eighth grade. He graduated from Detroit Catholic Central High School in 2011. He actively began to discern the priesthood after graduating from college in 2015. His diaconal assignment will be at St. Joe's in Howell, and  he is overjoyed at this opportunity.