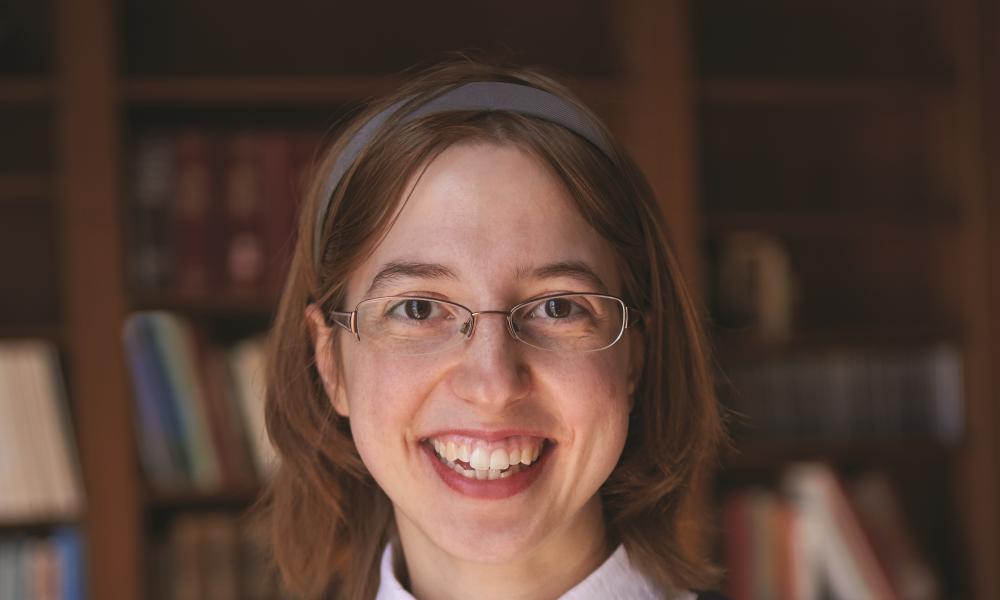 ---
One Day in the convent, Celeste's life as a postulant
Celeste Warrell, 25, planned for a life as a biochemistry professor, a career that would fit in nicely with her dream of being a wife and mother. But listening to God's call, she realized he had other plans.
I was a graduate student with a great lab and a great professor, and I was praying for a Catholic husband," says Celeste. "But I just kept having this thought that I was meant to be Jesus'."
Through high school and college, Celeste thought she had discerned she was not meant for a religious vocation. After attending retreats at the Sisters of St. Francis of Perpetual Adoration convent, just outside her hometown of South Bend, Ind., Celeste determined that the life of a religious sister was not for her, and instead, chose to attend graduate school to continue studying biochemistry. She moved to East Lansing in 2011 to pursue a doctorate at Michigan State University, and her goal was to teach at a college or university.
Although she had landed a spot in her preferred lab, with the professor for whom she had hoped, something was missing. "When, in the depths of your soul, down to your bone marrow, something still feels like it is missing, even though you have everything you thought you wanted, that's when you have to let go and give control to God," Celeste says.
"I was scared and excited," she adds. "I was putting myself in God's hand to let him bulldoze the way, because it felt like there were mountains to move."
When Celeste decided to revisit the idea of a religious vocation and pursue the discernment process again, she contacted Dawn Hausmann at the Emmaus House in East Lansing.
"As I went through the whole process again, Dawn (Director of Consecrated Vocations), Father John Linden and the Emmaus House community gave me great support," Celeste says. "On Saturdays, I would go to brunch and Mass at the House and just spend time with people who were very supportive of my discernment process."
After visiting one other order, the Dominican Sisters of Mary, Mother of the Eucharist, in Ann Arbor, Celeste revisited the Sisters of St. Francis of Perpetual Adoration and realized it was there that she felt most at home. "I was attracted to the Franciscan life because of the simplicity, but it was really a bunch of things coming together," she says. "I asked the sisters in the community, 'How do you know when it's right?' They all told me that when God called, I would understand – when I was at (St. Francis of Perpetual Adoration), I finally got what they were talking about."
Celeste was accepted to the Sisters of St. Francis of Perpetual Adoration, and entered the community as a postulant on Sept. 1, 2013.
---
A Typical Day for a Postulant of the Sisters of St. Francis of Perpetual Adoration
4:30 a.m. Every weekday, the postulants and novices wake up early to prepare for Morning Prayer, Mass and adoration of the Eucharist.
5:30 a.m. The postulants, novices and the professed spend two hours in community prayer, including the Liturgy of the Hours, silent meditation and Mass
7:00 a.m. The postulants move to the perpetual adoration chapel to pray a rosary together. The time in adoration "is the best time of the day," Celeste says.
7:30 a.m. The postulants eat breakfast before work duties.
8:00 a.m. Work. "Novices' and postulants' main work is domestic, which means lots of cleaning. And, as a family, we have chores to do," Celeste says. "The first three years in our formation are contemplative and focused on prayer.
10:00 a.m. Classes and choir practice.
Noon. Lunch, which serves as the main meal of the day.
12:45 p.m. Classes on topics such as spiritual theology or the life of St. Francis.
2:30 p.m. After class, Celeste and the other postulants have an hour of free time to take a nap, practice their hobbies or write letters, which is the main means of communication with family and friends.
3:30 p.m. The postulants and novices clean the main complex, which houses about 40 professed sisters, in addition to the smaller house next door where they live.
4:30 p.m. The community gathers again for another half-hour of quiet meditation, focused on a slow reading of the Gospel or other spiritual readings.
5:00 p.m. The community prays the rosary together before the Liturgy of the Hours and Benediction.
6:00 p.m. The postulants eat a small supper followed by another half-hour of recreation time.
7:00 p.m. The community gathers again for night prayers before the end of the day.
9:30 p.m. Bedtime. Because the Eucharist is always exposed in the adoration chapel, two professed sisters, novices or postulants sign up to pray in the chapel for one-hour shifts throughout the night.