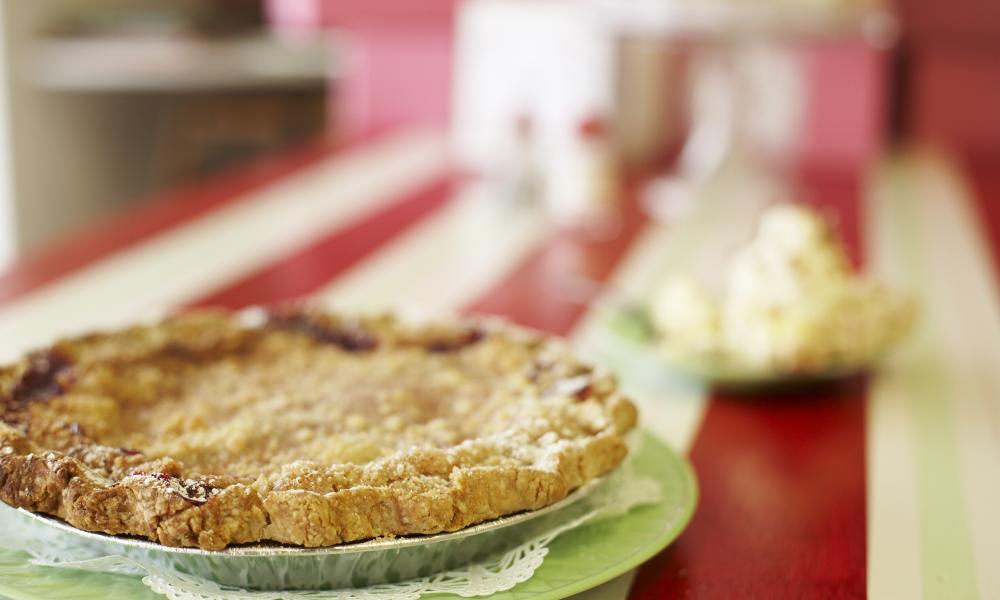 ---
Give Thanks for Pie
Give thanks for pie; sometimes, a single pastry can bring generations together.
During the 1910s, a young wife in South Dakota thought she'd save money on the cost of a fancy, printed cookbook by making up a volume of her own. Using an old, hardcover medical book as a base, she painstakingly glued to its pages her favorite recipes, housekeeping tips—"how to close cracks in iron stoves," read one—and medical advice—"remedy for ivy poisoning"—clipped from newspapers and magazines of the day.
The woman, Mary Bogardus Chartier, was my husband's grandmother. And her homemade cookbook—pages yellowed and curled and smelling a bit moldy—has been passed down from generation to generation to treasure. Grandma Mary has long since passed, but we sometimes thumb through her book at the holidays to help us remember a woman of modest means who was abundantly rich in the spirit of the Lord.
Among the interesting and odd dishes described in Mary's book are prairie chicken and cucumber catsup, Indian pudding and frizzled beef.
Alongside them, though, are tried-and-true recipes that are still favorites today, like lemon and cranberry pies.
At our house, Thanksgiving pies are served in the evening, well after the main meal. But Grandpa Chartier makes us "say grace" again "because we should always thank God for the food, our family, and the faith that keeps us strong."
It's fascinating and sometimes funny to see how much the preparation of pies has changed from yesterday to today. For instance, here is Mary's recipe for lemon pie (the parenthetical comments are mine):
---
Old-Fashioned Lemon Pie
For three pies, separate seven eggs; put the yolks in the dish you wish to mix your pies in, add one and one-half cups of pulverized (granulated) sugar, one-third cup of butter, three heaping tablespoonfuls of flour, and the juice and grated rind of three lemons. Mix smooth, then add four cups of (whole) milk, line tins (pie pans) with a good paste (pastry), fill, and bake. Cover with frosting (meringue) made from the whites of the eggs, and brown on the grate (broiler).
---
Here's an updated version that is similar in ingredients, but a little more exacting in its instructions:
Modern Lemon Pie
1 ½ cups sugar
3 T cornstarch
3 T flour
1 ½ cups water
3 eggs
2 T butter or margarine
½ Tsp finely shredded lemon peel
1/3 cup lemon juice
1 9" baked pastry shell
In a medium saucepan, combine sugar, cornstarch, flour, and a dash of salt. Gradually stir in water. Cook and stir over medium-high heat till thickened and bubbly. Reduce heat; cook and stir two minutes more.
Remove from heat. Separate egg yolk from whites; set whites aside for meringue. Slightly beat egg yolks. Stir about one cup of the hot mixture into the beaten yolks. Return mixture to saucepan; bring to a gentle boil. Cook and stir two minutes more. Remove from heat. Stir in butter or margarine and lemon peel. Gradually stir in lemon juice, mixing well. Pour hot filling into baked pastry shell. Spread meringue over hot filling; seal to edge. Bake in a 350° oven for 12 to 15 minutes or till meringue is golden. Cool on a wire rack. Cover; chill to store. Serves eight.
Meringue:
3 egg whites
½ Tsp vanilla
¼ Tsp cream of tartar
6 T of sugar
In a small mixing bowl, beat the egg whites, vanilla, and cream of tartar at medium speed about one minute or till soft peaks form. Gradually add the sugar, beating at high speed about four minutes more or till mixture forms stiff glossy peaks and sugar is dissolved. Immediately spread over pie.
---
Another holiday favorite, cranberry pie, also varies from the old to the new version. First, here's Mary's recipe:
Old-fashioned Cranberry Pie
Take a deep pie tin (pan), line it with ordinary pie crust, and fill with raw cranberries, being liberal with them. Add sugar with a generous hand, and when you think you have put in enough, put in more (!). Add from three to four tablespoonfuls of water, according to the size of the pie; sift a little flour over the top, dot with slivers of butter, and cover with puff paste (pastry). Have the oven a good heat at first, then let bake slowly from 30 to 35 minutes. When done, sift confectioners' (powdered) sugar over the top.
---
And now for the 21st-century version of this Thanksgiving treat, courtesy of my husband's mother:
Modern Cranberry Pie
2 cups flour
1 cup sugar
2 Tsp baking powder
1 cup cold whole milk
1 T melted butter or margarine
2 ½ cups raw whole cranberries
½ cup chopped walnuts (optional)
In a large bowl, combine the flour, sugar, and baking powder. Stir in the milk, melted butter or margarine, cranberries, and walnuts. Mix well and transfer to two ungreased 9" pie pans. Bake at 350° for 30 minutes.
Sauce:
1 cup sugar
½ cup butter or margarine
¾ cup evaporated milk
1 Tsp vanilla
In a small saucepan, combine the sugar, butter or margarine, and evaporated milk. Bring to a boil and simmer for about three minutes, until sugar dissolves. Remove from heat and stir in vanilla. Pour the sauce over the two pies. Serve hot.