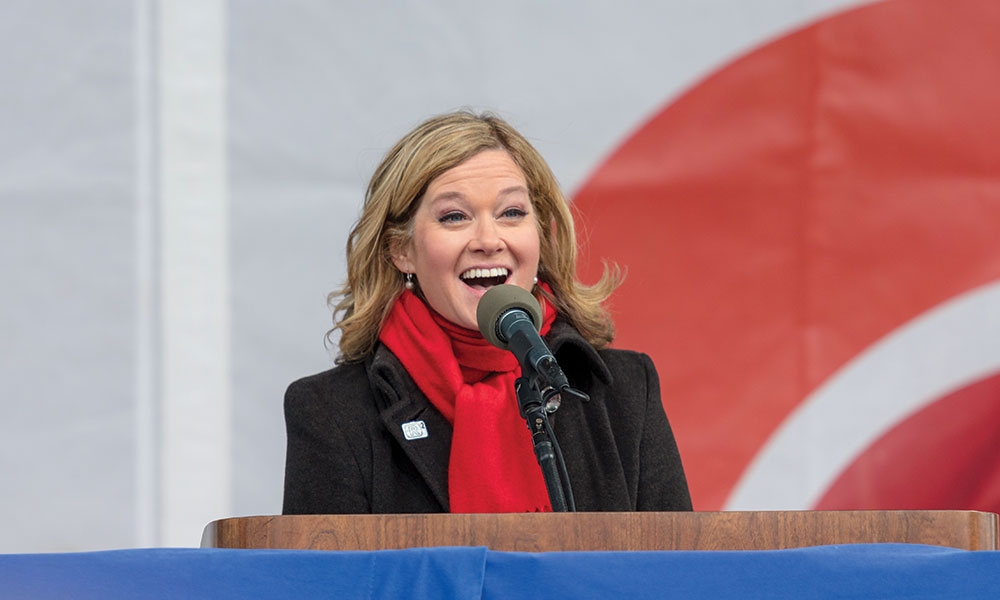 ---
Mrs. Mancini Comes to Lansing
Jeanne Mancini is one of the best-known figures in the U.S. pro-life movement. Since 2012, she has served as president of the March for Life Education and Defense Fund. The small nonprofit is based in Washington, D.C., and organizes the annual March for Life in the nation's capital held each year upon the anniversary of Roe v. Wade in January. Jeanne is also among the keynote speakers at the first ever Michigan March for Life on Nov. 8 in Lansing. Ahead of her visit to Michigan, FAITH asked Jeanne the following questions:
Why did the March for Life decide to branch out into state-by-state marches?
For as long as I can recall — and since starting my work at the March for Life in 2012 — we have consistently received requests to help start local or state marches. Moved by our mission to unite, equip and mobilize pro-life Americans in the public square, we decided, after strategic discernment in 2016-2017, to undertake the state march initiative. With the overturning of Roe v. Wade, our presence in the states is more important than ever. 
How is that geographically broader and logistically more ambitious mission going?
Since our first state march in Virginia in 2019, and with slowed growth for about two years because of COVID, we have grown to eight states in 2023, with a plan for 16 in 2024. We hope to be in all 50 states in the next five years.   
What's most surprised you, if anything, about how life issues have played out state-by-state since the fall of Roe? What are we learning?
On the positive side, a remarkable half of our country's states have passed pro-life protections for babies at 12 weeks or sooner, with 23 of those states protecting them when a heartbeat can be detected. Tens of thousands of lives will be saved every year thanks to these laws. Many of these states have also passed measures to expand the pro-life safety net, offering direct support to the very centers helping mothers, babies, and families. I have been both disappointed and surprised by ballot initiatives/constitutional amendments in states like Michigan. These initiatives are typically funded by outside special interest groups, have language that is vague and confusing, take policymaking out of the realm of legislative process and, when successful, go way further than what even Roe allowed.    
Why the decision to have a march in Michigan? How did that come about?
Given the passage of the extreme abortion amendment last year, Michigan has its work cut out for it. We'd like to help the wonderful pro-life groups in Michigan, like Michigan Right to Life and Michigan Catholic Conference, rally the grass-roots to continue building a culture of life in this new season.
How is the organization of the Nov. 8 event coming along?
We have fantastic speakers confirmed that will inspire and educate Michiganders on what's going on in their statehouse, and how they can use their voice for the voiceless.
What do you hope the Michigan March for Life will achieve?
We hope that it will strengthen the spirits of pro-life Michiganders to continue building a culture of life in this historic moment in the state's history; one might argue that pro-life witness in the public square in Michigan has never been so critical.
How would you assess the pro-life situation in Michigan?
Where is the hope in the wake of Proposal 3 inserting abortion into the state constitution? The passage of Proposal 3 last fall was heartbreaking, but our work to protect the unborn in Michigan is just starting. Right now, the Legislature has introduced bills to repeal long-standing protections for women and the unborn, like the 24-hour waiting period, the ban on Medicaid funding for elective abortion and abortion reporting requirements. Trying to repeal these popular and common-sense laws shows how out of step the pro-abortion side is. We can continue to change hearts and minds — and build a culture of life — in Michigan for future generations.
What is your message to those who are considering coming along and taking part?
Now, more than ever, your witness for the unborn is needed in our state. This is the time to show up and let your voice be heard! Let's work together to change hearts, minds, and the culture!
How does your Catholic faith sustain you in the pro-life cause?
My Catholic faith is the "oil jar" from which I am able to continue to draw breath and strength, guidance, joy and discernment.
Do you have any Michigan connections?
Many! To name just a few: I lived in Michigan and worked for the Cardinal Maida Center for the New Evangelization years ago with the luminary Father John Riccardo and team. I have tremendous respect for the Catholic Church in Michigan and the pro-life community.
I love Michigan and can't wait to be there again. I have so much hope for this March for Life and the pro-life movement in Michigan!