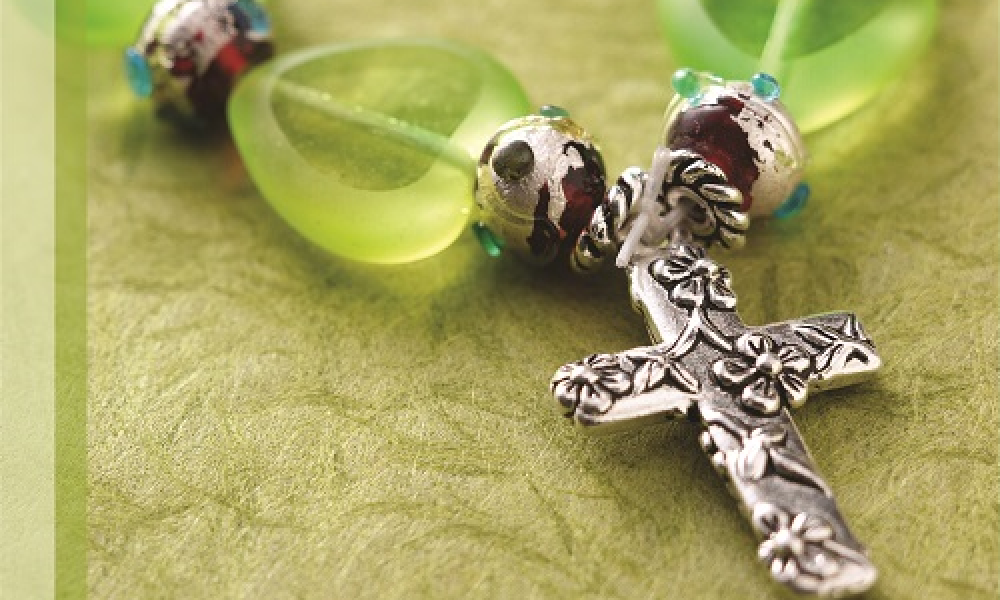 ---
Mother's Day Devotion
A hand-made gift will warm her heart
What do you do to honor your mother on Mother's Day? Do you take her out for a nice meal, or perhaps buy her a big bouquet? This year, try something different, something lasting, by making her a piece of jewelry – a beaded bracelet. Then, make it meaningful by integrating into the design the symbols of her faith.
The practice of wearing such symbols – crosses, crucifixes, fish, doves and angels to name a few – is thought to have originated in pagan times, when people wore amulets around their necks to ward off evil spirits. In an effort to ease the transition to Christian ways, the Church adopted the amulet concept, but replaced the accompanying bags of herbs with simple wooden crosses.
During the medieval period, Christians who visited places of pilgrimage collected coin-like tokens that served as a stimulus to devotion, while at the same time attesting to the fact that they had truly reached their destination.
These tokens, which were cast in lead, were among the earliest forms of medals, and were worn in a conspicuous way on a hat or pinned to a coat.
Tokens continued to be popular until the 16th or 17th century, when they were replaced by medals of bronze or silver, executed in an artistic way.
Today, the symbols of Christianity can be found in a variety of materials, including metal, wood, glass, clay, plastic, bone and stone. For the purposes of this bracelet project, gold- or silver-toned metal is an affordable choice. The symbols, called 'charms' in the jewelry industry, can be purchased at bead stores for about $2 apiece.
Once you've selected the charms and beads you want to use, set up an assembly station on a tray or plate, or even in a bowl. This will contain the beads, in case they come unstrung. You can make a stretch bracelet in half an hour. The memory wire bracelet, however, may take an hour to finish, especially if you decide to arrange the elements in a random fashion.
---
Stretch Bracelet
9 inches of elastic cord
9-12 large-holed beads (e.g., metal, wood, glass, clay, plastic, bone or stone)
10-13 spacers in a metal that
complements the beads
1 large charm
Bead cement
Toothpick
Begin slipping beads and spacers onto the elastic in an alternating pattern. After stringing all the beads and spacers, add a single, large charm. These instructions are for a standard-sized bracelet, but feel free to test it on your own wrist before finishing the bracelet. Make sure it's tight enough, so that it won't slip off. If necessary, trim the elastic slightly. When you're satisfied with the size, knot the elastic. With a toothpick, dot the knot with bead cement. Once the cement is dry – approximately 15 minutes – push the knot into the nearest bead hole.
---
Memory Wire Bracelet
11-12 inches of memory wire
A handful of assorted large-holed beads
5-6 charms
5-6 jump loops
Round-nose pliers
Wire cutters
With the round-nose pliers, form a loop at one end of the wire to keep the beads you will string from falling off. Hang charms on jump loops. String beads and charms onto the wire in either an alternating or random fashion. Be sure the beads you've chosen have large enough holes; don't force small-holed beads onto the wire. As you work, check to see that the beads lie next to each other well. Large beads on adjacent coils may crowd each other and prevent the coils from lying smoothly. When you've filled the wire with charms and beads, add a final charm and use the round-nose pliers to form a closing loop.
---
did you know ...
That the first observance of Mother's Day in America occurred in Albion, Mich., on the second Sunday in May, 1887? On that day, Juliet Calhoun Blakeley was celebrating her birthday by attending services at the local Methodist Episcopal church. During the service, the pastor became distraught about the recent intemperate behavior of his son and abruptly left the pulpit. Blakeley stepped forward to take over the service and called other mothers to join her. Her sons, who were traveling salesmen, were so moved by her gesture that they vowed to return to Albion every year to mark her birthday. And they urged business associates and others they met on the road to honor their mothers on the second Sunday in May. Anna Jarvis of Philadelphia is credited with bringing about the official observance of Mother's Day, however. Through her efforts, the holiday was proclaimed by a joint resolution of Congress in 1914.