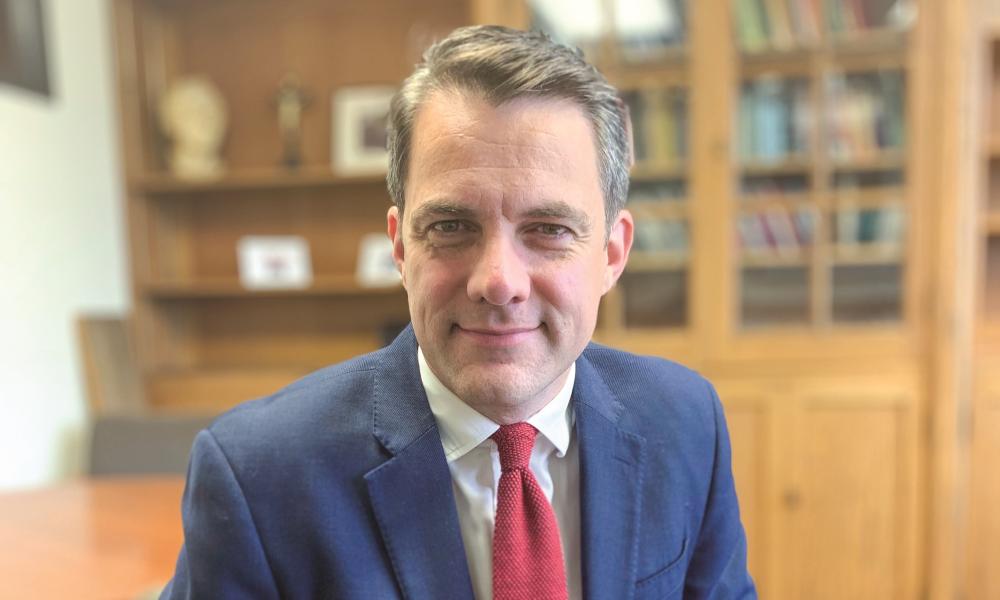 ---
Meet David Kerr, new director of communications for the Diocese of Lansing
David is a native of Glasgow in Scotland. He studied at the University of St. Andrews, Scotland's oldest university. In 1996, he joined BBC News as a graduate trainee and went on to spend 12 happy years working as a senior broadcast journalist with BBC News in both London and Glasgow. In 2010, David was recruited by the bishops of Scotland to develop and implement a media strategy for Pope Benedict XVI's state visit to Scotland. For the past five years, he was director of communications with the Archdiocese of St Andrews & Edinburgh. He is married to Jackie, whose mother hails from Okemos, and has three young children: David, John and Margaret.
---
Q: What are you looking forward to as the new director of communications for the Diocese of Lansing?
A: All across the Diocese of Lansing, there seems to be so many good people doing so many great things for the love of Jesus Christ and his holy Church. To be able to tell their story and, in doing so, help draw souls closer to God, is a lovely privilege and a task I very much look forward to undertaking in the months to come.
Q: What challenges do you envision?
A: The biggest challenge is that of new evangelization: To re-present the person of Jesus Christ to all those who live within the bounds of the Diocese of Lansing – not merely Catholics – and to do so in a way that is intellectually coherent, culturally credible and socially compassionate. It's a very nice challenge to have.
Q: Do you have a specific message you would like to impart to the faithful in the Diocese of Lansing?
A: Thank you for the typically generous Michigander welcome which I have received, so far, from people in parishes across the diocese. If we continue to pray for each other, stay close to Jesus Christ, and remain faithful to his holy Church, we can be justifiably confident that the greatest days of the Diocese of Lansing are yet to come.