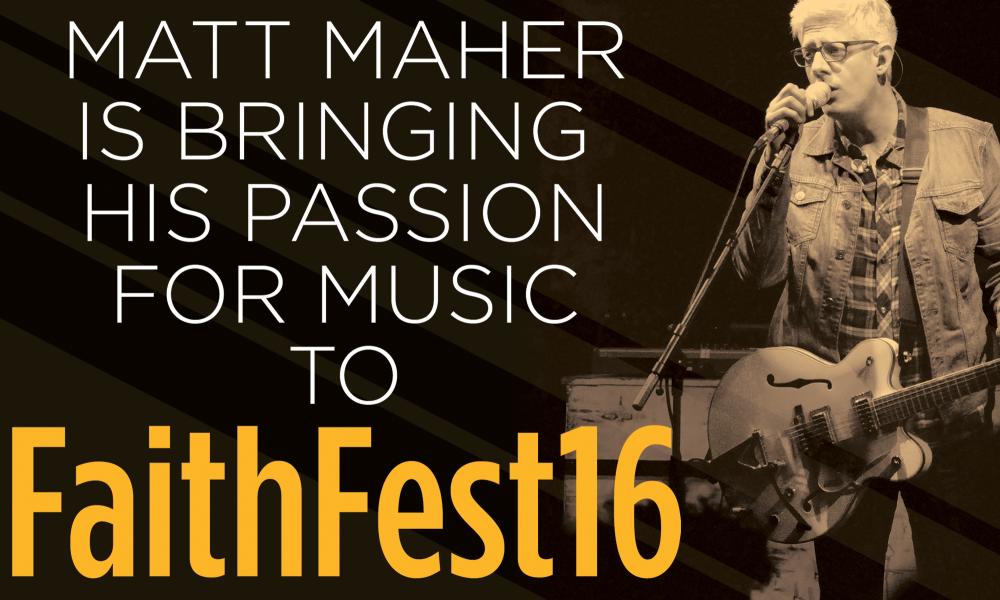 ---
Matt Maher is bringing passion for music to FaithFest16
"I think it's really cool that a diocese wants to have an all-day event to honor families," says Matt Maher, Canadian-born Christian musician and headline performer at FaithFest16 on Saturday, June 25, 2016, at the St. Francis Retreat Center in DeWitt.
The singer and songwriter independently recorded his first album 15 years ago and landed a record contract in 2008. He has been nominated for eight Grammy awards.
Matt, along with Jason Gray, Modern Day Cure and Melanie Rea, will perform at FaithFest, a family festival sponsored by the Diocese of Lansing that includes music, food, fireworks and Mass with Bishop Earl Boyea.
Playing publicly since he was in a rock band in high school, Matt has always had a passion for music. And when it comes to saints, Matt feels plagiarism is the highest form of flattery. So he isn't shy about using the words of the saints as inspiration for his songs. His song "Everything is Grace," for example, is based on the words of St. Thérèse of Lisieux.
"We need songs that articulate our faith and not just our common humanity. We need those, too … but we do need songs that people can sing together that kind of give voice to the longings we have in our heart … to know (God)," Matt says.
Matt believes the lives of the saints stand as a testimony and living example to how life plays out. Often, it's the stories of their imperfections or shortcomings that inspire him.
"All art is beautiful, and I think beauty is one of the ways in which God reveals himself on earth to people," Matt says. "More and more, I'm just trying to be who I am, and yet, the mystery of it is God uses that over and over again to intersect with people's lives to give them voice in their heart."
What we fill our souls with is important, and each of his songs expresses a different message that Matt hopes will allow people to have an encounter with God. Matt says he didn't imagine he would be writing Christian music, because his childhood ambition was to be a film scorer.
When Matt was younger, he suffered through a period of change and difficulty, and turned to God for help and understanding.
After facing the divorce of his parents and moving to Arizona, Matt says turning to God was the first step to fulfilling God's plan.
Matt intended on remaining in Phoenix for only a few short months before traveling to Los Angeles to study film scoring; however, God guided him elsewhere, and he instead studied jazz at Arizona State University.
"I'm part of generation X; but growing up, when you were good at something, everyone kind of figured that's what you're going to do for a living," Matt says, adding that his dad was skeptical of a career in music and envisioned Matt would attend law school. But Matt is convinced he would have been a "terrible law student."
"I think there (are) things I can control, and there's a lot I can't. That's what I've learned. That's not just music, that's life in general. So, I think I'll keep trying to work on the things I can work on and try to be available to God, and whatever he wants to do, he can do," Matt says.
Matt believes the kind of role faith plays in our society is an important conversation to have. Do we keep our faith private or share it publicly?
"If you walk into a church and you kneel down, aren't you making a public statement? I really think – at the heart of this – it is part of the mandate of being Christian, of being able to have events where you publicly celebrate God and God's love," Matt says.
Music has a way of bringing people together, and Matt is excited to be a part of this upcoming event in DeWitt.
Matt Maher, along with Jason Gray, Modern Day Cure and Melanie Rea, will perform at FaithFest, a family festival sponsored by the Diocese of Lansing that includes music, food, fireworks, and Mass with Bishop Earl Boyea.
FAITHFEST16
Gates for FaithFest16 open at 10 a.m on Saturday, June 25. General admission costs $30, and VIP tickets cost $50. St. Francis Retreat Center is located at 703 E. Main St. in DeWitt. For more information or to purchase tickets, visit www.faithfest16.com.