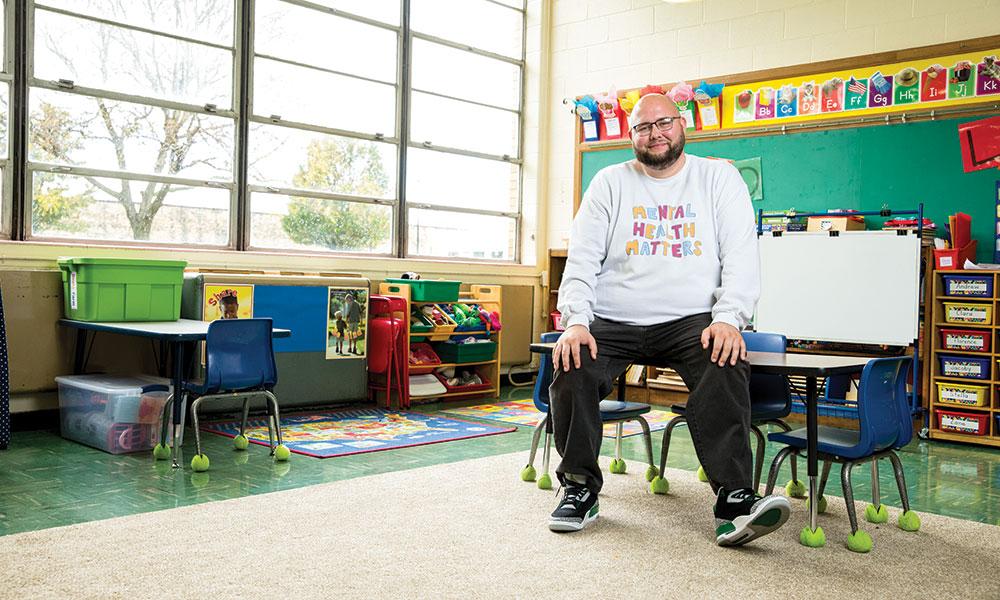 ---
'Making Sure Nothing Catches Fire in These Little Lives'
As a School Counselor, Marshall Works to Earn Trust
Marshall Hesslau is a counselor who can understand kids going through tough times.

"At the end of my senior year of college, one of my best friends, Pat, got into an argument at home with his brother. In the heat of the moment, Pat's brother pointed a gun at him and asked, 'Are you feeling lucky?' Then he pulled the trigger, not realizing the gun was loaded. Pat died on the spot. His brother went to prison.
"Pat's death rocked my world. I was like a zombie most of the time. Shortly after he died, a couple friends took me to Mass. They said it would be good for me. It wasn't. I stormed out and didn't ever intend to go back to a place that had no answers for why Pat was taken. I walked out on Catholicism.
"That year, I had interned at Catholic Charities [of Jackson, Lenawee and Hillsdale Counties]. They also tried to support me. Although I wasn't ready to accept their help at the time, they reached out about 10 months later to offer me a job facilitating sessions for their parolee group and working as a school counselor for a school down in Hudson. I accepted.
"I got together with the parolee group every week. They were mostly men who had done and seen things no one should experience. It takes a lot of work to leave those experiences behind and return to life on the outside. After about seven weeks, clients would usually figure out what's going on and start to trust the process of the group and the facilitator (me). I learned from them that if someone can trust me, that's 99 percent of the job. The other 1 percent kind of takes care of itself.
"I went back to Spring Arbor University and earned master's degrees in school counseling and clinical counseling. During grad school, I interned at Northwest Schools – which happened to be where Pat attended. My mentors and fellow school counselors, Doug and Karyn Blume, supported that grieving community after Pat's death. During my time at Northwest, they helped me find meaning in working with students of all ages and experiences – students like Pat, and also students like his brother.
"As I was completing my graduate work, Catholic Charities gave me the opportunity to work exclusively with children in our Catholic schools. I was beginning to discover my passion for working within the school system, so I transitioned out of the groups for parolees.
"Thank God my schools gave me grace! I didn't know much about working with little kids. My brother, Tommy, is two years older than me and my brother, Jamie, is two years younger, so baby-sitting was never my thing. My mom is the best high school math teacher I never had, and my dad recently retired as an independent distributor for Pepperidge Farms. I got my mom's heart for education, but no experience working with kids.
"I did experience the love of attending Catholic schools, though. Because Mom and Dad sacrificed a lot to send my brothers and me to St. Mary's School and all the way through Lumen Christi, I understood how effective the Catholic school system is. I tried some pretty 'creative' ways to motivate kids when I started at Sacred Heart School in Hudson. I filled a treasure chest with epic prizes and created punch cards to try to convince first graders to line up correctly. There were little paper punch holes all over the classroom! The trouble was that the kids we really needed to line up correctly couldn't defer gratification long enough to line up and earn prizes. I was just laughing with the teacher about that the other day. She gave me space to learn.
"There is a common misperception that school counselors don't deal with 'real' issues. I deal with kids who have the same issues therapists face in their 60-minute sessions, but I'm with them all week long. I've had a single year of work that could fill careers for most therapists. Some kids have real-life trauma they're living with every day. I see how it affects them, their friends, and their families. I was experiencing that too when Pat died.
"I came to Sacred Heart School a few years after his death. Right away, the kids started asking me to go to Mass with them. I was still so angry, but I did it for them. As I sat in the pew, Father Joe Krupp seemed to be talking directly to me. He has a special ability to give a homily addressing just what I needed – it was like heat-seeker missiles coming right at me. When he preached about not coming to Mass for a while, I was like 'bullseye.'
"I mentioned this to him later and he asked me, 'Hey, do you want to get french fries? I love french fries.' We talked, and I just poured it all out. I don't think God has heard somebody swear at him quite so much as I did with Father Joe that day. But when I was done, I felt heard for the first time since Pat's death. To Father Joe, it was just 'God loves you.' He reminded me of what I wish Catholicism was.
"Over the next few years, Catholic Charities expanded my school counseling work. After my first year at Sacred Heart School, I joined the team at St. John's School [St. John the Evangelist Parish in Jackson]. Then the next year I also became the school counselor at Queens [Queen of the Miraculous Medal Parish, Jackson]. I have offices in each building, but my main office is at St. John's.
"I read weekly in a few classrooms. Mostly, I meet individually with students. They sit in my comfy chair to talk or play board games – always over Jolly Ranchers. Children get referred to me by their parents, teachers or principal, and they can also reach out to me themselves. It can be tough to be part of everything when I'm not in each building every day. Some days I am stretched quite thin. I rely on all three of my principals to tell me who's on their list. I also know my group of students will update me when I ask 'Hey, did anything happen in class yesterday?' Without breaking confidentiality, I'm able to get up-to-speed in each school.
We're building community. In addition to the principals and teachers, there isn't a priest I couldn't call on for help. I have a great supervisor, Robin Weber, at Catholic Charities who helps me stay grounded and gives me support. We all work together, pulling the weeds, watering the plants and trying to make sure nothing catches fire in these little lives.
"There have been some tough times. I try to walk the talk that I tell my students and staff about taking care of ourselves, but I am all in on my job. Building community includes going to school performances, football and basketball games, dance recitals (which are completely new to someone who grew up in a family of all boys!). I've started coaching seventh-grade football and eighth-grade basketball at Lumen Christi so I can stay in touch with our kids after they leave elementary school."
"With three schools, I had to give up my parolees' group at Catholic Charities. I've carried the valuable lesson they taught me, though. If I can earn someone's trust, then 99 percent of my job is done. The other 1 percent kind of takes care of itself. In my spiritual life, I guess Father Joe taught me the same lesson over french fries."
Bullseye.