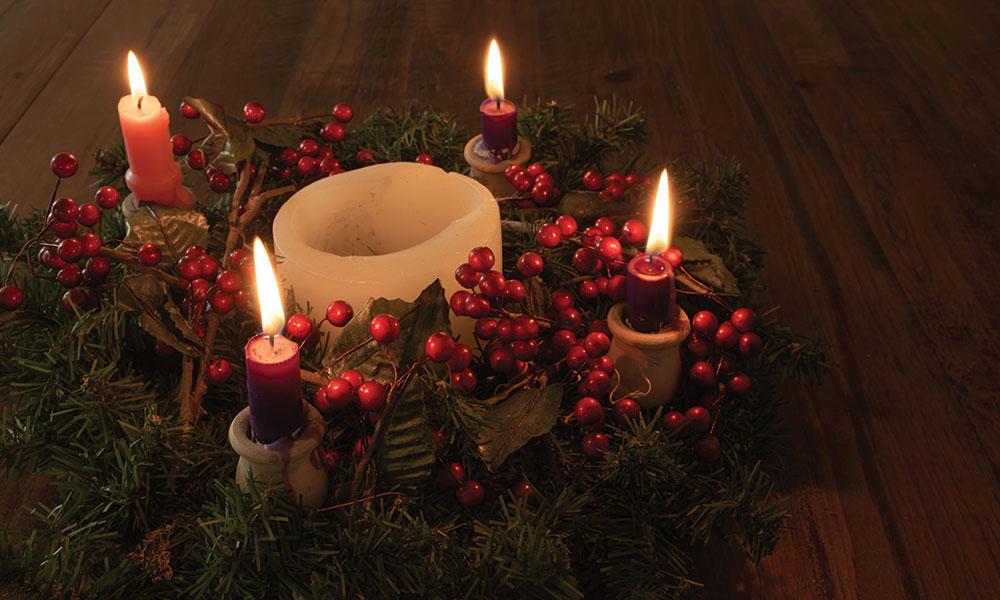 ---
Living Liturgically This Advent Season
The second Vatican Council produced 16 documents about all aspects of the Church's life and belief. They are beautiful expressions of what it means to be Catholic and, if you haven't read them, I certainly recommend that you do!
One of the things the Council taught was that the regular cycle of the liturgical year continues the formation of the people of God in the Church. For us, embracing the liturgical calendar in our daily lives is a sure way to come to know God in a deeper way and be formed as disciples by the Church. 
As we begin the season of Advent, there are several things we can do to enrich our liturgical experiences.
A side note: Advent is tricky because Walmart has had Christmas stuff out since Oct. 1. The Capitol Christmas tree has been up since before Halloween.
It can be difficult to see where Advent fits in when it's ignored everywhere else. How do we respect the good that Advent has to teach us and not overlook it?
Firstly, Advent is a more subdued season in the liturgical year, but it isn't Lent. Lent is a time for sorrow and repentance. Advent is a time of joyful expectation, akin to the final days before a wedding or the birth of a child. It wouldn't make much sense to celebrate these moments before they happen, but preparation is the name of the season. 
So, consider a gradual build-up to Christmas rather than putting up all your red and green the moment the Thanksgiving dishes are done. Make decorating the home a gradual process that builds, along with the expectation. That alone is instructive that making our hearts ready for the Lord is a process. 
Also, although it can be tempting, cultivating silence to leave space for reflection on the birth of our Lord and our need for a savior is immensely helpful and there are many Advent and "expectation" themed songs to listen to. (O Come Divine Messiah, Creator of the Stars of Night, or O Come, O Come, Emmanuel) Save the carols not only for Christmas Day but for the whole of the Christmas season. 
These initial thoughts being said, however, Advent is not about what not to do and if someone wishes us a "Merry Christmas" before midnight on Dec. 24, we should joyfully return their greeting. This is a season of joyful expectation after all and not an excuse to imitate Ebenezer Scrooge.
Here are a few more ideas to get you started to a fuller celebration of the season of Advent:
If intentionally bringing Advent into your home is a new thing for you, simply consider placing an Advent wreath in your home. The traditional wreath we see in many of our parishes with the three purple candles and the one pink candle can be lit during family meals. As more candles are lit with each passing week, the growing light is a sign that the Light of the World is on His way. 
If you're already in the practice of lighting the Advent wreath, consider celebrating some of the beautiful traditions surrounding certain saints' feast days. Leave treats in the shoes of family members for the feast of St. Nicholas (Dec. 6), have Mexican food for the feast of Our Lady of Guadalupe (Dec. 12), or make evergreen crowns for little girls to wear during a family procession through the house on your way to eat sweet rolls for the feast of St. Lucy (Dec. 13)
Finally, if you want to go "all in," you can try a practice our family began a few years ago. We put up our tree up on the first Sunday of Advent but do not decorate it. Each day during the season we place a simple wooden ornament on our "Jesse Tree,"  which depicts an important person or event in the Old Testament. This helps keep us grounded on our own family's journey to Christmas, as day by day the tree fills with ornaments. It also helps us to recall the process through which God led humanity on the way to his Son's birth. It has also been a great way for all of us to become more familiar with the Old Testament scriptures! Late on Christmas Eve we decorate the tree with our Christmas decorations and the difference in the appearance of the tree is another instructive sign that we've arrived at a new day – Christmas morning!
Through living the liturgical year in the home, our faith becomes less of an abstract concept taught in a classroom or the church, and more of an incarnate reality that touches our daily lives. It not only plants the faith deeply in our children's hearts, but it also makes it come alive for the rest of us as well.