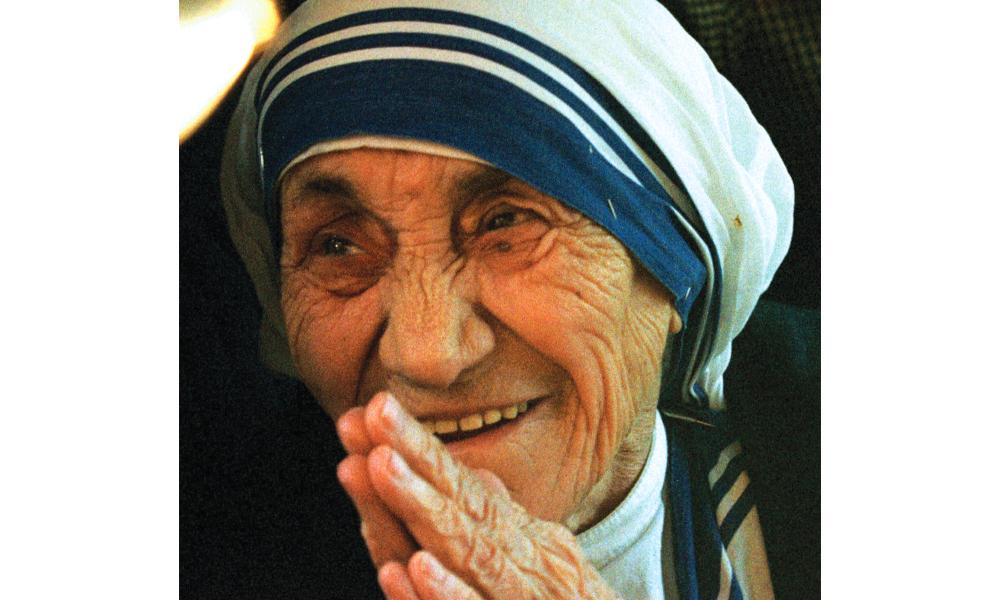 ---
A life poured out for Christ: St. Teresa of Calcutta
Her life
Born in Skopje, Albania, (now Macedonia) on Aug. 26, 1910, Anjezë (Agnes) Gonxhe Bojaxhiu considered her baptismal day, Aug. 27, her true birthday. When she was growing up, Agnes' mother extended an open invitation to the city's poor to dine with her family, and told her daughter: "My child, never eat a single mouthful unless you are sharing it with others." When Agnes asked about the people eating with them, her mother would respond, "Some of them are our relations, but all of them are our people."
From an early age, young Agnes was fascinated by the lives of missionaries in Bengal. After deciding to pursue a consecrated religious life, Agnes arrived in Calcutta in 1929 to begin her novitiate. There, she learned Bengali and taught at St. Teresa's School. When she took first vows in 1931, she wanted to be named after St. Thérèse of Lisieux, but chose the Spanish spelling of Teresa and became Sister Mary Teresa. She made her final profession of vows in 1937, and was first called Mother Teresa while teaching at St. Mary's School in Calcutta.
In September 1946, Sister Teresa experienced what she later referred to as the call within the call: "I was to leave the convent and help the poor while living among them. It was an order. To fail would have been to break the faith."
In 1948, she received permission to begin the Missionaries of Charity. Mother Teresa traded in her traditional habit and began wearing the simple cotton sari for which she became so well-known; she became an Indian citizen and received basic medical training. By 1949, a group of young women had joined her, and the Missionaries of Charity went on to become officially recognized as a diocesan religious congregation. They went into the slums of Calcutta to care for the sick and hungry.
Her work
In 1952, Mother Teresa opened Kalighat Home for the Dying in Calcutta, which was a free hospice for the poor housed in an abandoned Hindu temple. All those who came to the home received care consistent with their faith. Next came a home for those with Hansen's disease, or leprosy. She established outreach clinics throughout Calcutta for those suffering from the dreaded disease.
Lost children found a home with the Missionaries of Charity at Nirmala Shishu Bhavan, a home for orphans and homeless youths. By 1960, the missionaries were operating orphanages and hospices all over India. Throughout the next decade, more missions followed until they had a presence on every continent.
Throughout the 1960s, 1970s and 1980s, Mother Teresa founded the Missionaries of Charity Brothers, the contemplative branch of the sisters, the contemplative branch of the brothers and the Missionaries of Charity Fathers. For the laity, she founded the Co-Workers of Mother Teresa, the Sick and Suffering Co-Workers and, later, the Lay Missionaries of Charity. She also founded the Corpus Christi Movement for Priests in 1981, as a "little way of holiness" for those who wished to share in her charism.
Her death
Mother Teresa died Sept. 5, 1997. The government of India gave her a state funeral, and she was buried at the motherhouse of the Missionaries of Charity in Calcutta.
Beatification and sainthood
In early 1999 – less than two years after Mother Teresa's death – St. John Paul II waived the usual five-year waiting period and allowed her canonization cause to be opened. She was beatified in 2003. In advancing the cause for canonization, a miracle must be documented from the intercession of the blessed. Two healings have been attributed to her intercession.