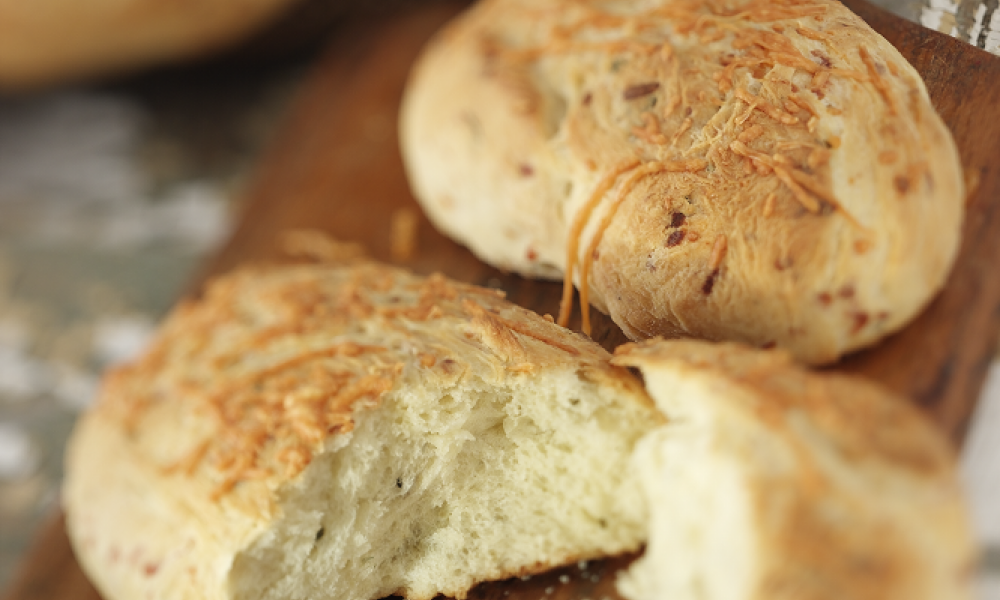 ---
The Legend of St. Anthony's Bread
Celebrate this Franciscan's feast day with the food that launched a charity
Ever hear the phrase "St. Anthony's Bread"? If you have, you probably associate it with a poor box found in the back of a church. But the origin of this Franciscan-run charity program actually has something to do with the staple food for which it was named.
One legend dates back to the year 1263, when a child drowned near the Paduan Basilica of St. Anthony during its construction. The child's mother prayed to the saint to bring her boy back to life. In return, she promised to give to the poor an amount of corn equal to the child's weight. When the child was miraculously revived, the mother made good on her promise.
Centuries later, in 1888, a woman named Louise Bouffier managed a small bakery store in the seaside village of Toulon, France. One morning, she couldn't open the shop's door with her key.
Neither could a locksmith, who advised her that he'd have to break the door open. While he went to get his tools, Louise prayed to St. Anthony that she would give some of her bakery's bread to the poor if the door could be opened without force. When the locksmith returned, he tried the lock again and was easily able to let Louise in. True to her word, the baker made sure that the poor of Toulon received their due.
It wasn't long before Louise's friends began to follow her example of promising a gift of bread or alms to the poor in return for prayers answered by St. Anthony. In the 1890s, they formalized this practice by founding a charity called "St. Anthony's Bread."
In the spirit of this charity, some parishes bless and distribute small loaves of bread on June 13, his feast day. Below is a recipe for an Italian bread that may be shaped into individual loaves for you to pass out at church, among friends and family or to the disadvantaged in your community.
---
Italian Mini-Loaves
Yield: 16
3 cups flour, divided
2 packages active dry yeast
1 Tsp. dried Italian seasoning
1 Tsp. dried parsley flakes
1 1/4 cups 1% milk
1/4 cup water
2 Tblsp. butter or margarine
2 Tblsp. sugar
1 Tsp. garlic salt
1 egg
3/4 cup grated parmesan cheese, divided
2 Tblsp. butter or margarine, melted
In a large mixing bowl, combine 1 1/2 cups of flour, yeast, Italian seasoning, and parsley flakes. In a saucepan, heat and stir the milk, water, butter, sugar, and garlic salt just until warm (120 130º) and butter almost melts. Add milk mixture to flour mixture. Add egg and beat with electric mixer on low or medium speed for 30 seconds, scraping the bowl constantly. Beat on high speed for 3 minutes. Using a wooden spoon, stir in 1/2 cup of the parmesan cheese and as much of the remaining flour as you can.
Turn the dough out onto a lightly floured surface. Knead in enough of the remaining flour to make a moderately soft dough that is smooth (3-5 minutes total). Shape the dough into a ball. Place it in a lightly greased bowl, turning once to grease the top and bottom surfaces. Cover and let rise in a warm place until doubled in size (about 45 minutes).
Grease baking sheets or a 13" x 9" x 2" baking pan. Punch dough down and turn out onto a lightly floured surface. Divide dough into 16 portions, shaping each into a round mini-loaf. Place mini-loaves on sheet or pan. Brush tops with 2 tablespoons butter and sprinkle with remaining parmesan cheese. Cover and let rise in a warm place (about 15 minutes).
Bake in a 375º oven for 20-25 minutes or until golden brown.
---
If It's Tuesday, It Must Be St. Anthony's Day
In his Holyday Book, Francis X. Weiser, S.J. notes that Tuesday is devoted in a particular way to the veneration of St. Anthony because that was the day on which the faith-filled Franciscan was buried. In the 17th century, the practice began of holding weekly devotions to St. Anthony; even today, most 'perpetual novenas' to him are held on Tuesdays. Portugal and Italy, where the saint was born and where he died, honor his feast day with unusual festive splendor and great devotion. In Portugal, the epithet "of Padua" is never used, for to the Portuguese he remains "Anthony of Lisbon" or "of Alfama," the district of Lisbon where he was born. There, every house on June 13 displays, among other decorations, a shrine with a statue of the saint.