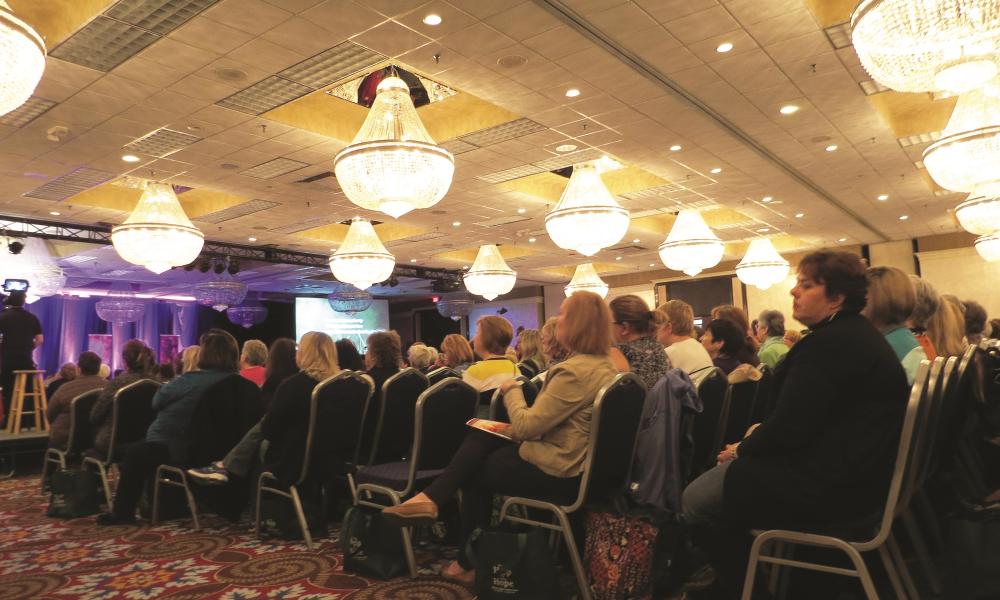 ---
Laboring in the vineyard
On Saturday, Oct. 24, more than 900 women gathered at the Causeway Bay Hotel in Lansing for inspiration, challenge and guidance at the 2015 Diocese of Lansing Catholic Women's Conference. The theme was "Dance in His Vineyard," and speakers and music presented ways the Lord asks us to dance, and how to respond to his invitation of love.
Led by Melanie Rea and her band, the day began with opening prayer. Melanie is active in the music ministry within the Diocese of Lansing, as well as the Archdiocese of Detroit. Erin Looby-Carlson, director of communications for the Diocese of Saginaw, was the master of ceremonies for the conference.
Father Mathias Thelen, currently the spiritual director for Sacred Heart Major Seminary, was the first speaker to take the stage. He explained that living a life of joy with Christ hinges on focusing on life in the present moment, and avoiding distraction of past hurts and worries about the future.
Through a prayerful meditation, Father Mathias had everyone imagine holding greatest regrets of the past in their left hands and the biggest worries for the future in their right hands. The goal was to release all these concerns directly into the heart of Jesus. The release was a reminder that only by surrendering control of people and resources to God can peace and happiness be found.
"Christian discipleship means giving to Jesus all that hurts us," says Father Mathias. "We need to be real with Jesus."
Sheri Wohlfert is a Catholic wife, mom, writer and teacher. Her understanding of dancing with Jesus while balancing the care for family and work responsibilities was filled with humor and personal examples of success and failure.
Sheri's suggestions of how to dance with the Lord included watching the examples of other dancers, improving the posture of prayer, stretching, smiling, and finding a great instructor.
"For every minute you give him, he multiplies it," Sheri says. "We need to stretch out of our comfort zone and tell his story."
Sister Sarah Burdick, head of theology and teacher at Ann Arbor Gabriel Richard High School, joyfully proclaimed her love for her perfect husband, Jesus Christ, and her fellow sisters in the Servants of God's Love order. She reminded attendees that letting go of past hurts and future worries is an ongoing task, and identified burdens that can add weight, including self-reliance. A strong relationship with God means fighting for faith whenever necessary.
"Do not be your own source of love, wisdom and strength," says Sister Sarah. "Put on the whole armor of God. We wear invisible armor because we fight an invisible foe, and we have never known defeat."
In addition to the three main speakers, nine women shared personal testimonies. Their inspirational topics included dance, tutoring in Flint, the Prisoner Pen Pal Ministry, religious life, Mother Teresa House, Right to Life, retirement home ministry, and Community Kitchen.
Bishop Earl Boyea celebrated Mass. "When we labor in the vineyard in the way that Jesus asks, the work fills us with joy," said Bishop Boyea. "That doesn't mean the work is easy nor does it mean that it always looks successful. It does mean that when we are doing what God asks of us we will have a sense of rightness, peace and joy."
During lunch and breaks throughout the day, attendees enjoyed shopping the vendor marketplace, where 45 different organizations and companies had information or items for purchase. Some women arrived Friday evening and enjoyed Friday Night Fun activities and fellowship.
The attendees left Lansing early Saturday evening refreshed and inspired to continue their daily dance in the vineyard.