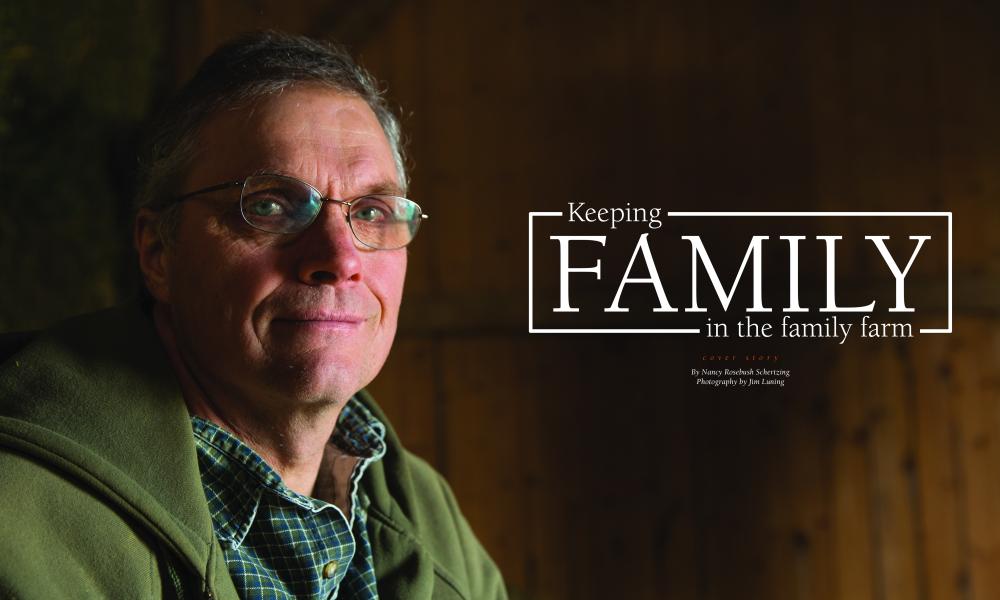 ---
Keeping Family in the Family Farm
"As for me and my household, we will serve the Lord." (Joshua 24:15)"
Brian Koenigsknecht remembers the moment this Bible passage rang true in his heart. Sitting in his warm farmhouse, looking at the faces of his children, Brian identified with Joshua across thousands of years. Now, seated at the family dinner table, he shares his story as a third-generation farmer:
"I grew up in this house. My parents moved out a couple weeks before Agnes and I got married. Growing up, watching my parents farm this land and hearing stories about my grandparents farming, I guess it got into my blood.
"There's a difference between liking something and loving it. I loved farming. Since I was very young, I knew I wanted to make it my life", he explains.
Sitting next to her husband, Agnes smiles, "I grew up on my parents' farm, too, and my grandparents on both sides of my family were farmers. Aside from a few odd jobs, Dad gave most of the farm work to my brothers, but I used to tag along behind them whenever I could. I always loved being outside helping with chores."
"She couldn't drive a tractor when we first got married," Brian grins at Agnes, "but she learned quick. She started driving the tractor and working alongside me right after we were married. In fact, she was driving the tractor out there when she was eight months pregnant for our twins!" He gestures out the kitchen window to the barn and fields beyond. "Agnes' help was essential for our way of farming."
"I knew I wanted to marry a dairy farmer," Agnes says simply. "I enjoyed the work and I liked the idea of having my husband always at home. We've been married 33 years and we've had lunch together every day. How many women can say that?"
"So when my friend set me up on a date with her sister," Brian smiles, "I guess Agnes took a liking to me. She was 15 at the time and I was 19, but I was looking for a farm girl and she knew what she wanted. We had our first real date on her 16th birthday and got married the year after she graduated from high school.
"We run an organic dairy operation with about 100 cows. It's seven days a week milking twice a day, but it's manageable for a couple people to run. Vacations aren't a big deal to us. The care of the land and lifestyle suit us just fine.
"Working with my dad and brother, I did conventional farming. But I didn't like what I saw it doing to our fields and our cows. Shortly before we got married, I decided to stop using chemicals on our farm. It took about 20 years to get everything into real shape. When the organics movement came along a few years ago, we were ready to supply that market. We had some big challenges along the way, but Agnes and I stuck it out together.
"We decided early to pay off our debts and live on whatever the farm brought in. Money was tight during some of those early years. As the kids came along, we lived simply, but not as rough as my parents had it. My brothers and sisters grew up in this house without indoor toilets or hot water. In 1962, Dad built a new milking set-up that required hot water to wash the milking equipment. The barn had running hot water about a year before we had a water heater in the house."
Agnes interjects, "Your sisters laugh about showering in that milk house because that's the only place they had hot water!"
Brian nods. "My parents grew up in the Depression and that was a difficult time for them. When my brothers and sisters and I were growing up, we had everything we needed – food, shelter, a warm place and parents who loved us. Sure, we wore used clothes and drove old cars, but it wasn't hard on us. Probably it was harder on our parents. My dad had a stroke at 57. I was only 7 years old, but with my older brothers and sisters, we all did our part. Dad continued to farm until I got married at 23.
"No matter what hardship they faced, my parents never blamed God or questioned anything that happened to them. Faith was the focal point of our lives and there was never any question about my parents' or grandparents' devotion to the Church. You didn't ever think about missing Mass!"
"My parents and grandparents are Catholic, too," Agnes explains. "Still, Brian and I kind of grew into our faith after we had kids because we understood what a big responsibility parenting is. We have to walk the talk and model the kind of people we want our children to become.
"As parents, our obligation is to our children. Our job is to give them a good work ethic and get their minds in the right place. During family prayer time, everyone would gather as we went around the circle and each of us had a chance to pray for someone or mention an area where we needed guidance. Then we went around the circle again and everyone would say something we were thankful for. We said that the kids didn't always have to contribute to the first circle, but they always had to say something they were thankful for."
Nodding, Brian says, "And even when times were tight, there was no question they would go to Catholic school. We wanted them to have lessons in morals, ethics and faith interwoven throughout their whole day. We made it work so our kids could be involved in Church things whenever they were interested – school, youth group, religious education, Church-sponsored events. Faith and family were always more important to us than other things.
"We set the bar high and when we could see what God was calling them to do, we tried to guide our children to follow their interests and honor the Lord's will. Our grown children have gone into veterinary medicine, teaching, computer tech, accounting, nursing and vocations in the Church. Our youngest sons are still in high school, but one seems to have an interest in farming."
Two of their sons, Todd and Gary, will be ordained to the priesthood in June and another son, Lee, is in his first year at St. John Vianney Seminary in St. Paul, Minn.
"Our children are gifts from God, not ours to keep," Agnes says. "We're very proud of them all."
Brian agrees: "You are totally dependent on God when you live on a farm. We have to do our part by planting the seed, but we cannot make it grow. We cannot make it rain. We grow up watching the plants and animals and the beauty in all of creation and we understand it doesn't just happen. There's something guiding our existence, and it all points to God.
"Reading Joshua's story of his ancestors and the trouble he and his family went through, I thought of how generations of my family have experienced that guidance and have chosen to serve the Lord. You can't separate their faith from how they lived any more than you can separate God from nature or from farming. Faith is not just a part of us. It is us."
---
Catholic Rural Life
Catholic Rural Life (CRL) is a faith-based membership organization focused on agriculture, food and the land. As people of faith, members believe actions that affect the environment and natural resources should be a sign of respect for God's creation.
The mission of CRL is to "apply the teachings of Jesus Christ for the social, economic and spiritual development of rural America." (www.ncrlc.com) Its programs provide spiritual, educational and advocacy initiatives for rural people to lead lives of dignity and piety. Focused on the issues of food and justice, the ethics of eating and spiritual resources, CRL uses prayer, education, organizing and advocacy to help people of all lifestyles make earth-affirming, sustainable choices.
Recently, CRL partnered with Catholic Relief Services and four other organizations to begin a five-year USAID Farmer-to-Farmer program, which connects farmers in the United States with farmers in East Africa for training and technical assistance. The role of CRL will be to help identify knowledgeable American volunteers from the agriculture industry who are willing to travel to Africa to provide training.
Visit www.ncrlc.com to learn more about these efforts and the organization's magazine and online publications. Explore how you can choose practices that sustain life for all and support the CRL's work to "renew the face of the earth." (Ps:104:30)
---
Invest in our Future Priests
Brian and Agnes have three sons who are studying for the priesthood. Twins Todd and Gary will be ordained this June and Lee is an undergraduate at St. John Vianney Seminary in Minnesota. Here are some ways you can invest in educating our future priests.
Outright gifts – When you make an outright gift, your contribution can be put to work immediately.

- Cash gifts – the simplest and easiest gift you can make – can be made through outright cash, a personal check or credit card.

- Gifts of long-term appreciated stock provide considerable tax advantages when transferred to the Diocese of Lansing before they are sold. Gifts of stock are encouraged when the donor has a desire to make a charitable gift and avoid capital gains tax.
Wills and bequests – Donors wishing to offer continuing support for our mission to prepare well-formed priests can leave a specific gift amount in your will, name a percentage of your estate or make the diocese a beneficiary of the remainder of your estate. Consult with your attorney or estate planning professional about detailing this in your will, restricting your gift to support seminarians.
Stock gifts – You may wish to transfer long-term appreciated stock (held for one year or more) to the Diocese of Lansing in support of seminarians. The diocese will sell your stock and use the proceeds for seminarian formation. Please contact the Development Office for stock transfer details.
Life insurance policies – If you have paid up life insurance policies you no longer need, you can name the diocese as the beneficiary of the policy. You could also name the diocese as the owner and the beneficiary of a new policy. In either case, specific language restricting the gift to benefit seminarians should be in writing.
Charitable gift annuity – A gift annuity is an arrangement under which you make a contribution to support seminarians and receive, in turn, guaranteed payments for life. Your gift allows for a tax deduction and a portion of your annual annuity is tax-free. Annuity rates vary depending on your age.
Charitable trusts – A charitable trust is an attractive way to sell a highly appreciated asset, tax free, and reinvest it to provide you with a lifetime of income. A charitable trust can be flexible, so as to allow you to make future contributions and receive additional income tax deductions.
Please contact our Development Office to discuss your gift options in support of our future priests by calling Pat O'Hearn at 517.342.2503 or Lisa Weber at 517.342.2535.