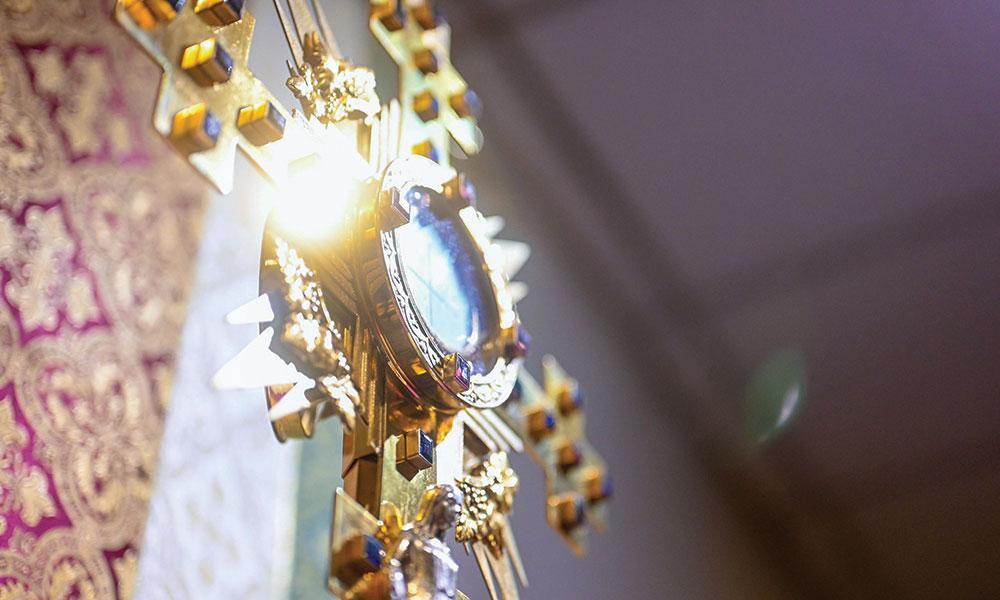 ---
'Keep Watch With Me for One Hour
Two diocesan parishes commemorate 30 years of perpetual adoration
Silence can often by an elusive thing in our world.
We're bombarded constantly with buzzing cell phones, blaring televisions, booming car speakers — and that's just the beginning.
But inside the four walls of the small adoration chapel at Queen of the Miraculous Medal Church in Jackson, quiet abounds.
"This is my one quiet time of the week," one chapel-goer said on a recent weekday afternoon. "If I make it through all these prayers in one hour, I'm lucky."
In the Diocese of Lansing, four parishes host perpetual adoration chapels — meaning Jesus is available 24/7 (barring unusual or emergency circumstances).
These parishes are Queen of the Miraculous Medal in Jackson, Holy Redeemer in Burton, Immaculate Heart of Mary in Lansing and Christ the King in Ann Arbor.
This year, both the Jackson and Burton chapels are celebrating 30 consecutive years of perpetual adoration.
That's about 262,800 hours of prayer.
"Here we are, celebrating 30 years of perpetual adoration," said parishioner Patty Spencer, who spearheaded the founding of the chapel. "It is a miracle in itself. And what a blessing it has been not only for our parish, but for the whole community."
Three Decades of Prayer
Jackson's perpetual adoration chapel came into existence in 1993. It was the fruit of a silent retreat Spencer attended the previous year, during which an adoration chapel was open perpetually.
Before she left the retreat, she talked with one of the organizers, who eventually put her in touch with a group of Texas-based priests whose mission it was to help parishes organize perpetual adoration chapels.
Queen of the Miraculous Medal's pastor at the time, Father John Kettelberger, granted space at the parish for this adoration chapel — given the assurance that the laity of the parish would largely be responsible for maintaining its perpetuity, Spencer said.
"When I found out the mechanics of getting this started, the mechanics of getting people signed up and committing to 24/7, 365 days, I felt overwhelmed," Spencer said. "I said to my husband, 'I can't believe this is really going to happen.' And then it did. These kinds of things only happen through the spirit. I couldn't make that happen."
The Divine Mercy Perpetual Adoration Chapel's first day was Ash Wednesday 1993. Thirty straight years of prayers have been said in the chapel since — though it has been moved from its original spot in the parish and given a few upgrades. The chapel is open during the day, but in the overnight hours the door has a code-opened lock for the safety of the adorers.
Adorers have come and gone from the parish over those years, but "there are people that are still involved with the chapel today that were with us in the beginning," Spencer said.
One of them is Georgia Ludwig, who has maintained her 1 a.m. time slot all these years.
"It's been something that has become a part of my life, and I praise God that I'm able to do it," she said. "I've gotten a lot of great blessings because of this. Thirty years, it doesn't seem that long, but, I think, the older you get, time does fly."
During her overnight adoration hour, Ludwig said she likes to use that silent time just to speak to and attempt to listen to God. Occasionally she will bring a book to read or different prayers.
She explains her reason for coming to adoration for three straight decades: "If we really understand why we're put on this earth, it's not just to enjoy all the things God has given us — our purpose is to find our way to heaven. And I think we do that by honoring the blessed Trinity, and especially for what Jesus Christ has done for us."
"I think that having an adoration chapel in a parish is the gas for the engine, that we're a people of prayer."
And before anyone asks, she's not planning on stopping anytime soon.
"God's been very good to me health-wise, but I am old-er and I do have limitations I didn't have 30 years ago," she said. "But I have no intentions of giving it up until it's God's plan that I give it up."
'How Can We Stay Away?'
Father Tim MacDonald was assigned as pastor of Queen of the Miraculous Medal in 2010. He came from Holy Redeemer in Burton, another diocesan parish with a perpetual adoration chapel.
Father MacDonald, who also serves as vicar general for the Diocese of Lansing, said that in his years serving in parishes with perpetual adoration, he's noticed special graces flowing forth.
"I think that having an adoration chapel in a parish is the gas for the engine, that we're a people of prayer," he said. "And whether we're educating students in the school, whether the maintenance men are cleaning the bathrooms appropriately, none of that really matters if we're not a church at prayer."
Over the years, Queen of the Miraculous Medal's adoration chapel has been the setting of many an important life moment: young men and women have sat in the chapel discerning a religious vocation, a couple once got engaged in the chapel and another time a young couple returning home from the hospital with a newborn baby decided to pay a quick visit to the chapel with their newborn.
"There are three priests serving in our diocese who are native sons of this parish, who have spent time in that chapel themselves," Father MacDonald said. "And while they were in seminary, I'd like to think that they were being bolstered by the prayers offered on their behalf by those who keep hours in the dark of night."
"We're living in an age when people don't come to Mass, don't believe in the Eucharist. And so the idea of sitting there in a chapel when we can't get people to sit in the Mass is a foreign concept to many. But this is God's love language, for him to give us his son in the most simplest form, and then just to allow us to gaze at him."
To those who keep that weekly commitment to the chapel, it's their "appointment with God," Father MacDonald said.
"We have appointments for everything. We have appointments to get our nails groomed, to get the dog's nails groomed, we have appointments to exercise. But the appointment with God is usually not made, and is one of the first ones that get canceled. How often do people say, 'Well, I wanted to pray but I fell asleep?' That's because they saved it for the last thing, instead of making it the first thing, and God always received the first fruits.
"Certainly for those who, for 30 years, or even for a month, have been making that sacrifice weekly to keep an hour in the chapel, that is their appointment with God. That's their recognition that I am not here without him. There is no here without him. Everything comes from him, everything belongs to him. He owes me nothing, but he's given me everything. And when we look in the monstrance, we see just how much he's given. And how can we stay away?"