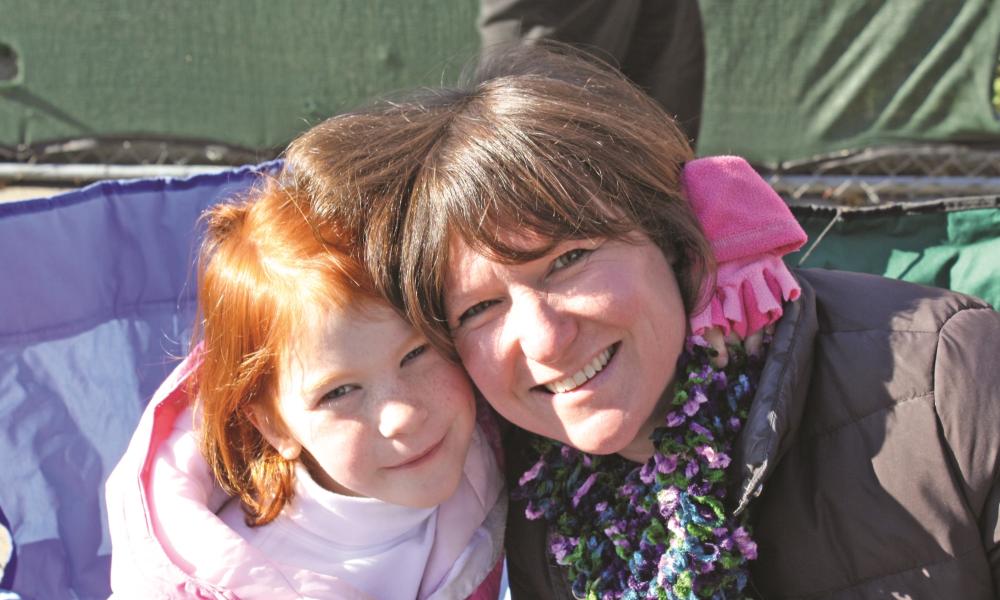 ---
Jennys daughter was killed in the Sandy Hook school shooting
How is her family moving from horror to healing
Catherine Hubbard was only 6 when she was killed in the tragedy at Sandy Hook Elementary School in Newtown, Conn., that took the lives of 20 children and six teachers last Dec. 14. Catherine's mother, Jenny, her father, Matt, and her older brother, Freddy, 8., are members of St. Rose of Lima Parish in Newtown, Conn., where Jenny is co-catechist for Catherine's first grade class. Jenny talks about the tragedy and her family.
As a family unit, we were four, and it was a perfect mesh. Everybody had their contribution. Not having Catherine here is a huge hole that we struggle with day in and day out. We're working hard to figure out what it means to be three instead of four. We're working hard to help Freddy heal.
Catherine and her older brother, Freddy, had the love-hate relationship that's so innate between a brother and a sister. When they were playing in the basement, if there wasn't a time they were yelling at each other, I'd have to go down there and see what they were up to. But I knew that there would be times that I would catch them, and they didn't know that I was watching, and they were in a big group of kids and they protected each other. He's such a strong kid. He is processing.
Freddy was in school that day. Matt was in Switzerland. Freddy was at the firehouse with me all day that day. He would always look for her red hair. He kept saying, "I can't find Catherine. I can't find Catherine." He worried whether he would know if he was on the right bus, because he always looked for her red hair to make sure he was on the right bus. It's the tiny things. My heart melted.
In time, he's going to be fine. We have good days and bad days. The worst days for Freddy are coming. He's worried about summer. Snow days were awful because he'd get up, and typically we'd get up and they'd start playing. He was lost. He was really sad.
He's already said that he's very concerned about summer. He's already said 'I don't know how to play soccer with one person,' or 'I don't know how to play wiffle-ball with one person.' I'm bracing and praying that God's going to show us the way. It will be a time that will be hard for us, and God will show us the way through it. I figure that all these firsts will be hard, and once we get through them, we'll know the way.
We've felt from the beginning that our most important mission right now and from here on out is, one, to heal our family and move forward so that we don't get stuck in a place of hate and anger and finger pointing, and two, remembering Catherine as she should be remembered and for what her soul and her being should be remembered. If it's not about those two priorities, we're not being distracted by it. And so we pray a lot more. And we're quiet a lot more.
When we had to write Catherine's obituary, we asked that people donate to the Animal Center in lieu of flowers. And we thought that we were sending them to the animal shelter. Catherine would go there and she'd use her bottle money to buy dog biscuits for the dogs there and she just loved that place. The Animal Center is a different organization. We met with them a couple of weeks after the funeral.
During the meeting, they said 'This was really generous of you.' And we asked them, 'How much have you received in donations?' We honestly thought maybe $500-$600 would come in. We had no idea. When they said $125,000 in two weeks, we were floored. They said that a dream of theirs had been to start a sanctuary and that they had been saving for a number of years to start a place where all creatures great and small could come and they would find safe haven.
Catherine was so shy and so quiet, and when they said they wanted to create a place of peace and quiet that welcomed all animals, we just knew that that was it. We decided to put all the money [from Catherine's memorial fund] toward the sanctuary and this will be our cause. Some people raised their eyebrows, wondering if we shouldn't put the money toward changing gun laws or improving school safety or mental health. We have not regretted our decision a single day.
Whenever we went to the store, Catherine wanted to buy a stuffed animal, and her huge collection ran the gamut, not just dogs and cats. When we moved across town last summer, I told her that she could move all the animals that would fit in this one particular foot trunk. I never dreamed that she could fit them all in. When I walked by her room later, Freddy was standing on the trunk as Catherine worked to snap the closures on the trunk. She had fit every single one of her animals in. When we buried her, we brought the trunk to the funeral home and we said that they had to put every one of them into her casket with her.
We know that God wants us to work through this. And we know that this is not the end; this is but a breath. When we see Catherine again, it's done. We're never going to have to worry about leaving her again. We're never going to have to worry about not being a whole cohesive unit again. There will be a day when we are all back together again. We need to make sure… I will not allow myself or Freddy or Matt to get stuck in a place where when we do see Catherine again she has to say, 'I'm so sorry!' I want her to be able to say, 'I'm so proud of who you were and how you represented us.'
She's where we all work to get and I wouldn't take that away from her. I'm a strong believer that her path in life ... she was only given to us for six years, and I'm so glad that we soaked in all those six years. I'm glad that we didn't get caught up in the hustle and bustle and we didn't schedule our lives out, so that we do have the memories. It's hard for Freddy to ask "How do I play wiffle-ball?", but we thank God that we have memories of us playing wiffle-ball in the back yard.
I stopped working when Freddy was born, and I gave my attention and my life to raising them. They were a blessing to me. I'm so glad I was able to have that time. I wish I had more. There are days that I think "It's too hard; this is too hard." I'm so grateful that I have the times that we did have together. If more people can think about what they're doing and turn to God, that's all that I can ask for.