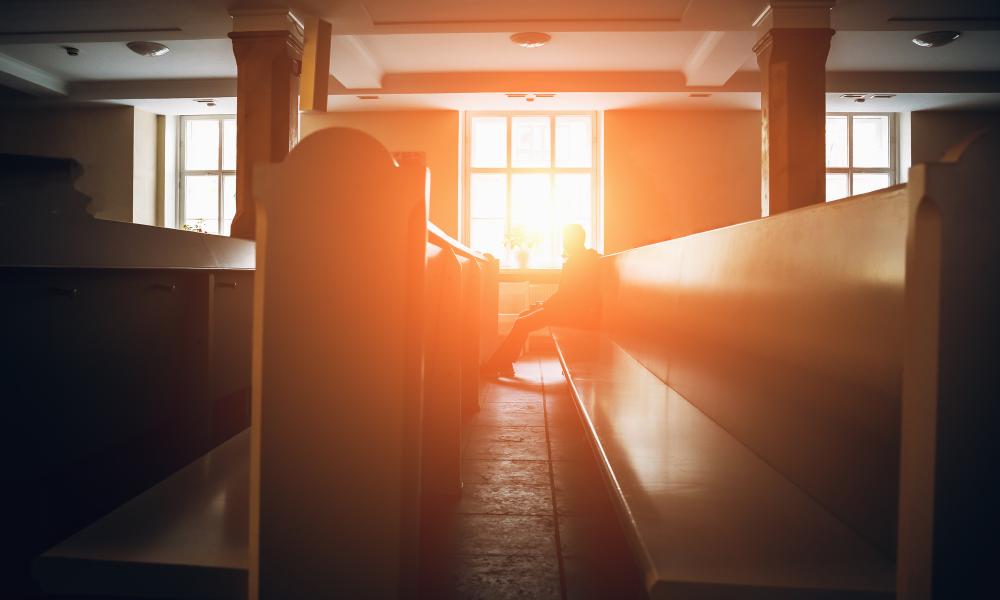 ---
Ridding our hearts of revenge
One of my favorite images of Jesus is one where our risen Lord, with wounds visible, is pointing to His Sacred Heart. The heart is covered with thorns that pierce it, yet a fire of love is burning inside the heart. The thorns symbolize our sins that deeply wound Jesus. The fire is a reminder that His love is greater than our sins.
I think most of us can relate to being wounded in some way by another person. Every day, our news is filled with stories of crime and human tragedy. Every day, people experience abuse, deception, broken promises, indifference, rape, theft, murder and other injustices. Deep wounds. We did not ask for them, but they are there. What do we do with them? We have a couple of choices. If we let the hurt of the wound fester, the infection of bitterness, resentment, hatred and unforgiveness can take over our lives. We will become toxic people. While being the victim of another person's sin and crime, we end up inflicting the hurt on someone else. There is another way – the way of Jesus Christ.
Not long ago, a woman named Marietta Jaeger Lane came to our parish and shared with us her journey to forgive the man who murdered her 7-year-old little girl. Marietta, her husband and their five children were camping in Montana in 1973. Sometime in the middle of the night, a man slashed through the tent where the young girls were sleeping and abducted the youngest girl, Susie. The family awoke with horror to find Susie gone. A frantic search ensued to no avail. When they began searching the river for Susie's body, Marietta "lost it." She remembers, "I wanted to kill him with my bare hands!"
That anger would have consumed Marietta, but she turned to Jesus. He knew her wounds. Marietta says, "I knew that hatred wasn't healthy – that it would obsess and consume me. Were I to give in to that kind of mindset, it would be my undoing. It's not to say that it was an easy realization, because I felt absolutely justified. I had every right to feel how I did." But she knew it was not the way.
As a Catholic, Marietta says, "I was called to forgive my enemies – not to kill them. So I made the commitment to work toward an attitude of forgiveness. I promised to cooperate with God in whatever he needed to do to help move my heart from fury to forgiveness … I've come to understand that God's idea for us is not vengeance but restoration," she says. "Jesus came to forgive, to heal."
One year after the abduction, the man called and spoke with Marietta for a long time. He broke down. He had so much pain inside. Eventually, the man was caught. Marietta did everything she could to fight against the death sentence for the man. She tried to speak of the man with respect, and remembered the truth that Jesus came to seek and save all people, especially the lost. He confessed to the brutal murder of her daughter, and to other murders as well.
Marietta then met the man who abducted and murdered Susie. She looked into his eyes and forgave him. Later that same day, the man committed suicide. At that point, Marietta began to reach out to the murderer's mother. In the years since, each has accompanied the other to her child's grave. "Together, we were able to grieve as mothers who had lost their children," says Marietta. "I hoped that it would help her to know that I had forgiven him."
Marietta continues to carry her wounds, but now they are united and transformed by the grace of Jesus Christ. Deeply wounded, Jesus still forgives. The feasts of the Sacred Heart of Jesus and Immaculate Heart of Mary – celebrated June 18 and 19 respectively – remind us of the great suffering inflicted on Jesus and Mary through sin and hatred, but even more so the mercy, forgiveness and love their hearts offer each person. They offer that mercy to and through you and me!
---
Spiritual exercise:
For our spiritual fitness this month, we will work on ridding our hearts of revenge and forgiving those who have hurt us.
Pray for the desire to forgive. When we have been hurt, forgiving the person who hurt us may be the last thing on our minds. The pain can be so great. Rage or anger can be seething through us. We want justice. We want vindication. We want revenge. But this is not the path to peace. It is not the way of Jesus Christ. The first grace we ask God for is the desire to forgive the other person. Even one step before this is to pray for a desire to desire to forgive!
Read Luke 6:32-36, Mark 11:25 and Matthew 5:23-24. Pray: Dear Father, you forgive us as we forgive others. Help me, dear God, please help me! My pain is great. Help me to desire to forgive (Name) for the pain they have caused me. I know without your grace I cannot forgive them. Jesus, you suffered so much because you had the courage to love. You opened your hands in love and friendship, knowing that we would put nails through them. You forgave us and reconciled us to the Father. Jesus, help me recognize your pain, and to see in my pain a share in your suffering. Help me, Lord, to know your desire to forgive us our sins. Help me to know your love for me is the same as your love for (Name). You loved us both to die for us. Lord, I ask for a desire to forgive (Name) who has hurt me. Dear God, forgive me as I do my best to forgive (Name).
Keep praying this prayer each day – even a few times a day as needed – until you receive the grace you are asking for.
Receiving the desire to forgive is a huge grace. Thank God for it and pray: Dear God, I praise you for your mercy and the desire I have received to forgive (Name). Please Father, forgive me my sins and faults. My pain is still great. Jesus, I still spend most of my time focusing on the hurt (Name) has caused me. I rarely look at how I have hurt others. Please Lord, help me to look at my own wrongdoing and repent. Then as I receive your mercy, I will be able to give your mercy to (Name). Read Matthew 7:1-5.
Pray for the other person. Ask God to bless them. Dear God, you love (Name) as you love me. You want (Name)'s salvation as you want mine. You want (Name)'s happiness as you want mine. You know I do not feel much love for (Name) right now, but I do want (Name) to be happy and at peace. I want them to be filled with love. I want them to be at peace with you forever. Please Lord, bless (Name) and help them in any way they need help right now in their lives. Help them to seek you and find you. I forgive (Name) for what they have done to me. Pardon them Lord as you have pardoned my sins.
In prayer, imagine the following: You have fallen and are lying in the mud. You are embarrassed and hurt. Suddenly, you feel yourself being pulled up. You look up and you see Jesus. He brushes you off and gives you a new cloak. You see the care and compassion in His eyes. In the distance, you see another person lying in the mud, struggling to get up. It is the person who has hurt you. You see Jesus run to them and also help them up. As Jesus brushes them off, you come close. You look into Jesus' eyes and see His compassion for this person. You tell the Lord, "Jesus, I have asked you to help me forgive (Name). Please help me now." You turn to (Name) and say, "(Name), I forgive you. I release the anger and hurt I am feeling toward you. It is off of me like this mud that Jesus has wiped away. I am no longer angry with you and want God's peace to be with you as it has come now to me."
Meeting with the person who has hurt you. In some cases, meeting with the person who has hurt us can bring reconciliation and healing of the relationship. In other cases, it may only help to free us personally. It depends on the response of the person who has hurt us.
Practice receiving forgiveness and giving forgiveness. We receive forgiveness by admitting our faults and saying we are sorry. The sacrament of reconciliation is a huge grace for us. Take advantage of it. Also, we can practice forgiving others every time we pray the Our Father. When you come to the part "forgive us our sins as we forgive those who sinned against us," pause and try to forgive anyone who has sinned against you. Cultivate a forgiving heart by not bringing up past hurtful situations that you have let go. By recalling them and thinking of them again, you may be allowing revenge and bitterness to enter your heart. If this happens, repeat the above steps again and be patient. Forgiveness is a grace that can take time.