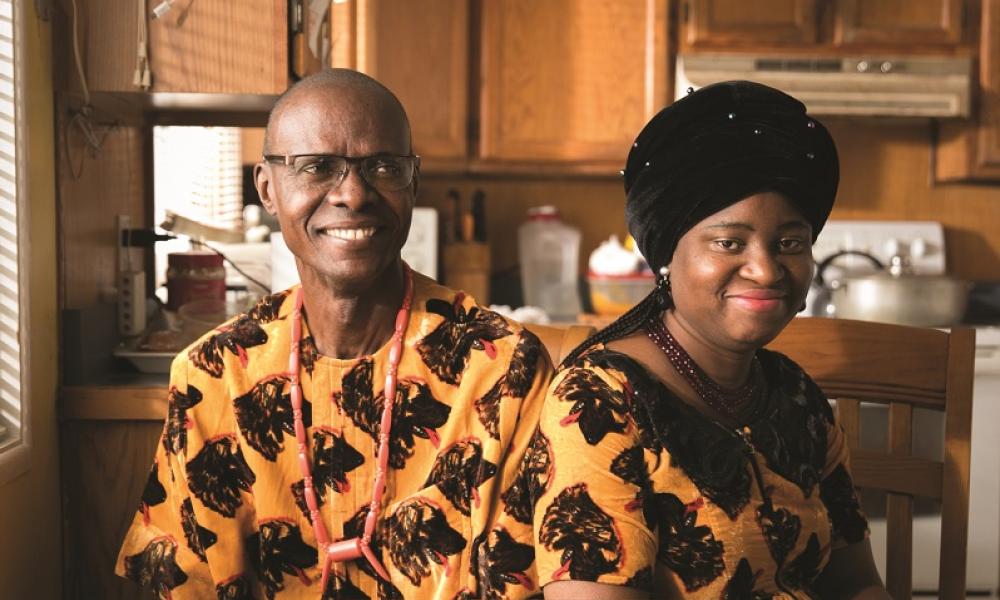 ---
For Ifeoma and Ike, 'The value of a Catholic education is vital'
The Iyioke family table bridges the space between the living room and kitchen.

Walls just a few feet to the left and right showcase special memories captured in family photos.

On the west wall, Mom, Ifeoma, models a traditional Nigerian headdress. Dad, Ike, poses with his sons in their Sunday best outfits. Among the photos of each child, a white-robed Jesus laughs as boys and girls chase the soccer ball he deftly kicks along a playing field.
The east wall features photos of Ifeoma and Ike at their commencement ceremonies, smiling in their robes and cowls that signify their levels of educational achievement. Ifeoma's photos appear most often: her doctor of philosophy in measurement and quantitative methods, a master of science in applied statistics and a bachelor's in computer science and statistics degrees. She earned her last two degrees while she was pregnant. Ike –who earned his master of arts in journalism, a master of science in international relations and a Ph.D. in healthcare ethics – has fewer photos on this wall.
Sitting at their dining room table with Ifeoma, Ike explains: "We tell our children, the key to their future is getting a solid education. It might take a while, but whatever the socioeconomic climate: education, education, education is the key to life wherever they go.
"Education and steadfast faith are the two wings that will let them fly. My parents went to Mass every morning in my hometown, Nsukka. I grew up serving Mass and attending Catholic schools even through college. My first degree is a bachelor of philosophy from the seminary I attended thinking I might become a priest. But eventually I realized I can serve God in different capacities.
"I think I am doing that now. In addition to attending Mass at [Lansing's] Resurrection Parish, we don't go to bed without saying prayers as a family. We do as Jesus encouraged and pray the Our Father. And, of course, we offer spontaneous prayers, too."
Ifeoma nods. "This is where he has impacted me a lot," she agrees. "I grew up thinking that prayers were only for when you are in need or when you are moved by the Spirit. I would occasionally say the rosary, but my family did not pray routinely as Ike's did. I see that it has made us stronger. In challenging times, faith in God gives us hope that things will turn around.
"My family did always value education, though. In Nigeria, my parents are both professors at the University of Nigeria Nsukka, which was founded with personnel assistance from Michigan State University. My siblings and I attended school at all levels on the university campus. My parents shared the expectation that all eight of their children would become highly educated.
"When it came time to go on to graduate school, I looked at Michigan State University because my father earned his Ph.D. here. I was born in Midland when he was doing his post-doctoral work. It was a natural choice for me to follow in his footsteps."
Ike shares his story. "My parents never even attended high school, but my father earned enough as a civil servant to put all five of us children through Catholic school. They believed, as we do, that the value of a Catholic education is vital. The grooming and training our children receive at Resurrection School helps protect them from negative social influences when they're away from us.
"It's not easy. When I told my sister how much we pay in tuition, she was shocked. Between my work as an adjunct professor at UM-Flint and my post-doctoral work at MSU, we make ends meet. Ifeoma's work as a research faculty member at MSU allows us to cover our children's education costs, and life goes on.
"We are hoping our socioeconomic status will change in the same way so much has changed over the years. When I came here in February of 1996, I was a MacArthur Fellow expecting to return home the next year. I have always advanced through hard work, so I applied myself during my fellowship, taking night classes and making presentations on weekends. Soon, I became editor of a small journal through MSU and started to build a life here. I was president of the Nigerian Student Association at MSU and active in the African Studies Center as I was earning my various graduate degrees."
Ifeoma interjects, "He hosted a welcome party for new students at this house in 2004 just after I arrived from Nigeria. We discovered that we both grew up in Nsukka, and Ike offered to take a message to my parents because he was traveling home shortly."
Ike laughs. "I was looking for a wife. As Ifeoma and I talked that evening, I thought I might have found her. When I met her family back in Nigeria, I was pretty sure. We were married in 2005 and have been blessed with four children – Ikenna (11), Arinze (9), Ililochi (6) and our daughter, Sopuruchi (2). In 2012, I became an American, so now we all have dual citizenships.
"When we go back to Nigeria to visit family, our children speak Igbo fluently and are comfortable in their other culture. I am proud that they can be citizens of both worlds. Some have asked why we don't give them American nicknames, but we feel it's important to honor their Nigerian identity even as they love being American kids.
"This is what makes America great. People come from all over the world and contribute to our great country. I don't know if you know this, but a Nigerian-American designed the Chevy Volt; and a Nigerian-American doctor – about whom a Hollywood movie has been made – identified the dangers of concussions in the NFL.
"Throughout U.S. history, it has taken us awhile to appreciate those who come from other countries – especially those with darker skin. But our diversity is one of the things that makes America truly great. When we recognize the gifts we receive from all our citizens, the grace of God helps us to realize that we all matter."
"Education and steadfast faith," Ifeoma agrees. "That is what will allow our children to contribute to both countries. We look forward to seeing how they use their Catholic education to shape a better future for us all."
Catholic Schools 
If you would like to make a donation to help finance a Catholic school education for a child in a diocesan school, please contact John Madigan at john.madigan@micathfound.org.
For information on applying for financial aid, contact Renee Fischman at 517.267.2107.
For more information on schools in the Diocese of Lansing, visit dolcatholicschools.com.