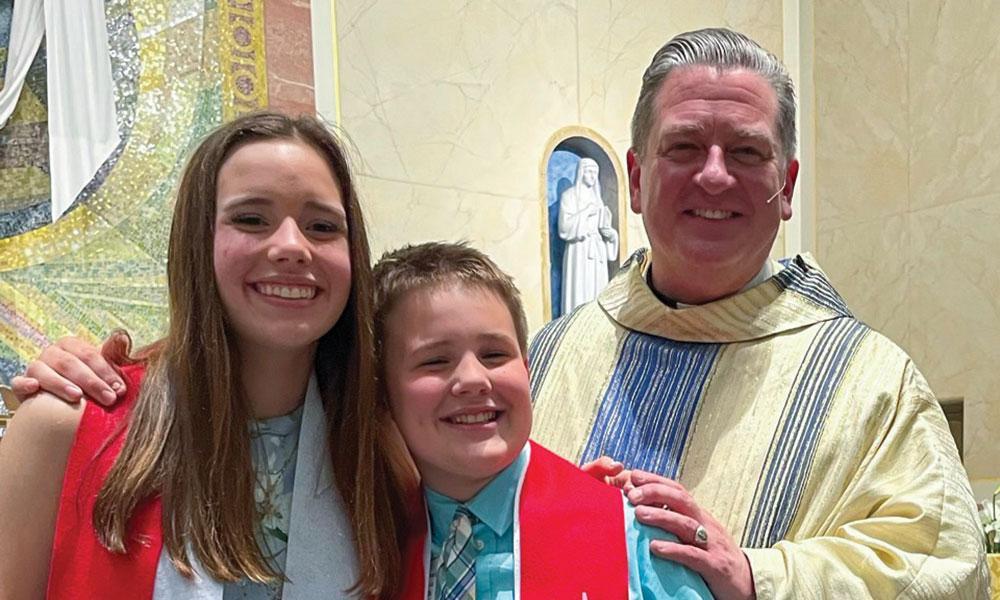 ---
'If you trust God unconditionally, in the end, he will get you to where you are supposed to be'
Jackson's Lumen Christi High School has been bringing hearts to the Lord in countless ways. With larger-than-normal numbers of conversions among both students and adults during the past year, the Holy Spirit has been hard at work.
The Office of Catholic Schools of the Diocese of Lansing, with financial support of the Diocesan Services Appeal, supports the mission of Catholic Schools across the diocese; helping to bring students to Jesus Christ and into full membership in the Church.
"We try to infuse faith into everything we do," says Clare DeWitt, Lumen Christi's director of campus ministry. "It's part of our school environment, and we're fortunate to have adults who are willing to be open so we can put students in the right direction. I think that's huge."
Clare, who came to Lumen Christi two years ago after serving as the coordinator of youth ministry at nearby St. John the Evangelist, has a wealth of experience with teens.
"When I arrived, I had already been actively running a youth group and doing a lot of outreach ministry here at the school," Clare says. "I found people here were creating a community that gives students opportunities to ask questions and want to pursue their faith. My job is to help them seek out the Lord and talk about their journeys, while connecting them with local parishes so they could take that final step toward full communion with God."
These experiences helped Clare hit the ground running with students like freshman Michael Palmer, who decided to consider a journey toward Catholicism after transferring from Michigan Center during the pandemic.
"I didn't like doing school online. And this is the only school in Jackson that was doing that type of learning. I just decided why not give it a try?" Michael says. "After a while, I realized I wanted to explore around the church and stuff. I felt like it was a perfect idea to just join and see what would happen. And it's changed my life."
Michael says he could sense a strong positive energy among his peers.
"I felt I wanted to be a part of this. I felt like I was missing something," Michael says. 
Sophomore Lily Bannasch, who came to Catholic education during her eighth-grade year, and converted to the faith in 2022, agrees there's something special happening at the school.
"My parents are lifelong Catholics, but they never wanted to force the faith on me," Lily says. "I had been to church a few times before without a ton of interest, but after coming to Lumen Christi, things changed. I realized I'm spending so much time with Jesus, and he's just all around me, and I felt it so much in me. And eventually there became this passion in me that I'm like, 'I really want to be a part of the Church.' And so I told that to my mom, and she's like, 'We can set that up.'"
Today, Lily sings in the school's music ministry and reads at Mass. Ultimately, she hopes to enter the medical profession. Having ensured her own heart is in the right place, she dreams of becoming a cardiac surgeon. 
Both Lily and Michael say their lives have been transformed by their conversion experiences.
 "I've seen more of the good in people, and in myself," Lily says. "My life overall has gotten a lot more optimistic. And I feel like it's changed the people around me too. I feel like everyone will have ups and downs. It's just part of human life. My faith has helped me and my friends through those times and has just helped me a lot more than I think I had imagined."
Michael agrees, saying that his faith has been of enormous help to him, particularly during his athletic competitions.
"I'm trying to stay positive the entire time and be better to myself," he says. He now prays before and after his games and feels that he has stronger connections with his teammates. 
Both Lily and Michael offer realistic encouragement to others who might be considering Catholic conversion.
"If you really want to do it, you should do it," Lily says. "But I would also warn them in a sense saying, 'You are going to have times.' Even in the past year, I've had times where I've doubted Catholicism, and I've doubted the Lord, because it felt like he wasn't there for me.
"But Father Brian, he's the priest at this school, he said that the Lord will play out your life how it's supposed to be played out. And if he's not supposed to be there in your life at that moment, he's just putting a cloud in front of the sun. The cloud will drift away, and the Lord will be present in your life. And I will tell them that. You're going to have doubts about it, you're going to feel like it's not worth it. But if you trust God unconditionally, in the end, he will get you to where you are supposed to be."
Michael enthusiastically agrees.
"I think that if you are going to do it, you should go all out," he says. "But you have to trust the process, because I've been going through times too where I'll be hearing these stories. I'm like, 'What the heck?' And I just must think, 'He's here, he's here, he's here, and I know that he's coming.' You just have to stay with him, and just don't give up at all, because if you give up, you are going to lose your moment. But luckily, he forgives."
For Clare, the school's journey is nothing short of incredible.
"I grew up in a Catholic home, and have always been part of the faith, which is a huge blessing in my life. But also I just love when students are feeling prompted to go deeper and do something really courageous," Clare says. "It's a pretty big culture shift to go outside, and be like, 'Yeah, I'm going to go through the process of becoming Catholic.' Because it's not like a club where you just randomly show up one day and you're in. It's a process. 
"So yeah, it's really cool on my end to see Jesus just prompting students to go deeper. And as a campus minister, that's what you want to see. I love being able to know that we're a place where that's being cultivated, and kind of encouraging students to do that."