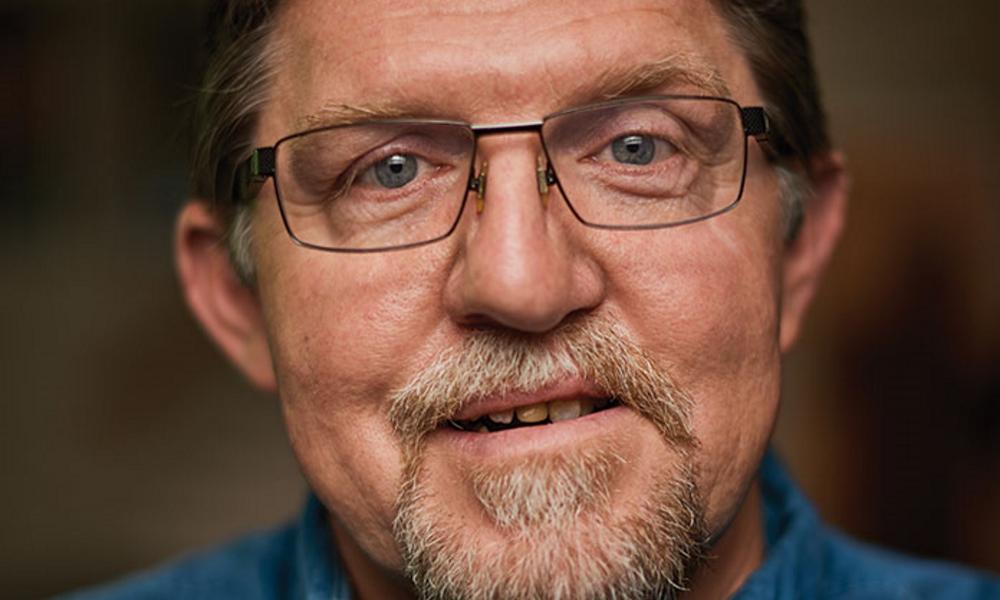 ---
'I knew I wanted something different from life' How God completely changed Michael
"Above all, trust in the slow work of God." These words from a poem by Pierre Teilhard de Chardin, a Jesuit priest and renowned scientist, resonate with 54-year-old Michael McMurtray. Passionate about his faith, Michael's recent return to Catholicism is testimony to that slow work and trust. "I better understand that everything I did was ultimately searching for God's love; I was just looking in the wrong places," he says. And he looked for a long time.
Despite being baptized into the Church in Texas as an infant, Michael didn't experience Catholicism until his teen years. His parents, divorced when he was 5, resumed their relationship during his teen years; that was when his mother introduced an active faith life to the family. Michael went through the confirmation process and was captivated. He says, "God came into my life. I went with it. I even felt I wanted to be a priest, explored various orders, and had the papers in hand to apply to the Franciscan Order."
During this discernment process, Michael met Shannon, the woman with whom he wanted to share his life. But Shannon was engaged to another, eventually relocated to Michigan and was subsequently out of Michael's life. But the intensity of his feelings for Shannon clarified for Michael that he was not called to religious life. He began a relationship with another woman, and this is when things began to unravel.
Though intending to dissolve their relationship, the couple found themselves pregnant. "I was a happy Christian, very involved with the Church, until the pregnancy. I went to talk to the priest about getting married. Despite both of us being Catholic, he refused to marry us during her pregnancy. I felt rejected, like the Church turned its back on me. I felt I no longer fit in. Motivated to protect my child within a family, we ended up with a civil ceremony."
Their rocky marriage never found firm ground, and those effects permeated everything. Michael began to question Church teaching, turned his back on God, considered himself agnostic and even succumbed to pornography. After 25 years, when his daughters were young adults, he left their home.
He quickly entered another relationship and, through a friend of his girlfriend, ended up attending a Mass. "I remember liking it. It started me questioning my motives and what I wanted to do with my life. I saw my pattern of superficial relationships and didn't want that anymore. I knew I needed to go back to church." Michael also realized he'd never stopped thinking about Shannon. Unaware she'd been recently widowed, he began an earnest search.
He continues, "At the onset of my return to faith, I pushed myself to attend Mass. When I got home from church one Saturday, there was a message on my phone from Shannon." It'd been a year and a half since he'd begun his search. "I believe that was a God moment," he says.
Although still in Texas, Michael began a six-month phone relationship with Shannon, who still resided in Michigan. During their conversations, he found peace in sharing his story and his thoughts with her. On Palm Sunday, 2012, he flew to Michigan and saw Shannon for the first time in 25 years at Mass. "It was very meaningful to reconnect at church, especially being together at a Mass where baptismal promises were renewed," he says. Michael still knew she was the one. They wed in June of 2013. By opening his heart to God, and to Shannon, Michael began to feel whole again for the first time in a very long time.
After Michael relocated to Michigan, he joined Immaculate Heart of Mary Parish in Lansing and began a quest to satisfy his awakening spiritual hunger. He became an extraordinary minister of holy Communion, joined the Knights of Columbus, began listening to Catholic Radio and served as an Alpha table host. "I really liked the small groups, and willingly opened my heart to share my life. I felt connected to God in a big way and yet, I didn't feel I was being fed enough," he says.
Michael approached his pastor about forming a men's group. He and another man now host a weekly men's discipleship group, which provides the sustenance Michael was longing to find. He says, "We use a faith study series that includes the catechism and is very intentionally directed at a life in Christ." The group currently has 11 members. Michael concludes: "I have no regrets; I think God speaks to us and reaches us through our vulnerability. I knew I wanted something different from life and, in God's time, it happened. If my life had been different, I wouldn't have grown the way I have."
Catholics Come Home
A Catholics Come Home television campaign will occur in the Diocese of Lansing from mid-December through mid-January 2018. Look for these beautiful television spots beginning this Advent.