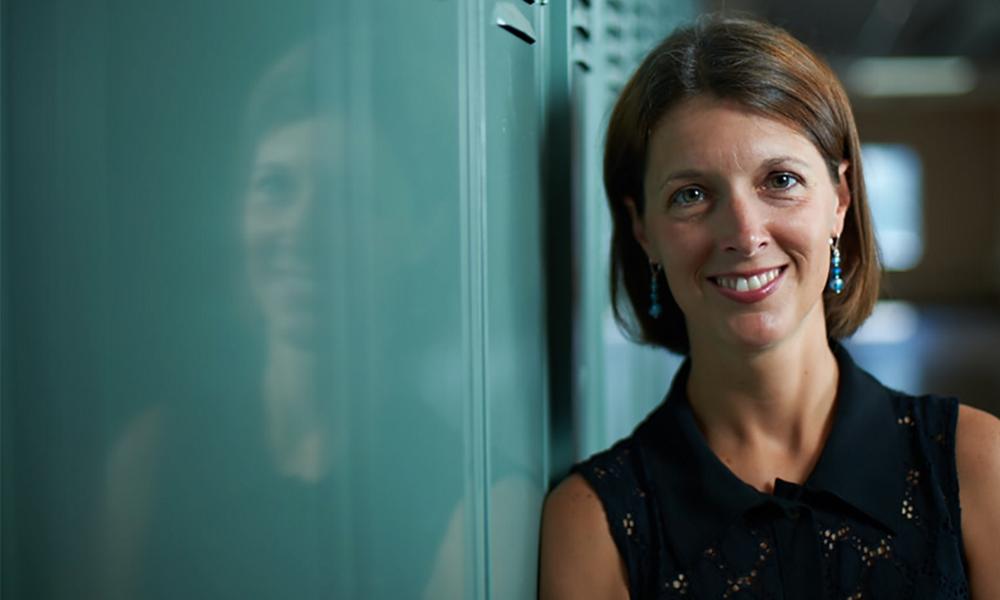 ---
"I felt so much closer to God" Karla's experience at the Women's Conference
A busy working wife and mother, Karla Palmer has a strong faith that she nurtures by being active in her parish and searching out inspiration in different ways. Encouraged by her mother and accompanied by her sister, Karla spent an entire day in October with her Catholic sisters at the 2013 Women's Conference in Lansing. Originally excited about the chance to listen to author Teresa Tomeo, Karla left Lansing feeling inspired and fulfilled beyond her expectations.
"The part that impacted me the most from the conference were the stories shared by people who had been through experiences, and through their experiences came closer to God," Karla says.
The Women's Conference so enriched and inspired Karla that for two nights she lay awake working out a plan to bring her experience to the women of St. Joseph Church in St. Johns.
"When I left the conference I felt so much closer to God," Karla says. "I personally felt like the Holy Spirit was talking to me."
Karla decided to bring the women of her parish together for a day of presentations, prayer and celebration of faith. "I kind of had the plan in my head after the conference" she says. "I went out and talked to women in my community I knew were so strong in their faith. I just wanted the women of our school and parish to be involved."
The planning process involved research on presenters for the conference, and Karla used back issues of FAITH Magazine to find local families and individuals with inspiring faith stories. Amber and Neil Feldpausch, who appeared in the magazine in 2003 and 2013, shared their experiences as a Catholic couple from dating to parenthood, including using natural family planning. Clinton County Probate Judge Lisa Sullivan's experience with functional and dysfunctional families allowed her to offer insight on how families can use their faith in times of stress.
The Dominican Sisters of Mary from Ann Arbor caught Karla's eye, too. She discovered the group while doing research on different organizations of sisters when her first-grade daughter expressed the desire to become a nun.
"I feel like the Holy Spirit guided me to this group," says Karla. "Their focus on education in Catholic faith is so inspiring."
The desire for her daughters to experience the power of a women's conference moved Karla to include activities for the younger girls in the parish. "I just felt like it would be a great way to get moms to come for the day, knowing their girls were going to be involved," Karla says "so we had separate activities going on for the young girls, including making rosaries."
The planning experience strengthened Karla's faith, and Karla's vision strengthened the faith of her fellow parishioners.
Vendors set up booths to share information and materials on topics appealing to women as mothers, wives and practicing Catholics. In addition to speakers and take-home materials from vendors, Karla wanted sacraments to play a part in the experience, too, so reconciliation and adoration were offered.
"We did say the rosary. The younger girls actually led that," says Karla. "The girls from third grade and some of the older girls led the women through the rosary."
The month selected for the conference had special significance for Karla, allowing her to use the Holy Mother as inspiration for the women attending. "I have a really strong connection with Mary, so we tied our conference in with the month of May," she explains about the choice of May 17 as the date of the St. Joseph Women's Conference.
Karla knew the best way to let women know about the parish conference was to promote the day using parish organizations, including the Parents' School Council. The word spread through the parish, and St. Joseph women and their daughters came from noon to 4 p.m. to refresh their faith.
"Women have such a special role in their families and in their faith," says Karla. "We need time to get together and celebrate our faith. Our goal is to make our conference a yearly event."
Working to put the conference together was a faith-building exercise for Karla. "Anytime you are putting on an event, you are strengthening your faith," she says. "We all have gifts we have been given and we need to use them. It's important to listen to what your heart is telling you.
Strong Catholic women are important to the Church, especially with all the negative influences found in society. Karla's faith has remained strong thanks to the guidance and influences of her mother and grandmothers.
"I feel like I had such good positive role models in my life," says Karla. "My mom is such a positive role model. Her demonstration in what it means to be a mother and to be a wife is instrumental in my life. The role of women in society is changing, and that influences the role of women in the Church. We need to make sure that we're looking for positive role models that our Church can provide for us."
Now Karla uses what she has learned from her mother and grandmother to help her daughters, as well as other women and girls, to look beyond what society offers for women. The key, Karla believes, is to focus on faith.
The third annual Catholic Women's Conference in the Diocese of Lansing will be held on Saturday, October 25, 2014 from 8:30 a.m. to 4:30 p.m. at the Best Western Plus in Lansing. For more information, visit: www.lansingdiocesecwc.com.