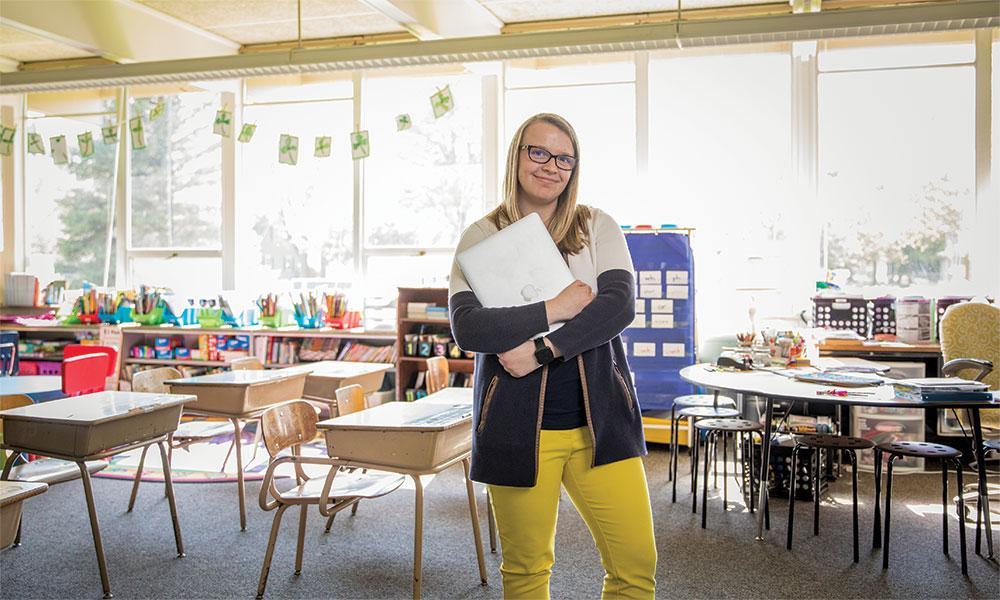 ---
'I Can't Even Express What Catholic School Gave Me!'
How Brittney is shaping hearts and minds as a Catholic school teacher
In the fabric of Brittney Crawford's life, family and community are the warp and weft giving security and beauty, and weaving generations together.
"My family is central to who I am in this world," Brittney explains. "I'm the youngest of three kids. My dad teaches at the Genesee Career Institute and Mom works for the Michigan Department of Health and Human Services. But when I was little, she ran a childcare center in our home and Dad had his own design business. Home has always been at or near the center of my world.
"We were members of St. Paul's Parish in Owosso, and my brother, sister and I all attended school there. My foundation at St. Paul's – I can't even express what that school gave me! The care and compassion for each child and the way they engage their students were amazing. My teachers were true witnesses to their faith and helped us build ours. My sixth-grade teacher, Mrs. Stephanie Smith, especially inspired me.
"I wanted to pay forward some of what I received, so I decided to study education in college. My father and sister both graduated from the University of Michigan, and I followed in their footsteps. In my senior year, I wasn't sure what I would do after I earned my bachelor's degree in elementary education. Pursuing a master's degree was a great option, but I didn't really have the money to go right into grad school.
"When someone told me about the Lalanne Program through the University of Dayton, it sounded amazing. The website promised a free master of education degree through online and summer classes. It even claimed it would pay me an annual stipend of $12,000 and subsidize my housing costs over two years while I taught in a Catholic school. It offered me a job with housing and income and a free graduate degree in two years! It seemed like a perfect fit for a kid inspired by my own Catholic education.
"I applied in January 2019, then did a day trip to Jackson to check out a participating school. I was enjoying my student teaching in a public school – especially the resources. So I wanted to go into a Catholic school to see if I loved my memories because they were real or because they were part of a wonderful childhood.
"When I walked into St. Mary Star of the Sea school, I had my answer. I saw parents volunteering in classrooms or having lunch with their children, as I had remembered. While they welcomed people of all faiths, they were taking character education a step further based on our Catholic beliefs and teachings. And there was active support from the parish community like we had at St. Paul's.
"Knowing I would be happy teaching in a Catholic school, I just kind of let God lead the way. 'Let go and let God' really took the stress away, so I could finish up my degree and wait to learn whether I had been accepted or not. Before long, I got a letter welcoming me to the program. Within a month of graduating, I started classes at the University of Dayton!
"U of D was founded by members of the Society of Mary, so its teachings stress Marianist charisms such as living in community, welcoming strangers and working together as equals. We forgo spouses and pets for two years so we can focus on learning and living with our colleagues. We each have our own lives and goals, but we set expectations as a community and check in and hold each other accountable as we work through the program.
"Our first session was a retreat for our cohort and those who had already been teaching for a year. Then we settled into learning and doing smaller community events with folks we would be living and working with in various under-resourced Catholic schools. These are in rural and urban communities across three dioceses, including the Diocese of Lansing. Each of us was excited about making a difference in the lives of children and in schools that struggle to attract young, faith-filled teachers.
"My assignment to St. Mary School in Charlotte has been perfect! The first time I walked into our school I thought 'Wow! This is a cool place!' Our principal, Mandy Wildern, makes things happen and keeps us all shaping hearts and minds in the service of Christ.
"Though I student-taught a kindergarten class, I am teaching third grade here. Instead of teaching kindergarteners to form letters, I'm helping my kids research. Instead of adding and subtracting, my St. Mary students are multiplying and dividing. At St. Mary's, our goal is to get our students to heaven. God is our focus. Heaven is our goal.
"My professional goal is to teach where families come to learn English. As an undergrad, I learned Spanish in an intensive program. I could speak it with kids, but never felt I was doing their language justice. I want to learn skills so I can communicate more deeply and help them become successful. My master's in teaching English as a second language is already moving me in that direction.
"I am really grateful I didn't have to move far from my family in order to give back. We get together either at home or in Charlotte at least once a month. I go home for the weekend or they come down to attend Mass with me here.
"Looking back on the [first] year, I have been surprised by how easy it's been to live in community and how rewarding it's been to carry forward the gifts I received as a student of Catholic education. The Lalanne program has provided a great way to earn a master's degree debt-free, while learning and growing in my faith with a wonderful community. And I get to live and work in the diocese where I grew up!"
It all weaves together in a beautiful blanket that will sustain and warm Brittney wherever God leads.