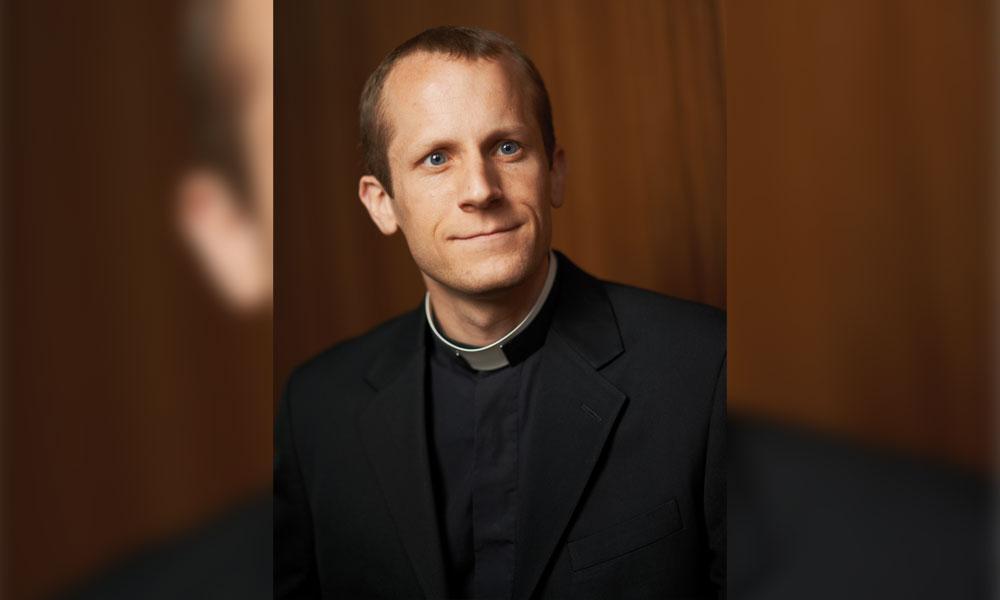 ---
How Pope Benedict Changed My Life
Father John Whitlock is the Vocation Director of the Diocese of Lansing. A convert to Catholicism, the work and witness of Joseph Ratzinger, later Pope Benedict XVI, has had a powerful impact for the good upon Father Whitlock's life as he now explains in his own words:
"Shortly after Easter back in 2005, I was working as an accountant and we had just finished another busy tax season. Being in mid-April, I had a few days off, and so I had the good fortune of being able to watch Pope John Paul II's funeral on live TV."
"Around this time, rumors started swirling: "who will be the next pope?" One of the persistent rumors of the papabili was a certain Cardinal Joseph Ratzinger. I knew nothing about him, so I decided to pick up a few of his books. Unknown to me at the time, this decision would have a profound impact on my life."
"The first book I purchased by Cardinal Ratzinger, who indeed became Pope Benedict XVI, was entitled God is Near Us: The Eucharist, the Heart of Life. Of all the twenty or so subsequent books I have read by Pope Benedict, I think this title perhaps best encapsulates the heart of the Holy Father's brilliant thought and deep faith. First, that God is near us — God is real, and that living and true God has come near to us in the person of Jesus Christ. Pope Benedict's works are profoundly "Christocentric," meaning, Jesus Christ is the heart and the center of everything."
"As a peritus, or expert, at the Second Vatican Council, the 37-year-old Fr. Joseph Ratzinger knew the true "spirit" of the Council better than most, and so his Christocentrism perfectly coincides with the Council's teaching that "Christ, the final Adam, by the revelation of the mystery of the Father and His love, fully reveals man to man himself and makes his supreme calling clear" (Gaudium et Spes, 22). In other words, there can only be a true appreciation of the dignity of the human person if we come to know Jesus Christ and are willing to learn from Him: Jesus teaches us what it is to be truly human."
"And so, it is also fitting that Pope Benedict calls the Eucharist, the very flesh and blood of Jesus in sacramental form, the heart of life. Not only does Jesus reveal humanity to itself, but God has made His face known in the person of Jesus Christ. And this Jesus is now present to us and to people in all times and all places in an unimaginable way: in what appears to be simple bread and wine. Because it is through the Eucharist that we encounter God-with-us, the proper celebration of the Holy Mass was of great importance for the Pope.
When we receive Holy Communion, we truly receive the real presence of God — the Body and Blood of Christ. God is real. And if God is real, then that means there is a Truth that comes before me: I do not make it all up on my own.
The Pope writes, 'the Eucharist is God as an answer, an answering presence. Now the initiative no longer lies with us, in the God-man relationship, but with Him, and it becomes now really serious business'."
"While I never met Pope Benedict XVI in person, I did have the chance to see him close up and attend one of his Papal Masses at World Youth Day in Cologne, Germany, in 2005. I also was blessed to attend a general audience with him as a seminarian visiting Rome in 2011. Then, in the summer of 2019, I had the opportunity to travel to Germany on a pilgrimage and visit many of the places near to his heart: to offer Mass on the altar of his baptismal parish in Marktl-am-Inn; to pray in the cathedral where he was both ordained a priest and consecrated Archbishop of Munich and Freising; and to pray at the Marian shrine which was so dear to him in Altötting."
"To conclude, my intent in writing this essay is twofold: first, to offer a small word of gratitude to a holy man of God who has blessed me in so many ways. You will probably not hear many kind words spoken of Pope Benedict XVI in the secular media, and this is mostly to his credit: Jesus was not very popular in his own day when He started speaking the hard truths that are required for our salvation."
"And second, to encourage you to pick up Pope Benedict/Joseph Ratzinger's books. I suggest starting with his crowning work, Jesus of Nazareth: From the Baptism in the Jordan to the Transfiguration. I will close with a few final words from this book:
"What did Jesus actually bring, if not world peace, universal prosperity, and a better world? The answer is simple: God. He has brought God, and now we know His face, now we can call upon Him. Now we know the path that we human beings have to take in this world. Jesus has brought God and with God the truth about our origin and destiny: faith, hope, love. Yes indeed, God's power works quietly in this world, but it is the true and lasting power. Again and again, God's cause seems to be in its death throes. But the glory of Christ, the humble, self-sacrificing glory of his love, has not passed away, nor will it ever do so."
"Amen. Requiescat in pace, Holy Father."
---
Father John Whitlock is Vocation Director for the Diocese of Lansing.