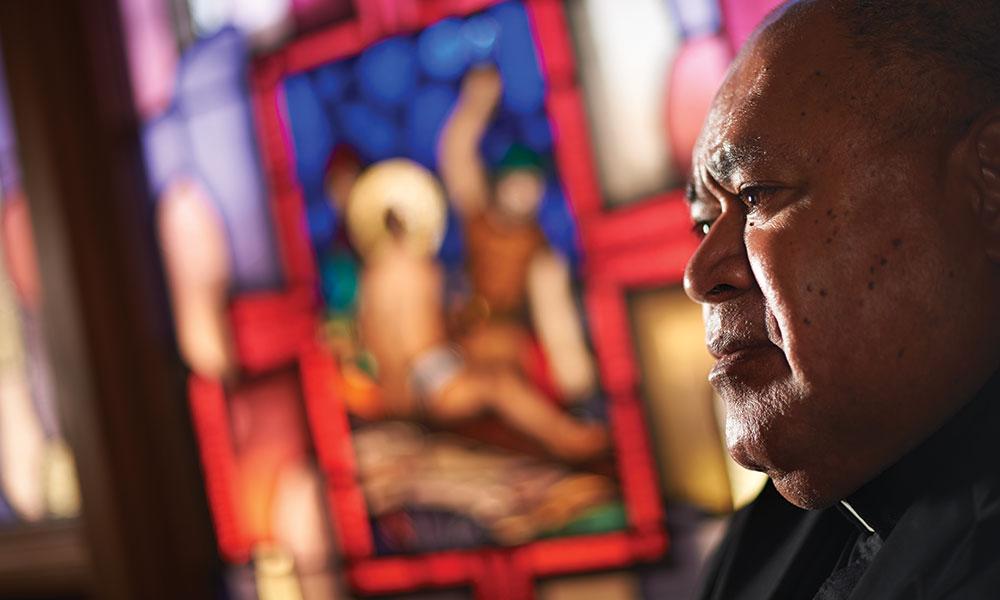 ---
How has the Church continued to serve the people of God during this crisis?
The COVID-19 pandemic continues to spread throughout the United States, sickening more than a million people, and killing more than 80,000. The whole nation is dealing with grief, and an almost surreal environment of activities curtailed, shelter at home orders in place and schools and businesses closed. During all this, the Church has had to find new ways to serve the people of God. Across the United States, and in many other parts of the world, public Masses were suspended and the celebration of the sacraments curtailed. People have had to postpone weddings and baptisms. Catechumens are still waiting to enter the Church as they'd planned to do at the Easter Vigil. Funerals have been delayed or celebrated with a tiny fraction of those who are mourning. It has been a time of unparalleled challenges, but the Church has risen to face them.
All over the world, clergy, parish staff and parishioners have found creative ways to continue to serve the faithful. Although the inability to receive the Eucharist, the very "source and summit" of the Christian life, has been painful and difficult for Catholics, parish and diocesan efforts to minister to their flocks have been nothing short of inspired. Livestreamed Masses, daily reflections, prayer resources, spiritual Communion, drive-thru confessions, "quarantine catechesis," Rosary livestreaming, videos and "fireside chats" with bishops and pastors, virtual Theology on Tap. The list is lengthy.
Pastoral efforts by priests and parish staff to reach out to parishioners by phone, email and social media have built and reinforced a sense of parish as community despite physical separation. Livestreamed Masses help parishioners encounter Christ in the liturgy, and outreach on behalf of clergy and staff, assuring parishioners of their personal prayers for them, offers a sense of accompaniment that makes the Church truly present in people's lives in a tangible way in this troubled time. As the Church, this is a time to communicate more, not less, with the faithful. And the best efforts over the last few weeks have provided a voice of hope, and brought the grace of our Lord, Jesus, and the power and presence of the Holy Spirit, to countless souls.
---
How has the Church celebrated the sacraments during this time?
According to an online survey conducted by FAITH Catholic, the majority of parishes across the United States either suspended the celebration of baptism, confirmation, weddings and funerals, or limited their celebration to private events with immediate family members. Below are some numbers from parishes across the United States indicating how they have handled the administration of the sacraments of confession and anointing of the sick.
Confession
By appointment only: 53%
Suspended: 32%
Administering as usual: 17%
Rescheduled: 3%
Anointing of the Sick
By appointment only: 58%
Administering as usual: 24%
Suspended: 16%
Immediate family only: 5%
Rescheduled: 2%
Below are some statistics on how parishes are handling sacrament preparation
---
Baptism prep
Suspended: 69%
Video classes/one-on-one: 22%
Email communication: 11%
Telephone conferences: 9%
Livestreamed/video replay: 7%
Confirmation prep
Suspended: 53%
Email communication: 36%
Video classes/one-on-one: 23%
Livestreamed/video replay: 6%
Telephone conferences: 4%
Source: FAITH Catholic survey of parishes (April 23 to May 7, 2020)
---
Bishops consecrating the United States to Mary, the mother of God
In a prayerful response to the pandemic, bishops across the U.S. and Canada reconsecrated those countries to Mary. This was particularly appropriate as we entered the month of May, traditionally dedicated to the mother of God.
Archbishop Jose H. Gomez of Los Angeles, president of the U.S. Conference of Catholic Bishops, led a Renewal of the Consecration of the United States of America to the Blessed Virgin Mary on May 1. He said,
"In this difficult time we turn to the Blessed Virgin Mary, mother of the Church. She intercedes with her Son for all are affected in this way by the pandemic ... We implore her maternal care for her children … Mary was the first person to consecrate herself to Jesus, the first to offer her whole heart to do his will, to set his beautiful plan of redemption. We ask God to give us that same faith, that same courage ... the strength to follow Jesus, to seek his holiness and his kingdom."
In Washington, D.C., Archbishop Wilton Gregory presided over a similar, livestreamed liturgy of consecration, praying "In this time of pandemic, we come to you, our sign of sure hope and comfort. Today we renew the act of consecration and entrustment carried out by those who have gone before us."
---
U.S. Bishops ask why coronavirus is devastating black communities
The Bishops of the United States are calling for an examination of why the COVID-19 pandemic has disproportionately impacted African-American communities.
"Our hearts are wounded for the many souls mourned as African-American communities across the nation are being disproportionately infected with and dying from the virus that causes COVID-19," said a statement released by the U.S. Conference of Catholic Bishops (USCCB) on May 4.
"We raise our voices to urge state and national leaders to examine the generational and systemic structural conditions that make the new coronavirus especially deadly to African- American communities," said the statement, which was signed by Bishop Shelton Fabre of Houma-Thibodaux, Archbishop Paul Coakley of Oklahoma City, Archbishop Nelson Perez of Philadelphia and Bishop Joseph Perry, an auxiliary bishop of Chicago. – Catholic News Agency
---
Pope Francis prays for those who have died alone
At Mass on May 5, Pope Francis said, "Today we pray for the deceased who have died because of the pandemic. They have died alone, without the caresses of their loved ones. So many did not even have a funeral. May the Lord welcome them in his glory."
---
Bishop engages his flock in Pensacola
On Facebook Live, Bishop Bill Wack of the Diocese of Pensacola chats with the faithful at 9 p.m. each evening to offer encouragement, prayer and a brief lesson on the books of the Bible, the liturgy or the saints.
---
Prayers being offered in Baltimore
Archbishop William Lori has invited people to submit their prayer requests on the Archdiocese of Baltimore website: www.archbalt.org/prayer-request
He has pledged to take those petitions to the altar each day as he celebrates Mass, and will lift them up in prayer.
---
Catholic TV tweets for your prayer requests
In the Archdiocese of Boston, Bishop Robert Reed, the head of CatholicTV, tweeted "I'm guessing you have some things for which we can pray?? Send them to: CatholicTV.com/pray and they will go to the chapel." Bishop Reed is celebrating a memorial Mass on May 29 for COVID-19 victims. You can submit names for prayers on their behalf.
---
Easter blessings in the Archdiocese of St. Paul/Minneapolis
Archbishop Bernard Hebda and Bishop Andrew Cozzens offered drive-thru blessings on a chilly Easter morning in St. Paul/Minneapolis.
---
Who helps the helpers? In the Diocese of St. Augustine, it's this priest
Fred Rodgers is often quoted as saying, "Look for the helpers. You will always find people who are helping." But who is helping the helpers cope during this pandemic?
Father Leonard Chuwa is the director of spiritual care for Ascension St. Vincent's and its three hospitals in the Jacksonville area. He and three other priests provide comfort and spiritual help for hundreds of patients, thousands of employees and an untold number of relatives and friends of those stricken with the coronavirus. (Courtesy St. Augustine Catholic)
---
Stitched with Love
Adela Hernandez, from St. Joseph Parish in Waite Park, Minn., and her friend Elena Limon have sewn more than 150 masks to donate to their local hospital.
(Courtesy The Central Minnesota Catholic)
---
Eucharistic blessings at 10,000 feet
In the Diocese of Lansing, Father Mark Rutherford blessed the entire diocese with the holy Eucharist. His chartered Cessna 182 flew over the diocese's 10 counties while Father Mark blessed all of the people below. He was assisted by a seminarian, Brett Ivey.
---
Father Chas Canoy and a parish full of palms
Father Chas Canoy, pastor of St. John the Evangelist in Jackson, Mich., was missing his parishioners as Holy Week began. So, on Palm Sunday, he taped palms to the places people would normally be sitting in the pews. He says they will be waiting for parishioners when they can all be together again.
---
Teaching on Zoom
Smiles abounded even during the first days of the coronoavirus pandemic. Several fourth-graders at Our Lady of Peace School in Erie, Pa., enjoyed social hour with their teacher, who brings education home through Zoom sessions.
(Courtesy FAITH, the magazine of the Diocese of Erie)
---
Adoration from afar
At St. Mary Church in Upsala, Minn., Father Jeremy Theis realized he could take advantage of the church's large front window to offer adoration to parishioners in the parking lot. People must stay safely in their cars, but can pray from afar. (Courtesy The Central Minnesota Catholic)
---
Catholic Charities still helping those in need
Catholic Charities of the Diocese of Salina, Kan., distributed food and hygiene supplies in parish parking lots around the diocese on April 15. (Courtesy Faith, the magazine of the Diocese of Salina)
---
FAITH's Father Joe takes to the streets with Jesus
On March 22, Father Joe Krupp set off on a 90-minute eucharistic procession through the streets of his parish in Grand Blanc, Mich. "Jesus carries us, we are going to carry him today. I want you to know I will be carrying all you in my hearts. Especially all our medical professionals, all those working in hospitals, you are not alone. To all our senior citizens, people in hospital, who are kind of trapped in their rooms and alone — you are not alone. We love you. We are thinking of you and God sees you."
Also from Father Joe — catechesis in the pandemic
Father Joe Krupp is offering "Quarantine Catechesis" on Facebook. People can tune in during their lunch hours Tuesdays through Fridays for lively presentations on Church teaching and sacraments.
---
Drive-thru confession
Like many priests across the country, Father Seamus Griesbach of Sabattus, Me., offered to hear confessions in the parking lot of his church. But he has more carpentry skills than many other priests, so he built a confessional, with a small door, in his father's basement, and then attached it to the window of the rectory at Our Lady of the Rosary Church in Sabattus, allowing penitents to drive up. (Courtesy Harvest magazine)
---
Feeding the hungry during the crisis
The COVID-19 pandemic didn't stop ministries from continuing to help those in need. At the St. John & Holy Rosary Eastside Food Pantry in Erie, Pa., providing much-needed food in time of isolation was a top priority. Pictured in the foreground, from left, are: Chris Jones of the Mercy Center for Women; volunteer Marilyn Mead; Jennie Hagerty of the Mercy Center for Women; and volunteer Jean Burns. In the back, from left, are volunteers John Brown and John Wedzikowski. (Courtesy FAITH, the magazine of the Diocese of Erie)
---
On the front lines
Father Matthew Mauriello, chaplain of St. Camillus nursing home in Stamford, Conn., gives his all for his ministry. Because families have been unable to visit their loved ones during this time, Father Matthew is often the only visitor for the residents each day other than receiving meals and medicine. (Courtesy World Apostolate of Fatima, Our Lady's Blue Army)
---
Remembering parishioners at Mass
Father John Jacquel, pastor of the partnered parishes of St. John and Holy Rosary in Erie, Pa., takes comfort in the faces of parishioners whose pictures are posted on the pews of the empty chapel at Holy Rosary, where he says Mass privately every Saturday afternoon. With all Masses suspended, priests such as Father Jacquel say Mass privately every day or with a deacon assistant. It takes some creativity — and a lot of prayer — to get through difficult times! (Courtesy FAITH, the magazine of the Diocese of Erie)