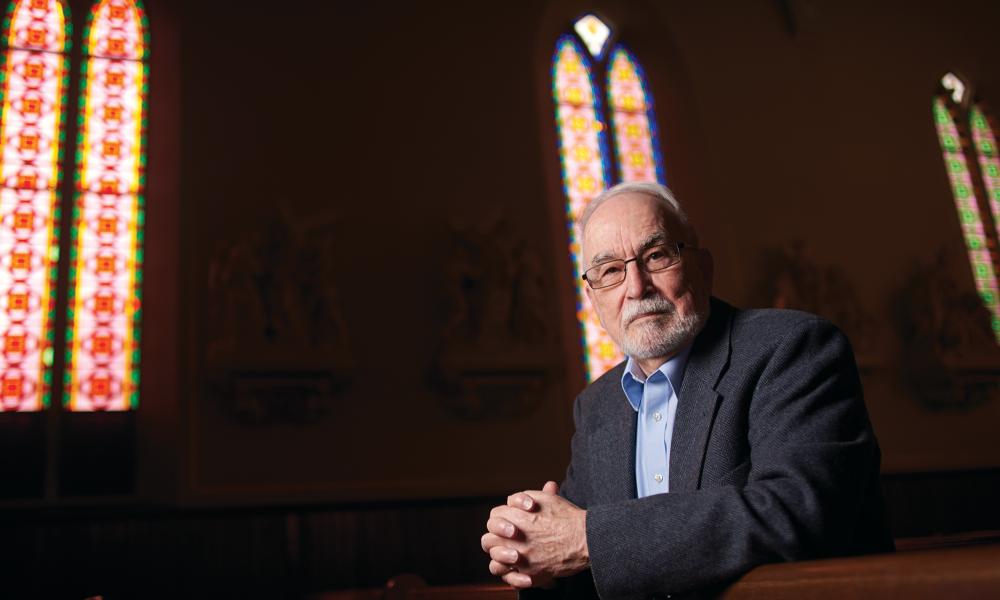 ---
Historian impressed by Church teachings
After 50 years, joining the Catholic Church was 'worth the wait'
In 50 years, what will you accomplish? Will you get married? Have kids? Grow in your career? 
Seventy-four-year-old James Davis, of Dexter, has done all of that. He and his wife have two daughters, and he was a history professor for about half a century. And throughout those 50 years, James – who was born and raised Presbyterian – familiarized himself with the history and beliefs of the Catholic Church, ultimately leading to his conversion in 2014.
"I tend not to rush into things. I don't make rash decisions, and this certainly was not a rash decision," James says, laughing. "I obviously looked into it for many years. I prayed about it earnestly and, in the end, decided that this was the best thing for me. I have no regrets."
James came into the Church Easter Sunday 2014 at St. Joseph Parish in Dexter. And while he knew the conversion would be "impressive," he could not imagine by how much or how he would feel.
James was able to describe his conversion in three short words – joyous, uplifting and sacred. Entering the Catholic Church was all he had hoped it would be. 
But what makes James' story unusual is that he cannot pinpoint one moment or one specific event that called him to the Church. James was "impressed" for 50 years by the teachings of the Catholic Church and the role it plays in this world.
His passion for history led him to understand that humankind is capable of "wonderful, noble and selfless actions," he says. On the other hand, James saw that humans are also capable of terrible and selfish acts. 
"It became clear to me that every single person on earth sins and not just makes mistakes. Nowadays, we have the current word 'mistake' to describe what rightfully should be called sin," James says. 
A mistake doesn't necessarily involve a right and a wrong, but sin does, he stresses. 
One factor that attracted James to the Church 50 years ago was learning that even the pope has, and recognizes a need for, a confessor. To him, that was the Church admitting that all humans sin, fall short and need forgiveness, he says. 
And as he continued to study the Catholic Church, James learned that laws – including divine and natural – exist as guide and instructor. 
"Just as there is a physical universe, there is a moral universe. Astronomy and physics enlighten us about the physical universe, and natural law helps us understand the moral universe. A gift from God, natural law is universal and unchanging. It impresses on the hearts of everyone a sense of right and wrong, of good and evil. Sacred Scripture, tradition and the magisterium – with the Holy Spirit – teach, guide and correct. 
Being an historian, James sees things in terms of centuries, and he often takes the "long view" on issues, which is similar to how the Church perceives matters. 
"As an outsider, looking at the Church for decades, I was very impressed and comforted by the fact the Church does operate clearly and boldly in the world … It has founded … great universities, wonderful hospitals, orphanages and asylums."
Despite how marginal or weak a person may appear, the Church takes a stance that every person has "God-given, inalienable, irreducible worth." And if a person is mistreated, God is mistreated, he feels. This stance contributed to his journey to conversion. 
Time and time again, the Church continued to "impress" James, and even when he visited Rome and the Vatican as a Presbyterian, he saw the "splendor of the Church and the glories of the Church in terms of architecture, music and art." 
"I don't think I had an 'on the road to Damascus' moment when something suddenly hit me. But there were significant moments, and taken together, they were certainly more than sufficient to consider the Catholic Church and ultimately to join it," James says. 
Though it took him 50 years, joining the Catholic Church was "worth the wait." And, he says that his only regret was that it took him so long to convert. 
"If I were to live another 100 years, it would still be, in a sense, one of the great standouts of my life," James says.