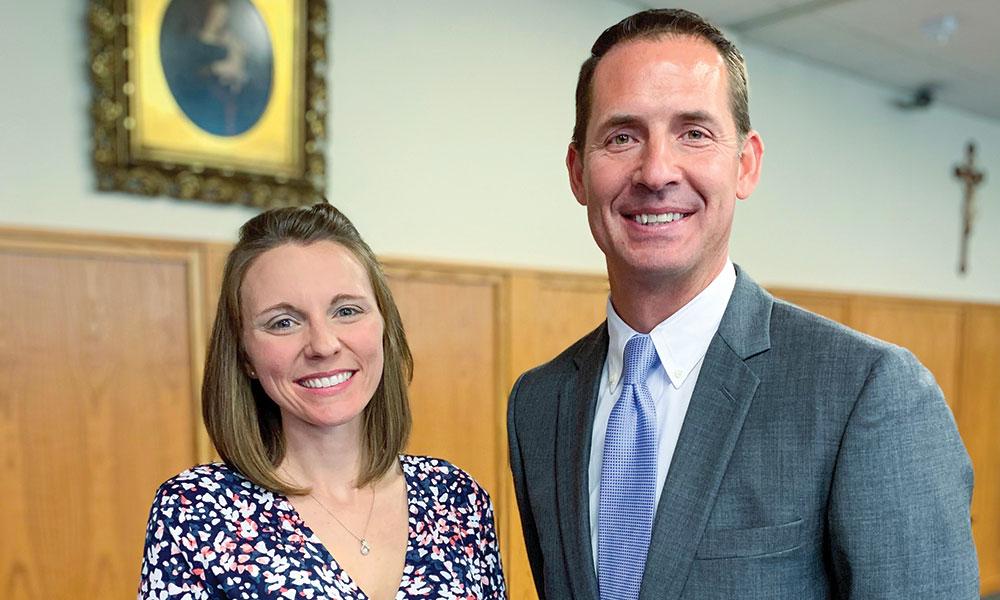 ---
Handing on the Faith: Schools Get Ready for New Religious Education Curriculum
Across the Diocese of Lansing, educators in parishes and schools are working together to re-imagine how children learn about their faith. Grounded in the call to a New Evangelization that asks all people to "go and announce the Gospel of the Lord," the new K-8 curriculum will ensure children come to know and love Christ and his Church in ways that are nothing short of extraordinary.
"It's the first time we've ever done a curriculum where the parish and the school employees have worked together," says Sarah Salow, associate superintendent for Catholic schools at the Diocese of Lansing, who's been leading the effort. "And this team is amazing. I don't want it to end. I've never worked with a group of people that are this effective and this honest and at the end of the day, still love each other."
The committee's work is going to make the Diocese of Lansing one of the nation's leaders in effective K-8 religion curriculum design.
"I think most dioceses recognize that something is lacking in our Catholic education and that we've really walked away from what we were originally created to be," Salow says. "But we're one of only a few actively renewing all of our schools."
The new curriculum model is based in three learning domains:
Encounter: which emphasizes God's invitation to a loving relationship with him.
Grow: knowing Jesus in a personal way opens the mind and heart of the child to want to grow in knowledge about God and the Church.
Witness: this dynamic relationship with Jesus and his Church empowers the student to be an effective witness by living as a joyful missionary disciple of Christ.
"We are meeting the child at what is developmentally appropriate for them," Salow says. "Some key markers of that is, for example, you don't teach Old Testament stories until they're fourth grade or older because when you teach Noah to a kindergartener, it becomes kind of more of a lore story or a mythology story. So we're having our kids meet Jesus first, at as early as age 3. And they are capable. It's incredible to watch."
The new curriculum framework moves between encounter, growth and witness experiences.
"Beginning in fourth grade, we have students doing actual Bible studies," Salow says. "The Bible studies range in length, depending on the topic and age appropriateness, then, throughout the year, we try to weave the sentiments of the Bible study into the rest of their general education. So, the younger kids follow the liturgical calendar, and the older kids start going into deeper study of different elements of the faith."
While transitioning to the new curriculum is a process that's still being developed, Salow suggests the process will be smooth, considering the strength of existing programming in parish schools.
"Our K-8 schools as a whole didn't see a lot of COVID-related learning loss," Salow says. "If you look at our test scores, we're doing comparatively well. Even better, our schools are doing a great job of bringing children to encounter Christ. Eucharistic adoration is the norm, not the exception, and all-school Mass participation is growing all the time."
And that, Salow says, is the priority.
"Our first job is to make sure children know who Jesus is and how to meet him without a textbook," she says.
"That's why this framework is so different and so important. Through it, we'll help students learn, 'How do I encounter Jesus? How do I grow in my knowledge of him? And then how do I witness him to others?'" The framework, related textbooks and rollout plans are currently being finalized.
Providing opportunities for students to encounter Jesus in our schools and parish faith formation programs is a shared responsibility among school and parish catechetical leadership, classroom teachers, and catechists in collaboration with the students' families, parish community; with financial and material support from the Diocesan Services Appeal.