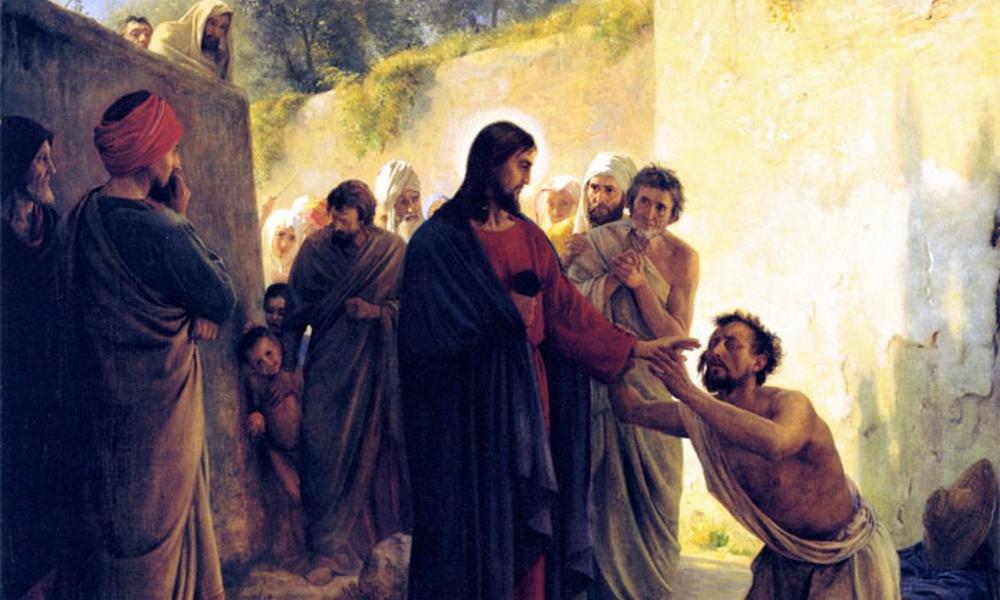 ---
GROW as a disciple of Jesus
Why does God allow suffering?
"As he passed by, he saw a man blind from birth. His disciples asked him, 'Rabbi, who sinned, this man
or his parents, that he was born blind?' Jesus answered, "Neither he nor his parents sinned; it is so that the works of God might be made visible through him." (Jn 9: 1-3)
In the story of the man born blind, the disciples wanted specific answers – and they wanted to lay blame or find fault to explain human suffering. But Jesus explained that they were not seeing as God sees – the man's affliction was not meant to punish or penalize, but so that the works of God might be made visible through him. At first glance, we might think of the man living on the streets in darkness with pity and sadness, and that would be justifiable. The man himself no doubt felt sorry for himself at times, and sad. But then God chose this man, blind and poor, to show the glory of God. Why? To remind us that, even in our darkest hours, when we feel most alone, God is with us.
The trouble with trying to understand suffering is that it's a mystery. Not a problem to be solved, but an inexplicable reality of the human condition. When we are in the midst of it, we can feel abandoned. Christ expressed his solidarity with us in suffering when he cried from the cross, "My God, my God, why have you forsaken me?" In these moments, it is hard for us to understand the pattern of the tapestry of life when all we can perceive are the knots. This is where faith is – in believing that the God who broke into time to become human is standing with us in our pain. If we open our hearts to Christ, we can allow him to show his mighty and powerful love for us.
Pray every day: Read John 9:1-41 and pray to see and understand that God is with you in all the places in your life, even when you may not feel his presence.
Study the faith: Spend time each week re-reading the Lenten Sunday Gospels. Before you read each one, take a moment to ask God to reveal a specific word or idea that will help you grow closer to him.
Engage in parish life: Pick one or two events during Lent to participate in. Attend the Stations of the Cross, soup suppers or a Lenten prayer group. Take a friend and use this Lenten season to grow in holiness.
Serve others' needs: As an act of Lenten sacrifice, clean your closets and donate your surplus to those with great need.