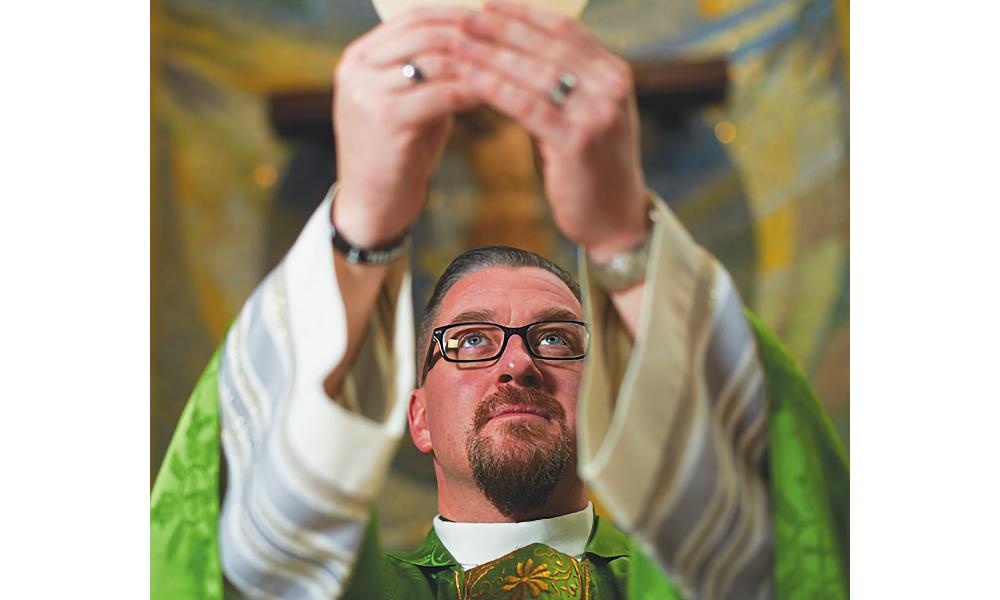 ---
Father Tim McDonald: 'Partners in a greater mission'
Queen of the Miraculous Medal Parish in Jackson has never had a social hall to allow for funeral dinners or to serve as a gathering space outside of Mass.
But all that will hopefully change as the parish embarks on a diocesan-wide journey to not only raise funds for such a space, but raise funds for the entire diocese.
Father Tim MacDonald, pastor of Queen of the Miraculous Medal Parish, says that the parish had originally planned on launching its own fundraiser for a hall, but when the Witness to Hope campaign was brought to his attention, it came at "a very opportune time to allow us to partner in a greater mission."
Because Queens has multiple projects in store – a new roof and parking lot for its school and improving handicap accessibility, to name a few – the parish has committed to raise more than the suggested parish goal. For the Queens' projects alone, they need to raise more than $1.5 million, according to Father Tim.
"I'm staking a lot on its success, but that is why I wanted my parish to go first, so I could prove that I wasn't asking anyone else for a sacrifice that I wasn't willing to make."
Besides serving as pastor of Queens and Our Lady of Fatima in Michigan Center, Father Tim is also the Vicar General of the Diocese and was appointed by the bishop to take charge of the diocesan-wide capital campaign.
The parish has already held a town hall meeting, and it has begun the initial process of the campaign. "We're finally coming together under one nice umbrella called Witness to Hope."
Father Tim explains that the parish has a history of being charitable during diocesan service appeals and annual appeals. In fact, with only 1,650 registered families, the parish has previously raised more than its goal for the diocesan service appeal, thanks to the generosity of Queens' families.
"We have one of the highest offertories in the diocese," he says. "We bill ourselves as a stewardship parish. We're seeking to make everybody aware of the blessings God has given them."
By participating in the diocesan-wide campaign, Father Tim says, they are "killing two birds with one stone" by not only working to reach the parish goal, but working to help the broader church, which is what being a Catholic is all about.
"Think globally, act locally," he says.
Many of the efforts of Witness to Hope are centered on evangelizing the faith, and Father Tim says that the campaign will allow the parish to grow.
Ultimately, Father Tim hopes that the Witness to Hope campaign will leave a lasting impression, because, after all, Queen of Miraculous Medal is a diocesan church.
"I believe this [campaign] can create a spirit of camaraderie, that we're all part of the same thing," Father Tim concludes.