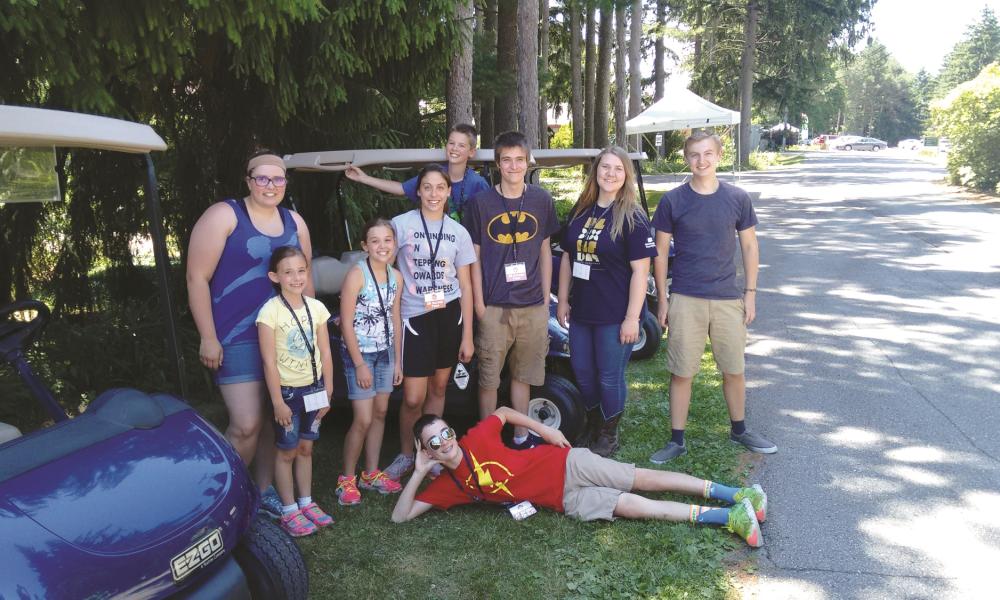 ---
FaithFest 2017
Volunteer Mika looking forward to experiencing more blessings and fellowship at FaithFest
As a volunteer at last summer's inaugural FaithFest at the St. Francis Retreat Center in DeWitt, Mika Besinger learned about teamwork, helping others, and – at a time when she was struggling – the messages of God.
"For me, volunteering started off as a way to readjust to life in Michigan after living in Montana for a year," says Mika. "My mom thought it was a good idea for me to give something to the community, and I agreed. I wanted to meet people and make some new friends. I had been drifting away from God at that point, so it was a good opportunity to re-establish that relationship. And it was an amazing experience.
Mika's experience at FaithFest helped her work through feelings of being isolated.
"I always have had problems feeling like I'm alone in things. God's message for me was that everyone is welcomed in and others are going through the same trials in their faith as I am."
Now, with reinvigorated faith, Mika is looking forward to FaithFest 2017, to be held on Saturday, June 24. It will be a day filled with faith sharing, live music, food, recreational activities, fireworks, and, of course, opportunities for prayer and Mass with Bishop Boyea.
"It's almost like a giant family reunion," says Mika. "That might be because I saw so many families there. I think families can enjoy as well as any age group – the message is the same for all of us. Everyone can enjoy being outdoors and meeting new people."
Mika believes that because Christians from all walks of life are able to enjoy and participate in FaithFest's various activities, it can be a valuable experience for anyone.
"Christian music really speaks to me, especially in this setting," Mika says. "When the bands talk between songs about why they do this or how their songs came to be written, I feel connected to their stories and their faith journeys, and that encourages me to keep growing spiritually."
As a volunteer, Mika was able to interact with the musicians, who she says were genuine and open – making them the perfect instrument for God to do his work and inspire others.
"After the fireworks, I was helping two bands tear down the set," recalls Mika. "They were saying how their collaboration together was from the Holy Spirit – they didn't work on it before hand or practice it. It was great to hear them talking so candidly about a spiritual experience we all were able to witness."
But even with all the positive vibes, it's important that attendees understand that music isn't all that FaithFest offers. Mika says she will never forget the Vigil Mass.
"FaithFest isn't just a concert – it's about experiencing God in different ways and talking with other people and learning from their experiences," says Mika. "I've never been to a Mass that big before, and having the Bishop present was a huge blessing. And it was a different experience than everyday Mass. I felt almost content. You could look across the whole crowd and see everyone smiling and singing. It was powerful."
After recounting her experience last year, Mika says she is eagerly awaiting this year's FaithFest. "I want to have the same experience, but different," she says. "I want to experience the same blessings and fellowship, but even stronger. I'm confident that will happen."