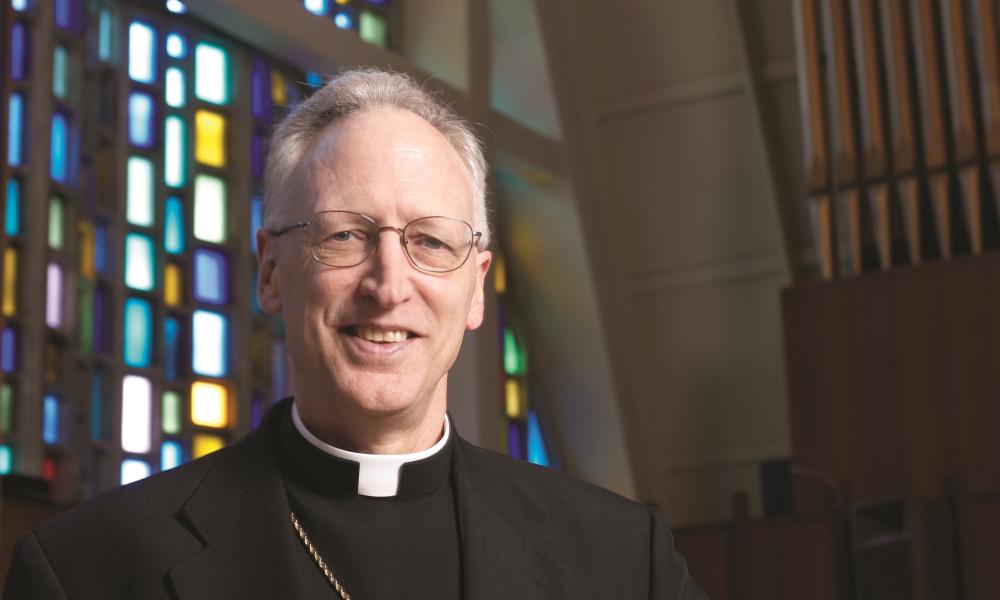 ---
FAITH interviews Bishop Boyea about the success of Witness to Hope campaign
FAITH: Reflecting back on 18 months of fundraising in our parishes, has Witness to Hope been a success?
Bishop Boyea: Yes! It's been a groundbreaking success in so many of our parishes, and has shown us how enthusiastically the people of the Diocese of Lansing support the works of Christ through his Church. We've just never tried anything like this before: the campaign's overall goal of $65 million is more than a dozen times the size of our annual Diocesan Services Appeal! By the end of 2017, with active fundraising still going on in several parishes, we had received pledges totaling almost $80 million. Spread among 22,000 givers, we've seen an average pledge of almost $4,000!
FAITH: In your estimation, what does this mean for our diocese?
Bishop Boyea: It's going to take years to assess and understand the impact of Witness to Hope. Capital improvements – repairing parking lots, expanding gathering spaces, etc. – have been on hold at many parishes for years and years. As a key part of the campaign, each of our parishes proposed, and will now be able to pursue specific projects for their betterment. We were told that Witness to Hope was unusual in focusing so heavily on parish improvements. But I felt this must be a hallmark of the campaign. The parish is where so much of the Church's evangelizing work occurs! It is where the community of believers gathers to worship, and where our most treasured beliefs and our dearly held values are nurtured and communicated. Yes, the campaign invests in the future of the Church, but recognizing the unique role and the immediate needs of our parishes in the life of the Church is at the heart of the campaign.
FAITH: When do you think we'll start seeing the benefits of Witness to Hope?
Bishop Boyea: We already can! For instance, Queen of the Miraculous Medal in Jackson recently dedicated a marvelous renovation made possible by the campaign. Queens turned rather ordinary basement space into a beautiful parish community room. They finished active fundraising over a year ago, and used cash and pledges from Witness to Hope to move that renovation forward. The same has already happened in Flint, where Witness to Hope funds helped Catholic Charities of Shiawassee and Genesee Counties to complete the magnificent new Center for Hope. More than $1 million in capital support was provided by Witness to Hope to help finish the Center for Hope, which serves the poor and needy in that part of our diocese.
FAITH: You mentioned that Witness to Hope also looks to the Church's future. How so?
Bishop Boyea: The campaign does begin in a real way to address some of our most pressing needs for the future. For instance, several million dollars will greatly strengthen our Priests' Pension Fund. As with many pension funds, low interest rates and modest economic growth over time put our plan in a weak position. Campaign funds will significantly help to improve the financial health of that fund, which is so important in caring for our senior priests. The campaign also establishes and begins to fund six endowments, each of which will provide annual payments long into the future. This is an important and great start in addressing our future needs! For instance, the largest of these endowments will provide tuition assistance to needy families of K-12 students in each of our Catholic schools. A second endowment provides a perpetual source of funds for educating seminarians, forming our future priests. Another establishes an ongoing source of support for our five Catholic Charities.
FAITH: Do you have any other thoughts to share about the campaign?
Bishop Boyea: Yes, I want to thank all those who participated in Witness to Hope – the more than 22,000 who did so with gifts and pledges, our pastors and all the volunteers who worked over the past two years to make this possible, and the many more who prayed for God's blessings on our efforts. It has been a marvelous experience and I am so grateful for the generous response of our people.
FAITH: What's next?
Bishop Boyea: Well, two things come to mind: the third of our diocesan assemblies is taking place this year on Saturday, Sept. 22 at the Breslin Center in East Lansing. It will begin with a eucharistic procession from the cathedral, past the State Capitol all the way down Michigan Avenue to Michigan State University's campus and the Breslin Center. We are hoping to have 10,000 or more people there to reflect on the evangelization of our culture. What an opportunity! So much work will be done in support of this effort in the weeks and months ahead. Finally, our annual Diocesan Services Appeal will occur in April and May this year. 2018 DSA's theme is "Go and Announce the Gospel of the Lord." Our annual diocesan services appeal supports the Church in its evangelizing mission; it makes our day-to-day work possible. I am grateful beyond words for the dedication, commitment and sacrifice of the people of the Church in the Diocese of Lansing. Thank you so very much!