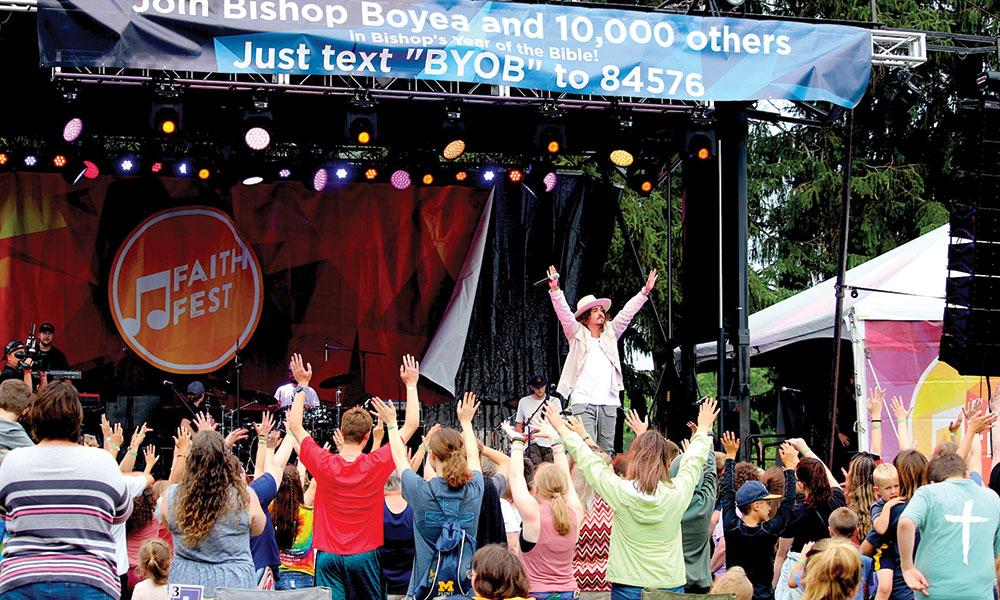 ---
FaithFest 2021
GRACE WASN'T THE ONLY THING raining down on the crowds at FaithFest 2021. Rain, storms and even a tornado warning couldn't stop hundreds of dedicated attendees. Donning umbrellas, ponchos, tents and smiles, attendees made sure the atmosphere all day on the grounds of the St Francis Retreat Center was filled with laughter, praise and joy!
As afternoon turned to evening, attendees settled in for Mass with Bishop Boyea. As the Mass began, the atmosphere remained joy filled and reverent. As the band sang the Psalm acclamation, another sound was heard – the sounds of tornado sirens. Guests were asked to calmly make their way into the retreat center, where they would remain for more than an hour. The joy and laughter would not be quelled, even by a sudden change in plans. The basement of Bethany House was filled with music of praise and prayer as various musicians led the crowds in song.
As the severe weather moved away, the evening was filled with more music, fun and the ever-popular glow concert after dark. While FaithFest 2021 was filled with rain and even severe weather, thousands of festival-goers experienced a day filled with beautiful music, lots of laughter and fun and an encounter with God.