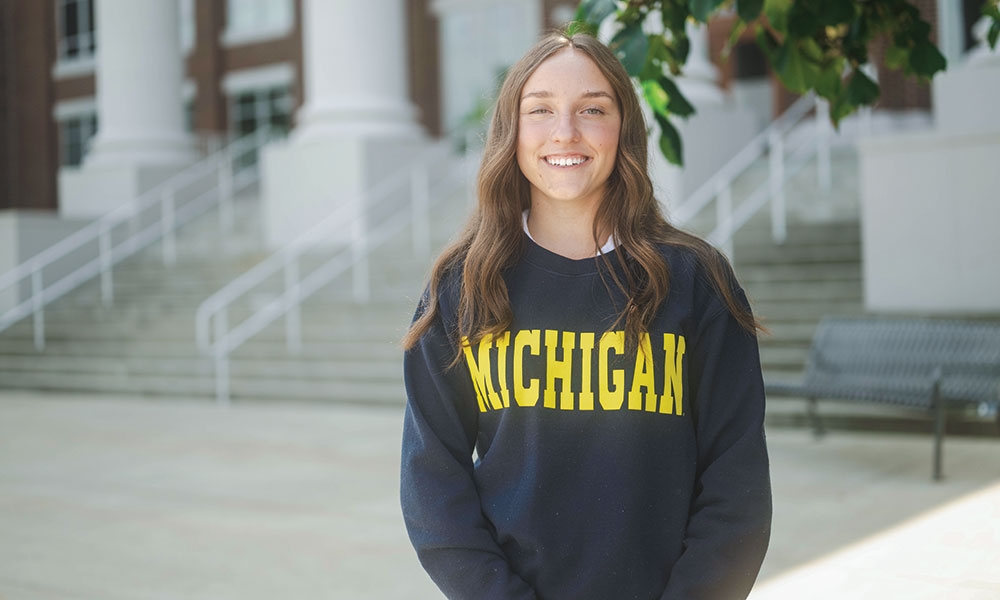 ---
Faith, Academics Propel Powers Grad
Gabby Gavulic is one of many recent high school graduates heading to college this fall
Something touched Gabby Gavulic's heart when she attended all-school Mass at Powers Catholic High School.
She'd grown up attending Mass with her family at St. John the Evangelist in Fenton but had fallen out of the habit of going every Sunday.
That experience pushed her to come back, and now she's been a regular Mass-goer for the past two years.
Gabby graduated from Powers this spring and thanks the high school both for strengthening her faith life and for challenging her academically. In the fall, she'll be attending the University of Michigan in Ann Arbor.
"Powers teaches you how to just be like Jesus," she said. "I just feel so prepared to go to college and try to be that light for other people. Because obviously every day isn't a good day, but if you can give someone a smile, that's all you can do."
At Powers, it's not uncommon for seniors to have known their classmates since they were in kindergarten.
That was no different for Gabby, who speaks highly of her classmates from St. John in Fenton, all but two of whom moved on to Powers after eighth grade.
But at Powers, she met a wide array of new friends and said she enjoyed meeting people.
"I've just found the most amazing group of people that I can feel comfortable sharing anything with, talking about school stuff, faith stuff and just living life together," she said. "There are people I'm going to take with me to college and just for the rest of my life."
Her picture appears on a bulletin board at the school along with about ten other student leaders.
"Motivated and conscientious," "always has a smile and positive attitude," "affirming, and celebrating us all year long," "always willing to lend a hand" — these are all things that were written about her, "the epitome of a Powers Charger," according to the note on the board.
She was a member of the dance team at Powers, and she also danced at Visions in Motion Dance in her spare time.
Her next steps won't be too far from home — she plans on majoring in elementary education at Michigan.
She dreams of teaching children from preschool to third grade, she said, 
"I've just realized that I want to do something I'm passionate about — not something that'll just give me money," she said. "Something I'm so excited to go to every day and do, and I think teaching is just perfect. And Michigan has a wonderful teaching program."
Gabby is one of the many diocesan high school seniors set to attend major regional universities this fall.