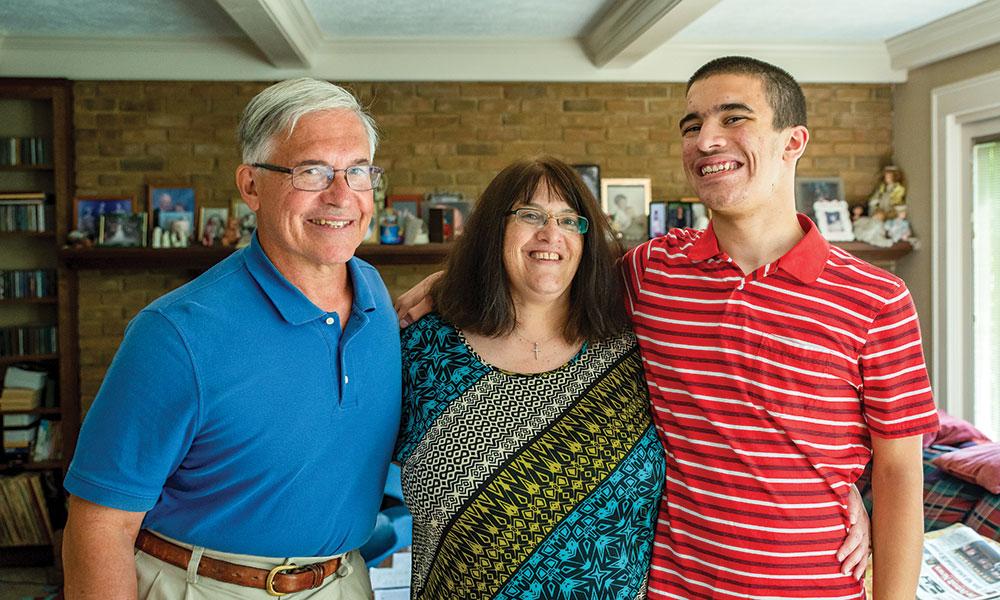 ---
'Everyone Matters, and Everyone is Loved'
Cathy's wholehearted gift to Special Needs Ministry
"I believe that god puts people on your path of life that he wants you to meet." Those words are certainly evident for Cathy Blatnik in her ministry as the co-coordinator for the Special Needs Ministry for the Diocese of Lansing. "You can choose to listen to God or you can ignore it. I have always listened," she says.
Cathy's heart for the disability community began as her now 16-year-old son was diagnosed with autism spectrum disorder (ASD) at a young age, along with ADHD, generalized anxiety disorder and complex partial epilepsy.
"I had two miscarriages after my daughter. Since I was approaching 40, I felt that it wasn't in the cards to have any more children, even though I desperately wanted more. Well, God had other plans, and my son was born in 2004.
"Since he was diagnosed with ASD in 2006 and then the subsequent diagnoses, I could have chosen to be bitter and angry, and say, 'Why me?' Instead I said, 'Why not me?' God chose me to be his mother, and what a blessing it has been."
Cathy has used all of the blessings the Lord has given her – and consistently gives back. One of those ways is her volunteer work with All Faith Ministry for disABILITIES, a non-denominational and ecumenical disability ministry.
She says, "In January of 2015, I randomly received an email saying there's a ministry starting up for the disability community, asking if I wanted to join it. The next day, I met with the founder of the ministry for about three hours! Afterwards, they asked me to be the program director, and I have been doing it ever since."
When Cathy met with the founder, she shared that her son had made his first Communion as part of a special needs religious education class in East Lansing. As a result of that conversation, she felt the nudge by God to begin a Mass specifically for individuals with special needs. Just a few months later, the first Mass was held.
Cathy continues: "Because of my son with autism, I always wanted him to be an altar server. This gives him and others in the disability community an opportunity to do it. We have individuals with disabilities or their parents/caregivers doing the readings, taking up the gifts and altar serving. I try to get a new family every Mass to bring up the gifts, so that everyone can participate. No one has ever really told me 'no,' because I don't think they've had the opportunity to be involved like this."
During these Masses, Cathy's first goal is to make sure everyone feels welcomed, something that can often be overlooked in the special needs community. "I try to greet every single person who comes to these Masses with a smile. I know that sometimes you walk in and everyone's looking at you. It takes a lot of effort for someone with a disability just to go out in public to begin with. I want to make sure people know they are always welcome."At one of the special needs Masses a few years ago, we had a new family come. One of the members of the family was in a wheelchair, and the entire family automatically sat in the very back of the chapel. I immediately jumped up and went over to them and told them to sit in the front. They were just so used to always sitting in the back.
"I am very adamant that everyone, regardless of their disability, deserves to be treated with respect," she says.
In 2018, Cathy's work in the disability community extended to the Diocese of Lansing when she began in her role with the diocesan Special Needs Ministry. In addition to her continued work with the monthly special needs Masses, her ministry involves work with all of those with developmental disabilities (cerebral palsy, Down syndrome, intellectual disability, autism, etc.), as well as the deaf ministry.
A project that is near to Cathy's heart is the Guide to the Mass for Visual Learners, published by FAITH Catholic. The book was originally designed as an aid for individuals with special needs at St. Thomas Aquinas Parish and the Diocese of Lansing. However, it became evident that the resource was also useful to a larger audience, including visual learners and new Catholics. Recently, Cathy was instrumental in getting the booklet distributed to all parishes in the diocese. It is always used as a reference at the special needs Masses.
In all of her work, Cathy truly feels she is doing God's work, using what she has been given to assist the disability community.
She says, "I have the platform that I can do all of these different things for people who might not ever have the opportunity to do them. I see how people are treated with disabilities, and sometimes it's just really awful. I just try to do my best to get the word out that everyone matters, and everyone is loved."
---
For questions, or to learn more about the Special Needs Ministry, contact Cathy at blatsie63@yahoo.com.
---
For more information on the guide to the mass for visual learners booklet, visit store.faithcatholic.com or call 866.76.faith