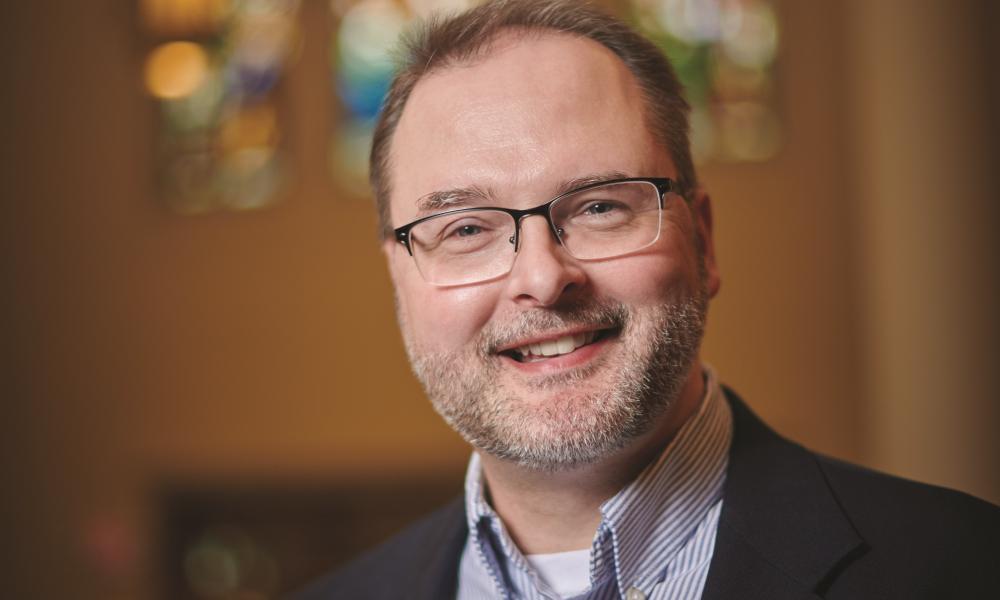 ---
'I had this incredible experience that I can't even put into words. It set me on the road to conversion.'
Evangelical. Catholic. Many Catholics are not accustomed to hearing the two classifications together. And yet Todd Gale, director of faith formation at St. John the Evangelist in Jackson, will tell you it's a perfect coupling. "An evangelical Catholic is a Catholic who is trying to lead others to Christ," he says.
Todd is a living testament to how people can be conduits of God's love and grace. Years ago, not wedded to any faith tradition, he was simultaneously grappling with a shaky faith in Jesus and health issues. A friend suggested he visit a prayer group being held at Queen of the Miraculous Medal parish in Jackson. "For some reason, I went," says Todd. "They prayed over me, and I had this incredible experience that I can't even put into words. It set me on the road to conversion and, after some time, I was baptized with my daughter at Queens. Soon after, I was asked to be part of Queens' staff." Todd never looked back.
Quite the opposite, in fact. Todd is forward focused for the parishioners at St. John, working with Father Charles Canoy to energize the congregation as evangelists and disciples. Father Charles' plan was to divide the parish into neighborhoods, appointing a point person to be the go-between in forming small groups. "There were so many little pieces to making that happen," adds Todd. "When we learned about Evangelical Catholic, it fit like a glove."Evangelical Catholic began as a campus ministry program. The program's goal is creating intentional ministers who will help move people into deepening discipleship. It works on a pyramid model – first training the trainers, and then it trickles down until it reaches everyone. It was so successful on campuses, they branched out to bring parishes onboard.
Piloted to parishes three years ago, 25 parishes around the country currently use it, including St. John the Evangelist – which was able to bring this program to Jackson with the help of a DSA-funded diocesan grant. Todd's training began last July and was accomplished with face-to-face as well as online sessions. He had weekly meetings, homework and unlimited access to a coach. In September, he began training the next layer – the neighborhood point people.
St. John the Evangelist has identified 12 neighborhoods and established 14 groups. Each group has at least one leader who has participated in weekly training and spiritual direction sessions. They have learned about evangelization, consolation and desolation in prayer, Scripture, community, small-group dynamics, one-on-one ministry and more. In a nutshell, they have been formed as intentional disciples.
Todd is excited. "The leaders, who range in age from early 20s to mid-70s, are on fire," he says. "I have the honor of meeting with them, watching their prayer lives come alive and discovering things in Scripture they never noticed before. Many have told me how much this has changed their lives, declaring, 'This is what I have been waiting for!' The Evangelical Catholic program has been just amazing."
The trained neighborhood leaders met with their small groups for the six weeks of Lent, with specific liturgical-based material providing a springboard for prayer and Scripture-inspired discussion. At the end of those sessions, each group was able to steer its own course. Some have continued with a Bible study, some a video series, some wish to study the saints. They also have the option of merging with another group.
"We have the potential of 100 small groups evolving over time, all neighborhood-based," says Todd. "Our ideal is that everyone in the parish is involved, even if it's just during Lent and Advent. I love that this is lay-driven, giving people a better chance to connect, often in their own homes. We are bringing the Church to them so they can participate in a deeper, richer encounter with Mass and the sacraments at the parish."
Visit the New Evangelization ministry page at dioceseoflansing.org, or contact your parish to learn more about evangelization resources and efforts under way.
New Evangelization Grants
The Diocese of Lansing is committed to supporting parish initiatives in four principal areas: Intercessory Prayer, Discipleship Groups, Encounter Opportunities and Welcoming Environments. Therefore, the diocese announces the availability of New Evangelization grants made possible through DSA support. Contact Craig Pohl, director of new evangelization, for grant application information.
Visit the New Evangelization ministry page at DIOCESEOFLANSING.ORG, or contact your parish
to learn more about evangelization resources and efforts under way.