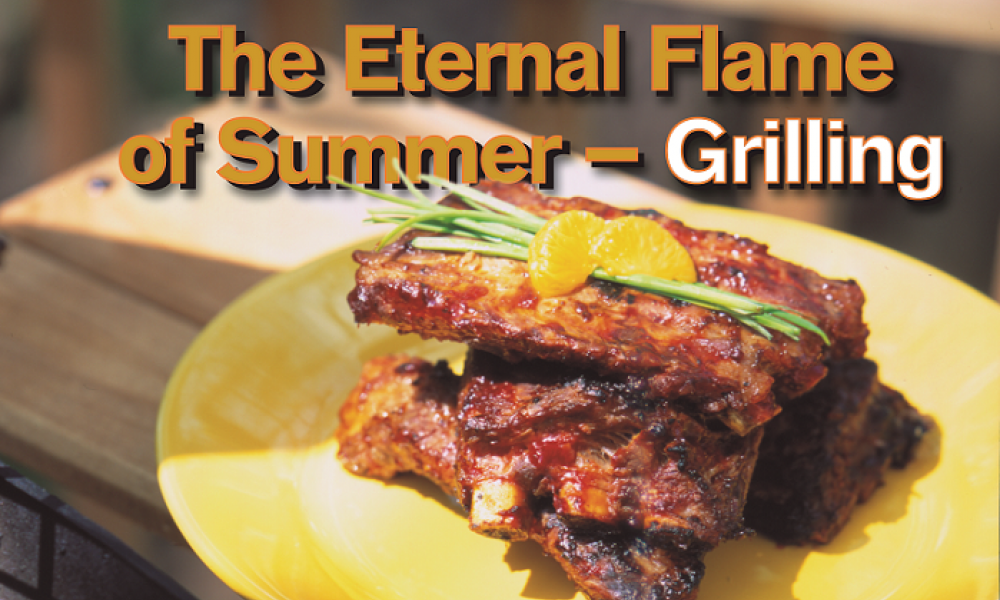 ---
The Eternal Flame of Summer – Grilling
"We didn't start the fire It was always burning, Since the world's been turning. We didn't start the fire Well we didn't light it, But we tried to fight it."
Billy Joel was right. We didn't start the fire. It's been burning since time immemorial. Maybe that was when people took the first steps toward understanding their ability to control their environment, and make it serve their needs. Like the opening rite of the Easter Vigil, when the Blessing of the Fire takes place, we use fire to serve us. For light, for warmth, for cooking, fire symbolizes many things. In the rite, it symbolizes Christ, as the light of the world, who does indeed light our way, and like the song suggests, does indeed live on ...
---
Marinated St. Louis Style Spare Ribs
5 lbs. St. Louis Style spare ribs
1 cup tomato ketchup
1 T minced garlic (from a jar)
1 T ground ginger (from a jar)
1 1/2 tsp. hot pepper sauce
2 T molasses
3 T packed brown sugar
1 tsp. chili powder
1 tsp. salt
1/2 tsp. black pepper
Cut ribs into 3-inch sections. Boil in water for 20 minutes. While the ribs are boiling, combine the remaining ingredients in a bowl. After ribs have boiled and partially cooled, divide marinade between 2 one-gallon freezer bags. Put half of the ribs in each bag and marinate for at least 2 hours or overnight in the refrigerator. Grill ribs over medium coals or a gas grill for 30 to 40 minutes. Add barbecue sauce of choice (if desired) after removing from heat.
---
Red Skin Potatoes on the Grill
4 lbs. red skin potatoes, scrubbed
1 large yellow onion
1 green bell pepper
4 T margarine
salt and pepper to taste
Thinly slice potatoes and onion. Chop green bell pepper in coarse pieces. Combine vegetables on a large piece of heavy duty aluminum foil. Dot evenly with the margarine; salt and pepper to taste. Seal the aluminum foil around the entire mixture and then pierce the top of the bundle a few times with a fork. Cook over medium grill for 30 to 40 minutes. Serves 6.
---
Grilled Chicken Breasts with Toasted Almond Rice
1/2 cup orange juice
1 T minced garlic
1 tsp. ground ginger (from a jar, not powder)
1 T honey
1/2 tsp. salt
4 boneless, skinless chicken breasts
Mix together all marinade ingredients in a large freezer bag. Add chicken, and marinate for at least 4 hours or overnight. Grill chicken over hot coals, 5 minutes each side. Set aside.
1 cup uncooked white rice
1/2 cup toasted almonds
1 small can drained mandarin oranges
Prepare rice according to directions. During the last 3 minutes of preparation, add oranges and almonds. Stir until blended. Serve chicken over rice.