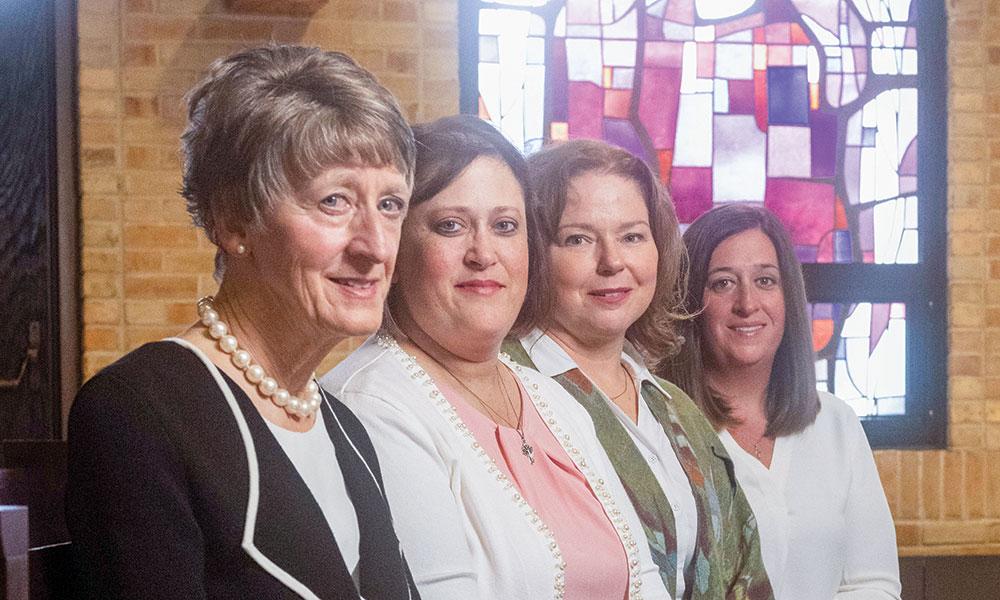 ---
Entrusted with the Children of God: What Catholic Motherhood Looks Like in 2023
Catholic moms face a different journey today than they ever have before. This month, we spoke with five incredibly strong, faithful women who share their insights about what it takes to do the job with grace.
Motherhood has never been an easy responsibility. It requires abundant patience, love that is powerful in its depth and what feels like years and years (and, yep, even more years) of sheer hard work, prayer and worry.
There are aspects of our daily lives in 2023 that have added layers of complexity to raising a child. Many women today work outside the home, don't have a partner to help and must grapple with the many new technological and safety issues that have entered the mix. Even more challenging are the confusing social and cultural messages children receive daily.
"It's much more difficult to maintain my children's innocence and allow them to grow into knowledge and dignity and a sense of themselves," says Emily Scime of Grand Blanc, who is mother to five girls, two of whom she adopted out of the foster care system. 
These are serious concerns for families of faith, says Emily's sister, Mary Ann Duffy of Williamston, who's a mom of four young teens. "All teens at all times throughout history have struggled to figure out who they are, and now there are so many more options. Genders, beliefs, social influences — there's a ton of noise now that was never there for past generations of kids."
Lansing's Cecelia Costigan, who has five adult children and 13 grandchildren, agrees. "I think it'd be so much scarier than it was. When I was young, we were able to go places and stay out until the streetlights came on. My own kids rode their bikes with all the other kids in the neighborhood, even though we had a much better sense of the risks that were there and kept better track of them. But now it's a lot different. The things that happen at school with violence and guns, we never would have expected anything like that."
Technology is one of the biggest challenges of all. Whether it's teens comparing themselves to others on social media or using screen time as a substitute for genuine human connection, there are gaps.
"When I had my first child 25 years ago technology hadn't taken over our lives yet," says Penny Spehar of Williamston, mother of three. "I'm grateful for that because it was so authentic. We didn't have phones in our faces either as parents or as children. When I was a kid, we would go home from school and be present with our families, instead of being tied to our friends 24/7 with social media. This massive evolution of technology has played heavily into family life now and disrupts it, I think."
Penny is quick to note that technology does have its benefits, however. "When I was a brand-new mom, I recall reading the What to Expect the First Year book and panicking because whatever was happening didn't align with the text," she says. "Today, a new mom can hop over to TikTok or Twitter and ask a question and get 100 immediate answers, one of which might fit."
Cecelia also points out that today's technology makes it possible to keep track of children and check in more regularly. "It's instantaneous," she says. "It helps keep us closer."
That, too, brings challenges, according to Mary Ann.
"I don't love that they can reach me all day, because they figure they can just ask Mom any time something comes up in their lives," she says. "I keep telling them they need to go about their days and figure things out without me giving them the answer. It hampers their development of problem-solving skills." 
Mary Ann also says that, especially among young girls, most things are now being overthought, largely because of social media. 
"I think what used to be simple enjoyments for kids have become complicated, like spending time with friends and sports," she says. "Kids don't spend as much time just hanging out with friends without the influence of social media, and sports have become all about travel teams and time commitments that affect the entire family."
The work/life balance
Betsy Crippen of Lansing is mother to five busy children, aged 7 to 13. She is active in her church, with Scouting and in her kids' school. 
She also works full-time for the state of Michigan's Unemployment Insurance Agency, which was completely (and famously) bombarded with needs during the COVID-19 pandemic.
"I was working 70-hour weeks, seven days a week," Betsy says. "My husband was fantastic, but it was a lot. I'm sort of the point person for our family's calendar and logistical needs, and I confess it was tough."
Betsy credits her organizational skills, her spouse and a supportive community for helping her get through. "I have five little ones who are depending on me," she says. "My most important asset is patience. These kids are learning, and so am I as their mother. I feel very strongly that we are raising the next generation, and it is important for me to be there for them and do it well."
Penny, who was widowed in 2016 with three teenage kids at home, says she couldn't have done it alone either. "My parish community, especially Father Mark Rutherford, stepped in to help with our family's practical and spiritual needs during that time. We couldn't have done it as well otherwise. We were all grieving, but life was moving on and I had to make sure all our needs were met."
When things seemed at their darkest, these moms were quick to turn to their faith.
"Throughout all aspects of my journey as a mom, my relationship with God has changed because I had to learn different things from him," Emily says. "My knowledge of him has grown deeper as I've learned. In raising children, I must teach my kids to love and trust so that they'll follow me. I had to do the same with God. I had to learn to fall or to trust him more and go deeper in love with him to follow where he was leading our family."
Cecelia, a retired church music director from St. Gerard in Lansing, said her job outside the home was very helpful to ensuring she could pray and find a healthy work/life balance. "It was my job most of the time to be at church, and music touches my soul. So for me, that is prayer. And I needed it."
Our changing world also has brought about new ways of ensuring balance. 
"My husband works from home, which helps, and my boss in the Michigan Senate is super flexible about my schedule," Mary Ann says. "A generation ago, that wouldn't have been the case."
Sources of inspiration
Today's Catholic moms take inspiration from the Blessed Mother and many of the saints.
"I say a lot of prayers to the Blessed Mother," Mary Ann says. "And I draw inspiration from Mother St. Teresa and her great quote, 'If you want to change the world, go home and love your family.' Doing your best with your family is your call to sainthood. I think often of my mom and the example she set for me, but since she passed away when I was a teenager, I'm fortunate to have sisters and a great circle of other moms and friends who help encourage each other in our vocations."
Cecelia says her own mother was an incredible source of support all the time her children were growing up.
"Those hard days, you know, when I was faced with something very troubling, or when second-guessing a judgment call about something with the kids, the first thing she would say was, 'You mustn't feel so bad.' She would always say that to me; she always understood," Cecelia says. "She came from a large family, and so I was always connected to good moms and strong women who were there with advice and love."
Penny says she, too, looked to her mom — and her local ER doc — as she learned to trust her intuition.
"I remember calling my mom for everything. 'He's got hiccups. What do I do?'" she recalls. "You know, I remember going to the emergency room when he started teething and the doctors were like, 'Ugh, first-time parents. Yeah, go home, give him Tylenol.'" And then after that, it was like, 'OK, now I know what this is.' By the time the third one comes around, you're like, 'You'll be fine, cry it out.'"
All these experiences helped Penny grow in her ability to trust herself and her Lord.
"Every mom has her own knowledge of what's right for her baby," she says. "It doesn't come naturally, but it comes over time of listening to your baby and being with your baby and having those quiet moments that are uninterrupted. Those are the same moments I have as I put my head on the pillow each night and thank God for giving me my daily bread." 
While not every new mother has the benefit of connecting regularly with a mom of her own, God has a way of introducing other special relationships that can help.
"We have a great friendship with an older couple at our parish whose grandchildren are far away," says Betsy. "They have taken the time to step in and serve as unfailing sources of love and support for our kids. They fill an important gap for us, and we love that God helped make this happen."
In a similar way, Emily is resolved to serve well as an adoptive mother to two young girls. 
"It was very difficult at first, because of the traumas they had experienced," she says. "But we've done a lot of hard work to help them heal.  They had to be taught what love was. And I always must remember not to break the trust we have built. We work hard on that every day and, while some days are better than others, we are finding our way together.
"What do I want to be remembered for? That everything I did makes them want to be holy. And that we had a joy-filled home that served God."