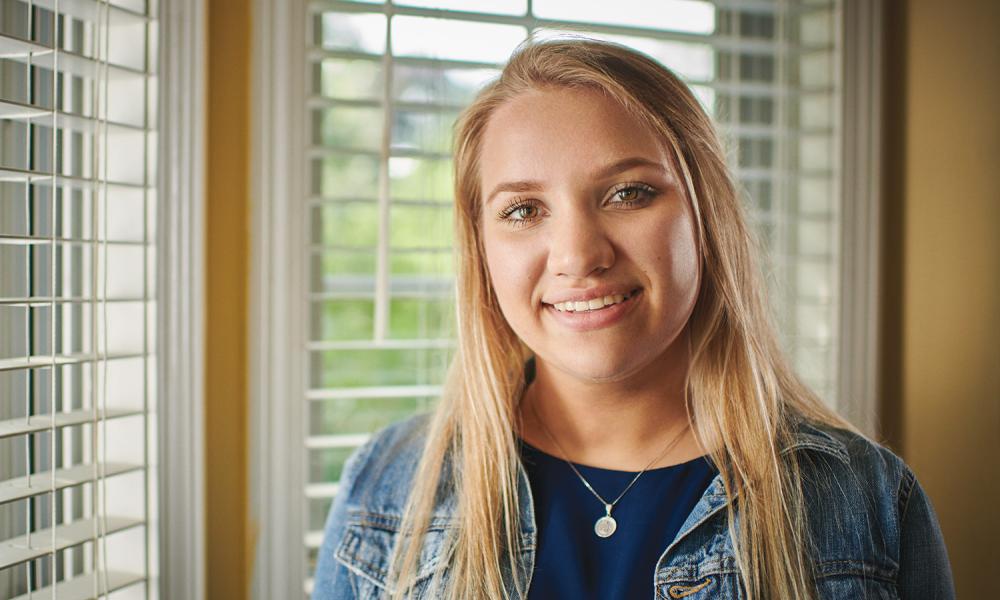 ---
Each day Emilie decides "Am I going to love today as the Lord loves me?"
At 17, Emilie Stevenson's whole life has been immersed in a family and parish environment rich in faith, love and community. Still, it took the slow, revealing work of authentic relationships with other Catholic women to give Emilie the courage today to shed insecurities, embrace her identity as a beloved daughter of God and carry that love to others.
The youngest of four, Emilie was always the one looking ahead to the next, faith-related activity enjoyed by her older siblings, especially the annual Pine Hills Camp, an interdenominational, middle school camp in Grass Lake. Now a full-fledged Pine Hills alumna, Emilie served on the support staff this past August, and she relishes the week of freedom from cell phones and the chance to encourage younger girls to be "fearlessly themselves" while discovering God's love for them. The girls' camp, which attracts nearly 200 girls from across the state, is directed by Debbie Herbeck, a parishioner at Christ the King Parish in Ann Arbor and a part of Emilie's life "since I was very, very little," Emilie remembers.
When Debbie began Be Love Revolution, a ministry for high school girls, Emilie was in eighth grade, though she confesses to sneaking into some of those early events.
"I think what drew me in was how real everyone is," Emilie says. The women who serve as leaders set the tone of each BeLoved event, making it an inviting, safe place for the girls to experience what Emilie describes as a fiercely strong sisterhood.
"No one's competing against each other," she says, and Debbie's gift of making each girl feel like a priority and listened to was a stark contrast to what Emilie sees as "the world's lack of authenticity."
She laughs when describing the stereotype that Catholics aren't allowed to have fun: "Debbie's one of the most fun people I know."
A typical night at BeLoved begins with a talk, followed by small groups, praise and worship, then time for fellowship. It's that time to shore up friendships with other young women earnestly seeking to follow Jesus and willing to pray with each other that's made all the difference for Emilie, especially when she faces the typical pressures and drama of high school life.
"I was very insecure," Emilie says. "I focused a lot on what people thought of me, how I looked." But the constant reminders by Debbie and the sisterhood she discovered at BeLoved that "God created me and is bigger than all of this" have transformed her faith more than she thought possible over the past couple years. Emilie credits the threefold proclamation of the Be Love Revolution – Be His. Be free. Be love. – for teaching her to let go of her anxieties and live in a greater freedom that radiates the same joy she was attracted to in Debbie and others. People notice that freedom, she says, which she hopes becomes a spark to introduce them, in turn, to Jesus.
Though her understanding of it has grown, Emilie's had a profound awareness of God's healing love even as a young child. She survived bone cancer, and attributes that to the sacrament of the anointing of the sick.
As a senior at Father Gabriel Richard High School in Ann Arbor, Emilie now takes on more leadership roles in BeLoved, helping with retreats for younger girls. The experience has made her realize that "helping someone discover their identity rooted in the Lord is beautiful," and opened her to the possibility of doing full-time ministry in the future. If she could impress upon the younger girls one message that's saved her in her own teen years, it's "that they're enough." With that foundation, she says, "Everything will be OK."
Despite her passion for ministry, Emilie is a firm believer that the message of love that's changed her life can't be relegated to one or two evening events a month.
"It's a movement, a way of life," she says. "When you wake up in the morning, you have to decide: Am I going to love today as the Lord loves me?"
That answer, she believes, will start a revolution.
---
BeLoved:
A community of young women growing together in the faith
On Aug. 1, dozens of teen girls gathered at Christ the King Parish Center in Ann Arbor for a night of community, support and faith. It was a BeLoved event – a weekly summer gathering (held biweekly during the school year) put on by Be Love Revolution, a ministry for teen girls run by Debbie Herbeck. The ministry is a way to reach out to young women and inspire them to live lives wholly in and for the Lord.
On this night, there was a clear sense of welcome and community from the start as young women arrived from the Ann Arbor area and beyond. It began by recapping the previous week's BeLoved event through a slideshow of photos. Then Debbie welcomed everyone, especially the newcomers who had never been to a BeLoved night before.
The speaker for the evening, Dee Gross, expounded on the theme of, "FearLESS." She began by challenging the young women to see fear as sometimes being a loss of perspective. While at times, she said, fear can help keep us safe from danger, it can also be a hindrance to a life of freedom and trust in God. She told the girls, "As Christians, we believe our fears are less than our Lord. Which means that we can fear things less." Dee ended her talk by sharing some ways to combat fear. Her list included stating truth in prayer, practicing gratitude and trust and living in the present moment. After the talk, the young women broke off into small groups, where they shared their own experiences with fear in their lives.
The evening ended with praise and worship, where the young women offered their fears to the Lord. "It's really beautiful to see all the girls come together in praise," Debbie says.
If you have any teen girls in your life, this is an excellent opportunity for them to grow closer to Christ while being part of a beautiful community of young women. – Katie Burns