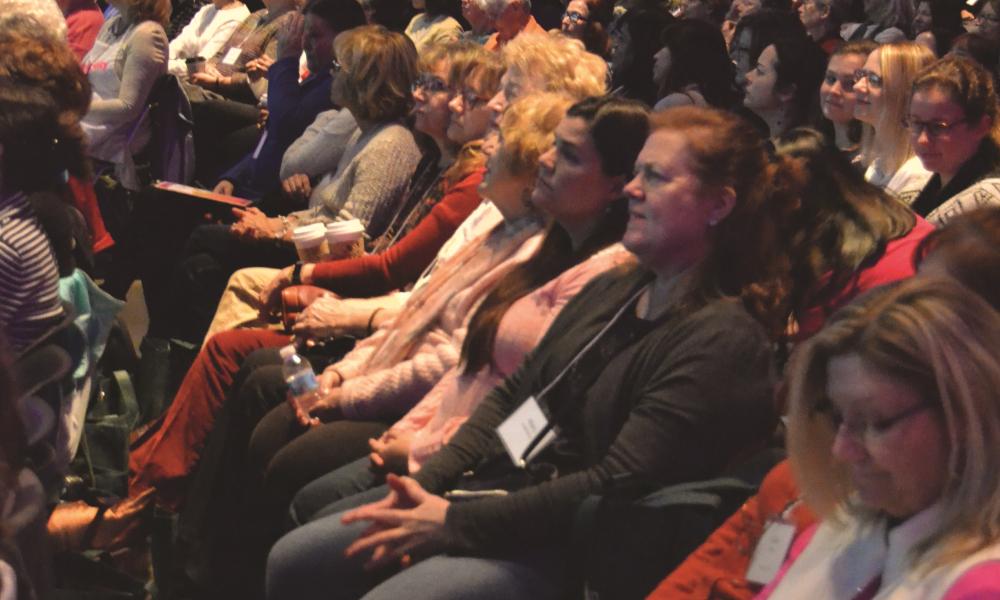 ---
Diocesan Women's Conference draws big crowd
More than 1,000 women from across the diocese took time of out of their busy schedules on Nov. 4 to attend the Diocese of Lansing Women's Conference at the Lansing Center The sellout crowd was inspired and challenged by speakers Erin Looby-Carlson, Colleen Mitchell, Father Matthias Thelen and Father Mark Rutherford. Music was provided by Melanie Rea and local musicians.
The day was filled with opportunities for spiritual growth and renewal for groups of friends, mothers and daughters, sisters and soulmates. In addition to hearing speakers and testimonials, attendees spent time in Adoration of the Eucharist and renewing their relationship with Christ in the sacrament of reconciliation. The day concluded with Mass with Bishop Earl Boyea. The bishop challenged the women to be witnesses, to take the message of God's love back to their communities and families, and to invite others to come share in the joy of the Gospel.
According to one attendee, Kathleen Larsen, "The speakers were inspirational and thought-provoking, and I felt a peacefulness about the atmosphere, especially during Adoration."
Diocesan youth celebrate their faith
More than 600 youth from the 10 counties of the Diocese of Lansing gathered for the "Unashamed" Youth Conference Nov. 5 at the Lansing Center. The title of the conference comes from Romans 1:16: "For I am not ashamed of the Gospel, because it is the power of God that brings salvation to everyone who believes." Bishop Earl Boyea presided at Mass, and challenged the youth to be unashamed of their love for God and in sharing it with friends and family. Melanie Rae and local musicians provided music, and Joey McCoy of i.d.9:16 served as master of ceremonies. Speakers Paul J. Kim and Chelsea Gheesling challenged the youth to reject all that prevents them from growing in love for Christ. The youth helped pack 61 boxes with cleaning supplies, food, and personal care items they had donated for Hurricane Harvey victims. Attendees enjoyed the opportunity to celebrate the sacrament of reconciliation, and spent time in Adoration of the Eucharist.