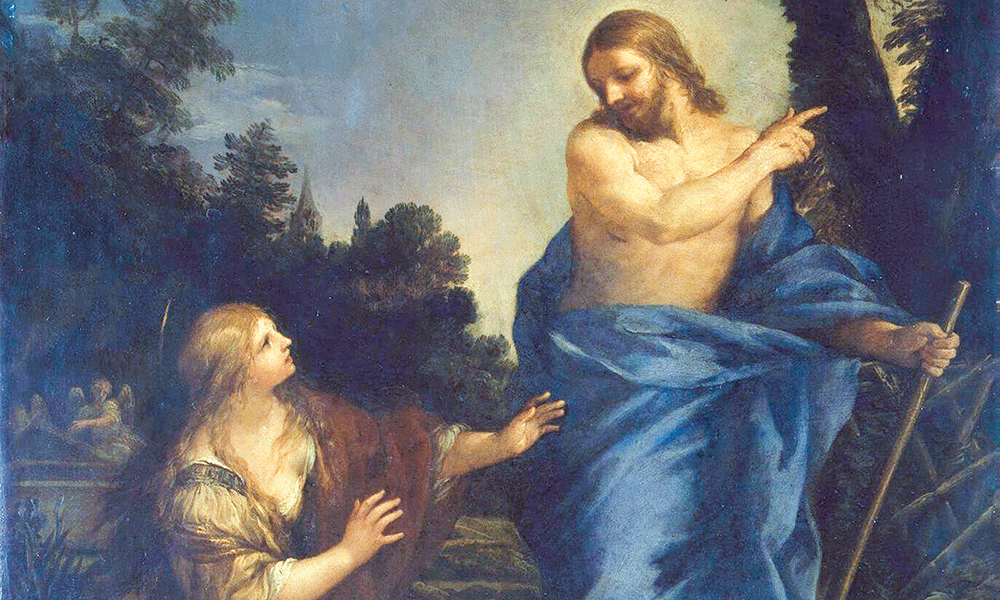 ---
From death to life – Happy Easter!
The dead one has risen! As you receive this issue of FAITH magazine during Holy Week, we are preparing to celebrate the most solemn feast day of the year, Easter.
On Easter Sunday, our focus is turned toward the first evangelist, Mary Magdalene, as well as to Peter and John and the other apostles. (Jn 20:1-23) After Mary reported to Peter and John about the open tomb that Easter morning, these two runners themselves visited that empty place seeing the burial clothes, something that would not have remained behind if the body had been stolen. But they did not understand.
The Magdalene stayed in the area after their departure and she wept. We are reminded of the Song of Songs (3:1-3): "I sought him but I did not find him. 'Let me rise then and go about the city, through the streets and squares; let me seek him whom my soul loves ….' The watchmen found me ….  'Him whom my soul loves – have you seen him?'" Her earnest seeking allowed her to be open to the one whom she thought a gardener, who called her by name. Only then did she recognize the presence of Jesus who was right in front of her. Jesus now made Mary Magdalene an "apostle" sending her to the eleven to announce: "I am going to my Father and your Father, to my God and your God." (Jn 20:17) She fulfilled this ministry: "I have seen the Lord." (Jn 20:18)
The apostles had not believed Mary Magdalene. They were in the locked Upper Room and fearful. Jesus breaks through their barriers and gives them the promised gift, the Holy Spirit. Jesus breathes this Spirit upon them just as the divine wind hovered over the chaos to give us creation (Gn 1:2), just as God breathed into the clay of Adam to give him life. (Gn 2:7) This divine gift changed everything.
In John's Gospel, the gift of the Spirit flows from the death and resurrection of the Lord, just as blood and water flowed from his pierced side. Sisters and brothers, it is amazing that on this one day, this Easter Day, we celebrate so much. We celebrate death to life, darkness to light, despair to hope, sin to salvation. It is good that we take a full 50 days for such a celebration. We all need this time to be renewed in the Holy Spirit.