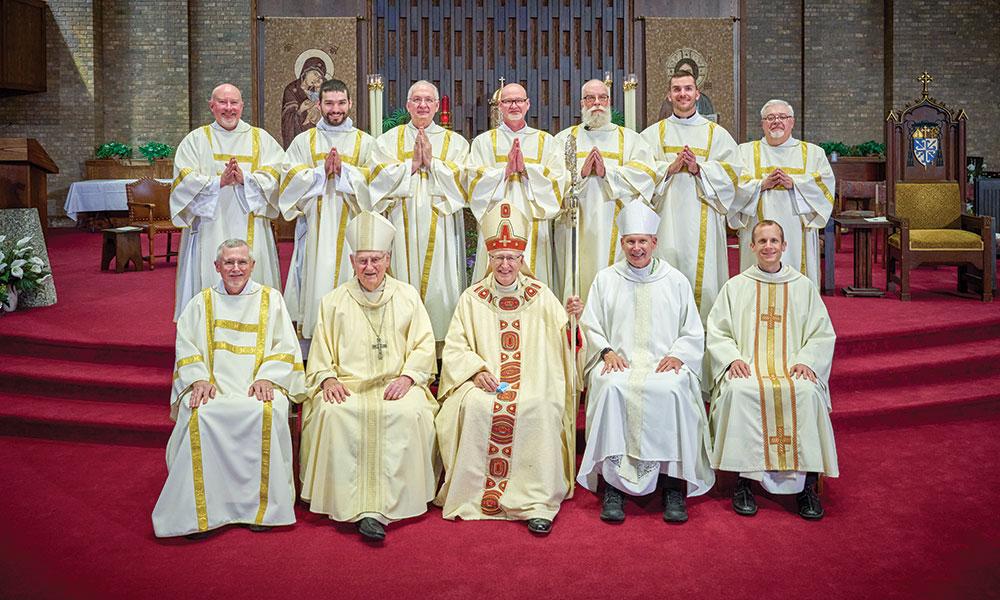 ---
Deacon Ordination 2021
The Diocese of Lansing was blessed with five new permanent deacons and two transitional deacons on May 15. Bishop Earl Boyea ordained the new deacons at St. Thomas Aquinas Parish in East Lansing. Meet the new deacons on the following pages.
Deacon Todd Dahlberg
Deacon Todd and his bride, Jodi, live in Somerset and attend St. Rita Parish in Clarklake. They have five children and four grandchildren (with one more grandbaby on the way). In addition to his parish responsibilities, Deacon Todd volunteers at Jackson's Center for Women/Dad's All In ministry, and also at the Jackson Interfaith Shelter. He works for IBM as an operations director and enjoys playing hockey and pickleball.
Deacon Mark Danaho
Deacon Mark and his wife, Lina, have been blessed with two children and 10 grandchildren. Deacon Mark continues on as operations manager for the firm Rummel Wealth Management and as an account manager for Rummel Insurance. Deacon Mark and Lina are parishioners at St. Pius X Parish in Flint and actively participate in liturgical services and parish ministries in more than one parish. Lina is from Italy, which is where the two were married.
Deacon Richard Freedberg
Deacon Richard and Sally have been married for 42 years and are the parents of three outstanding children and "Grandma and Dr. Grandpa" to four extraordinary grandchildren. Deacon Rick entered the Church 41 years ago and attributes his spiritual reawakening to his 2007 Cursillo weekend experience. He is a retired nurse and community college and university professor. Pre-pandemic, he was active in prison ministry, to which he hopes to return.
Deacon David Allen Hammer
Deacon David has been married to his wife, Jennifer, for 30 years. They have been parishioners at St. Elizabeth Parish in Tecumseh for 26 years. They have two children and one grandchild. Deacon David, a graduate of Ferris State University, has worked as an engineer for 31 years and is a Third Degree member of the Knights of Columbus. Deacon David and Jennifer are actively involved in many ministries at St. Elizabeth and he currently leads the baptism preparation program.
Deacon Chester M. Pesmark
Deacon Chester and his wife, Tobie, have been married for 30 years. They have five children and seven grandchildren. He was in the U.S. Air Force for four years as a communications technician. He retired from Detroit Diesel after 37 years as a facility and project engineer. In January 2015, he began his journey to the diaconate. Deacon Chester is a Fourth Degree member of the Knights of Columbus at St. Patrick Parish in Brighton.
---
ON THE PATH TO PRIESTLY ORDINATION: TRANSITIONAL DEACONS
Deacons Peter and Tyler will be ordained to the priesthood on June 11, 2022, at St. Thomas Aquinas Parish in East Lansing.
Deacon Peter Ludwig
Deacon Peter is the son of Jon and Lori Ludwig and the oldest of 11 children. He is from St. Peter's Parish in Eaton Rapids. He has been part of the Work of Christ charismatic community his entire life. Deacon Peter attended college at St. John Vianney Seminary in Minnesota and is currently studying at the Pontifical North American College in Rome. He will be assigned as a deacon to St. Thomas Aquinas and St. John Student Center, East Lansing.
Deacon Tyler Arens
Deacon Tyler is a Westphalia native and the son of Bruce and Sharon Arens. His home parish is St. Mary, Westphalia. He has three siblings. Tyler is a graduate of the University of Michigan and Michigan State University. He was employed by MSU prior to entering Sacred Heart Major Seminary in 2016. He will be assigned as a deacon to St. Mary in Pinckney.
---
PHOTOGRAPHY BY TOM GENNARA