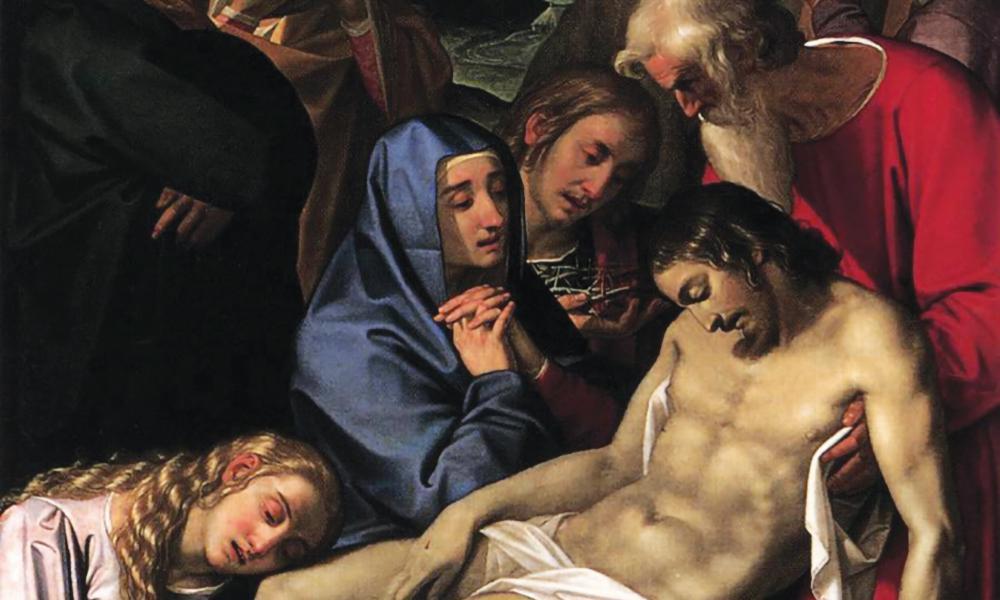 ---
Comfort the Sorrowful
I don't know of any time or any season in the year when it is comfortable to talk about grief – how to personally handle it in our own lives, or how to support others going through the loss of a loved one. But I can say that I have become more aware in our modern society how we tend to keep the death of a loved one very quiet and think: "People are uncomfortable with death; they don't want to talk about it; they seem very awkward so I will keep quiet." Such an attitude can contribute to isolation for the one grieving, and can separate a person in their grief at a time when support is very much needed.
If at all possible, it is important to take time away from work, or attempt a slightly reduced schedule for a set period of time. If you try to carry on with the same intensity of schedule, your emotions can go dormant, so to speak, which can have repercussions later. If you have to work for financial reasons, then give God time each day, quiet time – even if on the way to work – and ask God to be your help in every way this day. He will!
In terms of notifying people of a loss we have experienced, an impersonal engine is most often the means: phone call, text, Facebook. The impersonal nature of these types of notifications can leave the grieving individual alone at a time when human support is most needed. Pay attention to this for your own life and for those whom you know are grieving.
While we all grieve differently – which must be taken into account – everyone needs people on whom we can depend, whether we are suffering the effects of a sudden or tragic death, or a death that comes after months of seeing a loved one suffer. Both can cause a certain kind of trauma.
Having made these observations, I would like to offer some recommendations for a situation involving grief.
For the grieving one:
1. Be free to tell others what would most support you during your time of grief. It may not be what they planned, but you shouldn't have to worry about how to please someone who is there ostensibly to serve you.
2. If tears come in any public setting – the funeral home or the Church – don't try to hide them. They are appropriate.
3. When people ask what they can do to serve you or your family, ask that they have a Mass offered for the one who has just died. As holy as we might think someone is, we all need prayer. Perhaps in the days, weeks, months, after the funeral, invite people to your home to pray the rosary together for your loved one.
4. If people want to prepare meals for you or clean your house and you would rather be still or quiet, it is fine to say, "What a wonderful idea and I am grateful, but could we wait a little while?" In other words, don't feel obligated to accept or do what people offer; thank them, but feel free to establish what and when is most helpful.
5. Take time for extra rest, or time to do something with a friend that would be appropriate and helpful for you.
6. If possible, depending on age and health, go to Mass at least one extra day during the week, and offer all those prayers for your loved one. There is no greater prayer for someone you love.
7. Take time to think about heaven. I know it can be difficult when you are grieving, but it is a good and wholesome thing to do. It is not morbid. Think about what your faith tells you. Read about heaven in the catechism; ask God to show you through Scripture what awaits your loved one and what awaits you, if we are faithful to him.
8. If you are confined to home because of your own health problems, you can invite a priest to come to your home, to go to confession, to pray for your recently deceased relative. In other words, let the Body of Christ, through parishioners and friends, minister to you. We all need to support one another, especially in times like this.
Consoling those who are grieving
There is an old custom which has long since gone out of date. Family members wore black in some form, usually for a year, to indicate they were in mourning. It was an indication that someone in their family – someone close to them – had died. It reminded others, and made it possible for many to receive support they might not otherwise have received.
Although life has a way of "getting away from us," most likely someone in our neighborhood, workplace or parish is grieving. Since society has given up the custom of wearing black, I have seen people get inventive and wear a small piece of black ribbon on their clothing. When people see it, they are reminded that this person is carrying a sorrow, and needs to be supported. I have seen people stop right when they realize this and say, "Let's pray together for the repose of your loved one's soul." It creates support, and brings the grieving person right into the middle of prayerful encouragement.
Think about these points and see if God shows you a way to express your time of mourning, or a way to support another. In this Year of Mercy, we can "invent" new ways to console the sorrowing and pray for those who have died.