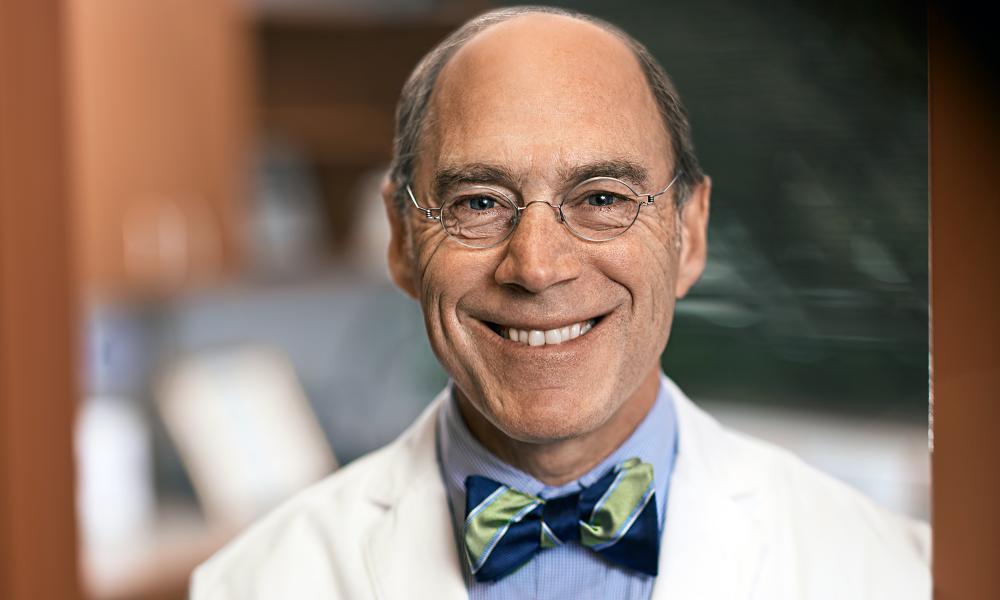 ---
Catholic Health Care for Women
Stephen's faith is at the core of his medical practice
Dr. Stephen Hickner and his wife, Carol, were very happy with their life in Wyoming. Following his 20-year obstetrics/gynecology career largely spent in Grand Rapids, the Hickners could wrap a week of work at 5 p.m. Friday and by sunset have a tent pitched in Yellowstone National Park, ready to enjoy the splendor God had created. But Stephen — sometimes enthusiastically, sometimes reluctantly — always kept his ears open to hear God's call.
So when Dr. Thomas W. Hilgers and the Pope Paul VI Institute for the Study of Human Reproduction reached out to Stephen in May 2013, creating an opportunity for him to study the natural procreative technology (NaPro technology) developed by Hilgers, with additional training in robotic surgery at Creighton University Medical Center, Stephen listened.
"I've always had an inclination to be open to God and his Church," Stephen says. "I would attribute a lot of my commitment to my faith to upbringing rooted by my parents, siblings and extended family in a strong Catholicism. My relatives were highly educated people committed to social justice, and those sorts of values were ingrained in me."
Currently serving as a board-certified OB/GYN physician on staff at St. Joseph Mercy Hospital, Caritas Center for Women's Health and Emmaus Health, Stephen represents the epitome of a life lived open to God's direction.
"I admit I didn't have a plan that I was going to go to medical school, become an OB/GYN and practice medicine a certain way – I was flying by the seat of my pants as a baby boomer Catholic trying to come to terms with my faith and trying to figure out how I would integrate that in my practice," Stephen says.
"When I was a senior at Michigan State in 1982, I was seriously thinking of becoming a Jesuit priest or a diocesan priest. I was a philosophy major and bio-chem major, but I took the MCAT and scored really well. I applied to medical school and I got accepted and I figured that was God's answer.
"Certainly, he was leading me to be near him, to grow in my faith, and it was going to be through medicine and not the priesthood."
Doors opened, one after the other, for Stephen and his wife, a registered nurse, and their brood of four children, leading him to a residency program in St. Louis, Mo., then to Grand Rapids, working in the St. Mary's Health System, then to Wyoming, then to Omaha (to study the NaPro technology) and, most recently, to Ann Arbor.
Along the way, God was also shaping Stephen's philosophy on medicine, making him more and more aware of authentic Catholic teaching on human fertility, particularly regarding women's reproduction.
"I was pretty naive at first," he says. "I originally wanted to go into sports medicine. My wife suggested gynecology, but even then I didn't go into it with any agenda or knowledge that I would find solutions to women's health issues that would allow them not to take birth control or, eventually, have options to in vitro fertilization (IVF); it wasn't until my fourth year of residency that I was handed a document on the Church's teaching in regards to human sexuality and fertility."
Stephen practiced medicine with a commitment to his faith, taking umbrage when asked as an intern at Washington University in St. Louis to perform abortions. Providentially, he was able to transfer to a Catholic residency program in suburban St. Louis at St. John's Mercy Medical Center, while tending to women's health as best he could in connection with Catholic protocol.
The opportunity to study at Creighton University in Omaha for one year, learning natural reproductive technology, was the culmination of the 25-plus years he had already devoted to his patients and his relationship with the Church.
"We provide state-of-the-art medical and surgical therapies for women with a range of gynecologic problems," Stephen says. "This includes minimally invasive and robotic surgery.
"We are providing effective treatments for women with infertility. Often, our women have gone through and failed with IVF and they then successfully become pregnant with our approaches.
"Finally, our philosophy is to tap into the feminine genius and empower women in the process."
With the sponsorship of Trinity Health, Stephen joined Emmaus Health in May 2016, and has found the experience incredibly rewarding, seeing not only patients from Ann Arbor and Southeast Michigan, but also women from Grand Rapids, Kalamazoo, Battle Creek and beyond.
Stephen and his wife are happy to be close to family located in the Bay City area, and close to a son, daughter-in-law and a grandson. They are excited to set up roots in Southeast Michigan.
"God has continually found ways to intervene in my life when he knew I needed direction, and if he calls on us again, we'll do what we've always done, do our best to discern his intention," Stephen says.
Emmaus Health offers health care consistent with our Catholic faith
In 2014, the Diocese of Lansing supported an initiative to redesign Catholic health care, providing an opportunity for God to be a greater presence in the medical decisions of patients. The finished product is Emmaus Health, based in Ann Arbor.
"We want to be intentional in recognizing that every patient we see is made in the image and likeness of God, and we will treat them accordingly," says Dr. William (Rusty) Chavey , the clinic's director. "We follow the ethical directives of the Church, not because we view them as burdensome obligations, but because we believe these directives are supportive of the dignity of our patients.
"For instance, if I see an unmarried adolescent woman who has multiple sexual partners, I do not want her to get pregnant. I could achieve that with birth control,
while she continues in her same lifestyle. Rather, I could try to get her to see her partners are defining her by her sexuality and she deserves better. If I can get her to change her lifestyle, that is more dignity-affirming."
Regardless of religious, cultural or ethnic background, Emmaus Health is upfront with its patients, telling Muslims, atheists, Buddhists and anyone else that they will be treated in the likeness of God and under the direction of Catholic teaching.
"We're going to treat you with the same respect and commitment to that of any other patient, but we're very candid about what we do and how we do it," Rusty says.
"Our goal is to help patients understand they have value and are worth investing in. It's far too commonplace to throw medication at patients to solve problems, without investing in their emotional, mental and spiritual health also. We want to them to see that God values them and wants to be part of their medical health."