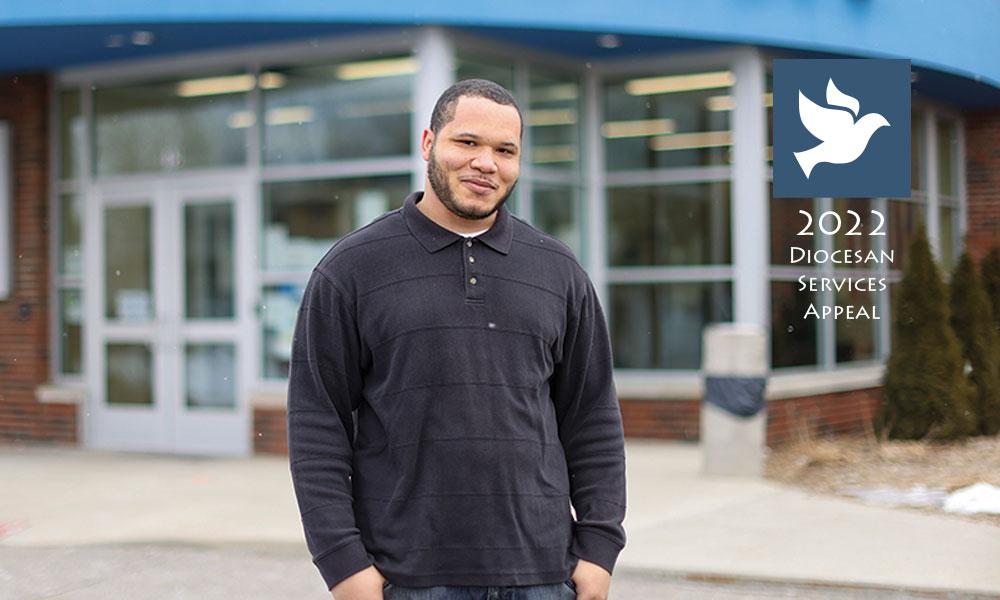 ---
'Catholic Charities Is a Blessing' for Those in Need in Flint
Aaron Richards was struggling when he first encountered the Center for Hope. At the time, he remembers asking himself, "Where could I get my next meal? Where could I grab personal items?"
Catholic Charities of Shiawassee and Genesee Counties was the answer for Aaron, as it is for so many other people who struggle to make ends meet. The Center for Hope campus offers food, clothing and guidance for those in need in the community of Flint. Aaron, a lifelong resident of Flint, is now a volunteer at the Center for Hope, but not so long ago he was a person in need who came to the right place.
"I came up here in 2017 and reached out to Miss Mary [Stevenson] and Miss Rae (Riggs) and asked if there was any way I could be part of the team," Aaron says. "They definitely welcomed me with open arms. They took a chance on me. I was grateful. It kept me out of a lot of things and kept me away from people who weren't good for me."
Aaron has been a welcome addition to the volunteer staff at Center for Hope. He is a dedicated worker and appreciates the opportunity to help others with kindness and care – the same way he was helped by Catholic Charities.
"I am actually part of the floor team," Aaron says. "We take donations for those who are in need. It really warms my heart. I feel like I am a part of helping those in poverty. This is a wonderful place that everyone should be thankful for."
Whether getting household supplies and clothing organized in the Community Closet or carrying bags to the car for an elderly client, Aaron's gentle spirit wishes to help wherever he is needed. "I was thankful I was able to come here before any place else," says Aaron. "It's given me discipline."
"He is always looking to help everybody," says Mary Stevenson, volunteer services coordinator. "We are so sincerely grateful to have Aaron with us."
Aaron has also been able to get help with his daily struggles and frustrations by talking with Deacon Ken Preiss, the chaplain at the Center for Hope. Catholic Charities and the Center for Hope counseling programs are supported by DSA dollars.
"I was in a dark place at one time," Aaron says. "I was grateful the deacon had the time to listen to me. I didn't want to become a burden. I like talking and getting everything off my chest."
His personal struggles have not disappeared, but Aaron has discovered that helping others is a great way to manage his own challenges. "It took me a while to get into the swing of things," remembers Aaron. "It was an eye-opening thing to be selfless."
The service work at the Center for Hope is in line with what Aaron learned from his great-grandmother.
"If there's one thing my great-grandmother instilled in me, it was to have a heart for those in need," he says. "I look at it as good karma. I want to see those people have a smile on their face, knowing they can take things home. People can give from the heart. If it comes from the heart, it is definitely something you should be proud of."
In the past, there have been young men who have struggled to follow the rules and expectations at the Center for Hope, and Aaron hasn't hesitated to model the appropriate behavior and step in to guide them. Mary appreciates Aaron's willingness to be a mentor to younger men and believes he offers a powerful example of how to be a good man.
"It shows me a lot about Aaron," she says. "He didn't have to help those young guys, but he did."
Aaron has learned it is possible to overcome mistakes and turn your life around. He can care for others because he has learned to care for himself.
"You can beat the odds," says Aaron. "You have your own personality and your own heart."
His great-grandmother encouraged Aaron when he was young, and the staff of Catholic Charities encourages him today. "Just do what God wants you to do," Aaron says. "Be a good-hearted person as well as a selfless person. Everybody needs somebody – even a stranger."
"I'm taking it day by day. I'm hoping to get to know the rest of the staff as well as I know Miss Mary and Miss Rae," says Aaron. "Catholic Charities is a blessing. Miss Mary and Miss Rae are a blessing for taking me in and treating me as one of their own. This place has made me glow inside."
---
Catholic Charities CEO Vicky Schultz would like everyone to be a part of the Catholic presence in Flint. "We have taken on the entire campus of the former St. Michael Parish, the Mother Church of Genesee County for more than 175 years," she says. "Now, it is our turn to help maintain a strong Catholic presence in Flint, providing the essentials for survival – from clothing and food to housing assistance and counseling. We work to fulfill our mission to do what we can to ease the burden of those in need and help them find the building blocks for a better life."