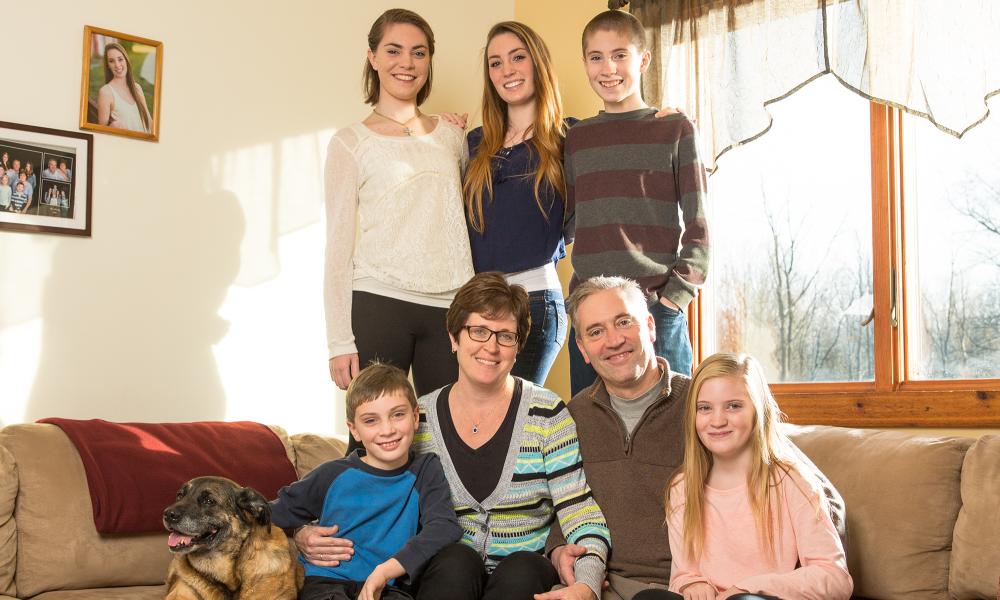 ---
Bill and Theresa make Catholic Education a priority
For Bill and Theresa Martin, sending their children to Catholic school complements what they teach at home.
"Our job as parents is to bring our kids closer to God. We feel like that's what we're doing by giving them this education," Theresa says. The Martins, parishioners of St. Mary Star of the Sea in Jackson, make Catholic schools a financial, educational and spiritual priority for their family. Parents of Kelly, Rachel, Sam, Lucy and Alex, the Martins consider Catholic schools a dynamic partner in their parenting journey – helping them raise smart, well-rounded and faith-filled kids.
Theresa believes her children benefit from the way Catholic schools integrate faith into every aspect of their students' lives. "I would just say that they get so much from the daily exposure to the faith at school. It's not just religion class – they gather for morning prayer, first Friday adoration, school Mass – it's woven throughout the whole curriculum.
"And as they get older in the high school age, they get opportunities for retreats and mission trips that are not going to be offered in the public schools. It's all part of the whole package," she says.
Both Bill and Theresa attended Catholic schools themselves and believe the tuition is well worth it.
"If it's that important to you, you're not going to really put a price on it," Theresa says. "If it's a priority, you're going to try to make it work.
"I had a good experience all the way through the whole school, so I was definitely willing to make the sacrifice to send them there," she adds.
Bill says, "You only get one chance to do it right with your kids and I would hate to look back and wish I had done it differently."
According to Theresa, "It's an investment in your child and their future, over material things like a car or something. We want to look back on it and say we made the right choice for them. And we would do it again – for sure."
In order to afford a Catholic education for their five children – two currently in Catholic elementary, one in Catholic middle school, one in Catholic high school and one at a small Catholic college – Theresa and Bill, who runs his family's steel business with his parents, rely on a mix of hard work and God's grace.
"Starting out, I'm sure Bill was a little hesitant about paying the tuition. It wasn't easy to make the decision, but we're glad that we did," Theresa says. "You know, when you're self-employed, there are times where it's very slow or he's busy and working really long hours. We've had to take it month-by-month sometimes."
"Somehow it's worked out," Bill says. "We can't explain that one."
When the kids were little, Theresa worked from home part-time doing the office work for Bill's business, and worked at the school on recess duty and as lunch parent to help with tuition. Now she goes into Bill's company office part-time, and is also working part-time as an assistant in the St. Mary pre-kindergarten program to offset some of the costs. "I've always done what I can to take off that little bit that helps," she says.
"I know everyone's situation is different, but if you just go and talk to the school, in our experience, they are usually really willing to work with you. Just don't say right off the top 'we can't afford it,' without at least finding out, talking with the school, going in and asking some questions." Theresa recommends.
"For bigger families like ours, a lot of schools do have a multi-student discount. Also, as of sixth grade, the diocese offers a diocesan scholarship which they encourage everyone to apply for, and we take advantage of that," she says.
The Martins' oldest child also received some financial aid in college because she had gone to a Catholic school.
"You kind of get a little back then, which was nice," Bill says.
From a budget standpoint, Bill says the family takes the costs associated with Catholic education in stride. "It's just once you decide to do it, it becomes part of your budget. And that comes off the top."
"I guess you could say there's definitely things we do without, but it's not like I think our kids are suffering," Theresa says. "You know, they haven't been to Disney World, but I don't think that's affecting them.
"Our kids get jobs when they are 16, and that helps them get ready for college. We've told them they are pretty much on their own through college – financial aid, grants and scholarships – so they do quite a bit of the college on their own," she adds.
Most important, the Martins believe their children receive a great education.
"[Catholic schools] really want the best for your child, in a lot of different ways," Theresa says. "And I think with the smaller class size the teachers are a little more in tune with your kids' needs."
Bill likes the discipline, small class sizes, and strong relationships between parents and teachers found in most Catholic schools.
"I think they encourage so much family participation that you get a pretty good feel if the teacher is doing a good job," he says. "I mean we laugh about it now with our son who plays basketball – the school busses them one way to away games, but they don't bring them back, so they pretty much encourage you to go to the game and get him.
"We've also had teachers come to some of our kids' sporting activities outside of school, just to come and support them. It's just things like that, small touches, I guess," Bill says.
"One of the big things I notice is that the parents seem to listen to the teacher and aren't afraid to admit their child has a problem," he says. "Whereas in some public school situations, it seems like parents say it's always the teacher's fault.
"I also think the parents realize the teachers probably aren't getting as well paid. They appreciate them being there and let them know it. I think that helps form the bond between the parents and teachers also," Bill continues.
"We just hope all this together will impact their journey of faith as they get older and make a difference. We're not guaranteed it will make a difference, but we're making sure that we've done the best we can do," Theresa says. "I don't know for sure if that has anything to do with our daughter choosing a smaller Catholic college over a larger public one, but sometimes those little things make a difference."
Bill agreed that it is often the small things that have helped them.
"God has definitely helped guide us along the way. I don't think there's been a big lightning bolt moment. But it's a constant," he said.
Tips for affording a Catholic Education
FAITH spoke to Renee Fischman, tuition advisor for Lansing Catholic High School and one of the administrators for the Diocese of Lansing Scholarship Program, for her insights on the financial aspects that parents consider when enrolling their children in a Catholic elementary or high school.
Each family situation is unique. A Catholic school tuition advisor can provide you with ideas and solutions tailored to your family's budgetary needs.
Financial aid is available from the diocese, and is based primarily on income. We use a third-party service, the Private School Aid System (PSAS) to determine need. The first step is to fill out the PSAS application, available from the school where you plan to enroll. You will need to include your 2015 W-2 forms and a copy of your 2014 federal income tax return. Applications must be post-marked (or completed online) by March 1, 2016, to be eligible for the 2016-17 school year.
Currently, Catholic students in grades 6 through 9 may be eligible for $750 and high school students may receive a $1,000 grant. Other aid may be available through the school tuition offices and the parishes, so it's important to check with the school in which you're enrolling.
You have to believe that a Catholic education is worth the sacrifice. Regardless of income level, the decision for Catholic education reflects what you believe is important for your children. In that way, it as an investment.
Communication with school tuition advisors is the key. Our mission is to help families achieve their goal of Catholic education for their children.