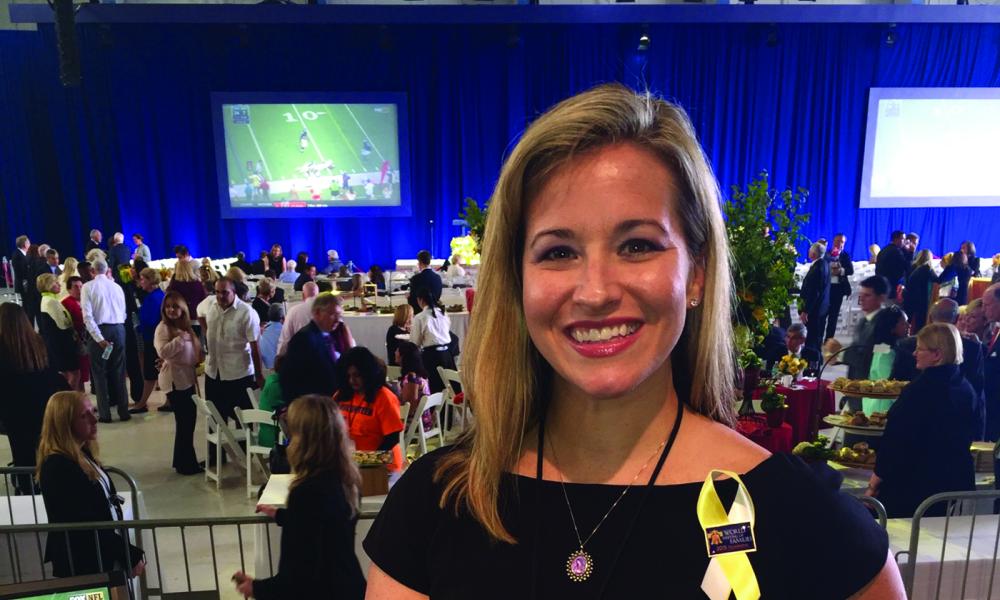 ---
Behind the Scenes: Assisting the Press Corps on the Papal Visit
I was standing in the heart of New York City – just a few feet away from nationally recognized network and cable television news anchors broadcasting on Fifth Avenue near St. Patrick Cathedral. That's where I was the first time I saw Pope Francis during his Apostolic Journey to the United States.
So how is it that a communications director from the Diocese of Saginaw, Mich., occupied such an incredible post? With unprecedented media interest in Pope Francis' visit to the United States, I, along with more than 100 (arch)diocesan communications professionals from across the country got called upon to join the "big leagues" for one week in September 2015.
We were contacted several months ago by the United States Conference of Catholic Bishops (USCCB) to assist during the papal visit. With the support and blessing of my bishop, the Most Rev. Joseph R. Cistone, I committed to a week in New York City and Philadelphia, while other Catholic communicators served in Washington, D.C.
I was assigned to the media relations team, and in the weeks leading up to Pope Fancis' arrival stateside, the U.S. Secret Service conducted our background checks and we participated in conference calls with USCCB leadership to discuss event details and logistics. We studied up on Pope Francis' Laudato Si and Evangelii Gaudium and were given a 150-page resource guide to brush up on information about the U.S. Catholic Church, including her leaders, ministries, outreach, key terminology and more.
Our duties on the ground included serving as subject matter experts, writing pool reports, distributing credentials, answering questions, and escorting members of the media at various venues, including along the Benjamin Franklin Parkway in Philadelphia where a sea of people cheered and volunteered to be interviewed from beyond the police barricades. In all, more than 7,000 journalists from around the world were issued press credentials by the Secret Service, which gave them access to news-filing centers in the three U.S. cities Pope Francis visited. These sites were stocked with information and media resources, prepped for conducting interviews, and also home to the daily press briefings with Father Federico Lombardi, S.J., director of the Holy See Press Office. Media traveling outside the filing centers to specific events were required to gather 6 to 8 hours in advance — even if that meant arriving at 3a.m. — to receive another badge, allow time to pass through metal detectors, have their gear screened and board a bus escorted by police to their destination. Our job was to joyfully accompany them on these buses and serve as a resource.
It's difficult to put into words the experience of traveling from city to city with Pope Francis: Receiving communion during the Mass he celebrated at Madison Square Garden, waving to him as he rode by in his "popemobile" and receiving a blessing at the Festival of Families are definitely highlights. Although, most on our team never met him, being in his presence, hearing his message and seeing his impact on the media and those he encountered was awe-inspiring. Some workdays exceeded 15 hours, more than half of which we spent standing, but it was during those long, wonderful days that I experienced unexpected blessings, including beautiful friendships forged, and the presence and work of the Holy Spirit.
At the pope's final stop at Atlantic Aviation at Philadelphia International Airport, before departing for Rome, I met a man who suffered from sarcoidosis, known as "9/11 lung disease." He assisted with cleanup after the Sept. 11, 2001, terrorist attacks and spent a year cleaning the buildings surrounding Ground Zero. Inside Hangar One, this man unexpectedly met Pope Francis. With tears in his eyes, he described that, when he was blessed by the pope, he felt something come over him and for the first time in many years believes he is going to be "OK." It was humbling to connect this man and his wife with a New York media outlet that broadly shared the story of his powerful meeting with Pope Francis with readers.
As I reflect on the week I spent serving on the USCCB media relations team, watching people's reaction to Pope Francis -- and witnessing his reaction to them -- is what left the greatest impression on me.
On his return trip to Rome, a journalist told Pope Francis he had become a "rock star" in the United States, to which Pope Francis replied: "How many stars have we seen that go out and fall? It is a fleeting thing. On the other hand, being a servant of the servants of God is something that doesn't pass."