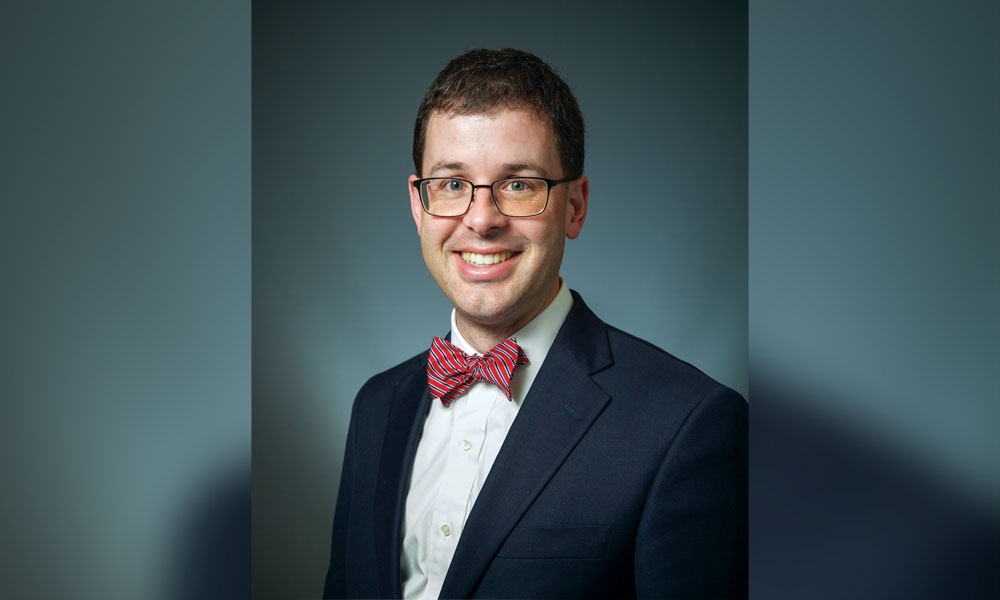 ---
An Attorney for All Seasons
John Bursch, St. Thomas More, and the work of upholding justice in Michigan
John Bursch never intended to be a religious liberty and pro-life lawyer, but, he says, "God just kept opening one door after another for me.
"That led me down the long path to where I am today," Bursch says.
Bursch, a Grand Rapids attorney with Alliance Defending Freedom, is this year's recipient of the St. Thomas More Award from the Catholic Lawyers Guild in the Diocese of Lansing. More was a lawyer during the reign of Henry VIII in England, becoming Lord Chancellor in 1529 until his execution in 1535 for opposing the Tudor king's split from Rome and subsequent invalid annulment of his marriage to his wife, Catherine of Aragon.
The award, presented to attorneys who exemplify the values of St. Thomas More, is presented annually at the Red Mass, marking the start of the court term each fall. This year's Mass is held Oct. 3.
"It's just wonderful to be mentioned in the same breath as St. Thomas More," Bursch says. "Obviously I haven't done anything near as courageous as what he did, but that they would even think that I could wear that badge because I put God first in everything I do, well it's the biggest honor they could give me."
Bursch says the saint "is a constant inspiration.
"There's a prayer that More said when he was going into court before he was the chancellor that my wife taped inside my court binder," he said. "I try to pray it before I go into court myself."
Bursch started his collegiate career at Western Michigan University, planning to study engineering. In his freshman year, he read Scott Turow's One L, which is Turow's true account of his first year at Harvard Law School. Bursch said he was fascinated by the story and knew he wanted to attend law school, too.
"In the book, Turow talks about the Socratic method and intellectual rigor," Bursch says. "When I read it, I thought, 'that's what I want to do. I didn't really know what it meant to be a lawyer, but I knew I wanted to go to law school. So I changed to a double major in two things I loved, music and math."
Bursch met his future wife, Angela, as an undergraduate and they now have five children ranging in age from 26 to 16. On Aug. 19, they celebrated 29 years of marriage. Their first grandchild was due in September. 
After completing his undergraduate degree, Bursch went on to law school at the University of Minnesota Law, then had a one-year clerkship with Judge James B. Loken, in the U.S. Court of Appeals for the eighth circuit.
"That was a great experience," Bursch says. "I went from there to Warner, Norcross & Judd, a large Michigan law firm, from 1998 to 2016, with a three-year hiatus from 2011-2013 to serve as Michigan's solicitor general under then-attorney general Bill Schutte. The solicitor general is the attorney responsible for representing the state in the Michigan Supreme Court and in the U.S. Supreme Court. After returning to Warner, he said, "It was clear to me God wanted me to do more religious liberty and pro-life work.
"I'd always represented commercial clients, Fortune 500 companies and things like that," he explains. "But Warner felt religious liberty and pro-life issues were incompatible with the firm's business practice. So, I left and started Bursch Law, PLLC."
Two days into his own practice, Bursch was tapped to represent the state of Indiana in a case involving the state's prohibition on the transfer or sale of aborted fetal body parts and tissue. The plaintiff was the University of Indiana and the state's top lawyers were all adjunct faculty at the university's law school.
"They were conflicted out," Bursch says. "So they asked me to take it. It was my first Bursch Law case, and it was just a beautiful confirmation of God's plan for me."
Bursch says it was a difficult choice to leave the comforts of a big law practice with its guaranteed salary, partners and steady client base. But every time there was a career decision to be made, "I'd sit down with Angela and the kids and we'd pray about it and discern and decide as a family what God wants us to do."
"And now here I am, the head of the Supreme Court and Appellate Practice at Alliance Defending Freedom," Bursch comments. "I've argued 12 cases in the U.S. Supreme Court including Obergefell, the same-sex marriage case, and I've focused on these issues all the time, trying to keep the door open for the spread of the Gospel in our culture."
Bursch is a cradle Catholic who grew up at St. Michael's Parish in Grand Ledge. While in college, he was active in music ministry – he plays the piano and the clarinet – at St. Thomas More Catholic Student Parish at Western Michigan University. Looking back at his career so far, Bursch says he thinks "everyone should make God their career planner.
"I could never have designed that path on my own," he says. "It was only through God's grace and the Holy Spirit guiding our family that I could chart a path from being a music and math major at Western Michigan to standing up for the Church's teachings in court today."