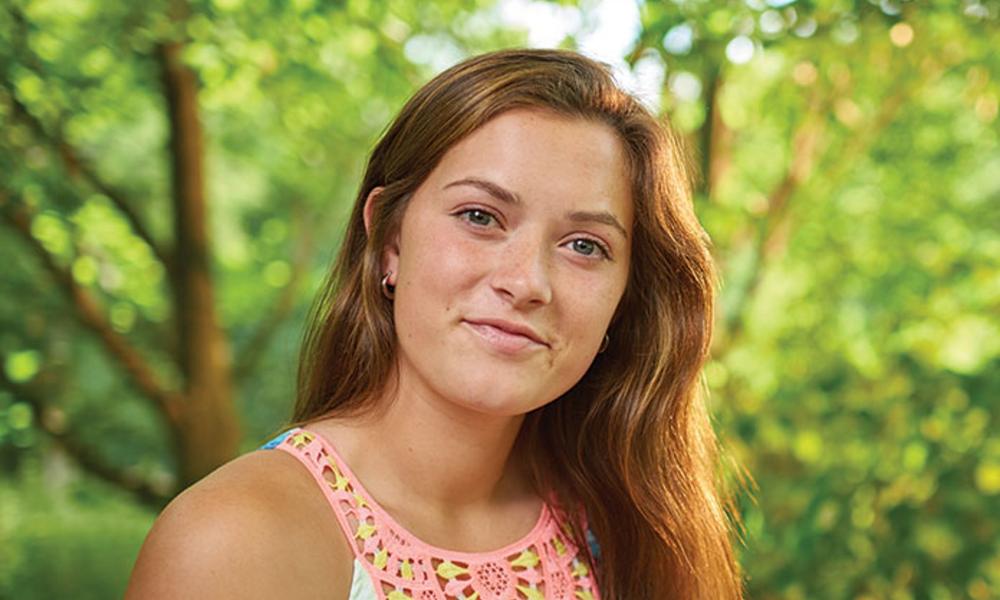 ---
Anna's faith means taking 'little steps building up to a better relationship with God'
Anna Dehnke likes to define missionary discipleship as "people putting themselves out there and letting God come help you do service – willingly. For me, missionary discipleship includes when people knock you down, demean you or call you weird for having faith and you just get back out there and continue doing service for God."
Perched on a bench inside the Rosary Garden at St. Gerard Parish in Lansing seemed the perfect place for Anna, a junior at Lansing Catholic High School, to talk about missionary discipleship, because her main spiritual role models are Mary, first of the disciples, and the apostles. She says, "It's a lot to give up everything you have for God like they did. I really admire that."
The path to missionary discipleship began to unfold when Anna attended her first youth group (YG) meeting as an eighth-grader. It was there she met people personally invested in faith. Then she participated in the Passion play. She remembers: "Oh my gosh, the seriousness that this actually happened dives you right in! I could see it was impacting people; it was so powerful. This was the first time heaven and the world intertwined for me. It was amazing."
This spiritual boost helped Anna to be excited about her faith. Active in her youth group, she spends hours on the leadership and retreat team, hoping to transfer some of her zeal to other members. "I love when others come back to YG because they had such an awesome experience on retreat," she says. Jamborees (Diocese of Lansing youth conferences) are another favorite event providing peer support and energy, and Anna helps to plan them, too.
Anna also takes her discipleship on the road. As part of two different out-of-state, week-long mission trips to support Habitat for Humanity, she helped complete construction projects, assisted in a food pantry and worked with individuals at a help center. She recalls, "I saw that helping people actually makes a difference. It's important to get out there and make people's day."
Anna decided to go on a March for Life to Washington, D.C., because, she says, "A speech at Jamboree made me realize I have to have knowledge about my faith and defend it when necessary."
She encountered anti-Catholic sentiment while on the March to Life trip, and Anna freely admits the naysayers can deter her enthusiasm at times. "That's why it's important to have your own energy and not just listen to what other people say. I know even though I can't always feel God, he is there and will help me get through. You have to practice being positive, even where faith is concerned," she says.
Anna continues: "You know, a lot of times people have these huge experiences with God; I haven't really had one of those. For me, it's just little steps building up to a better relationship with God. Every time I go on a mission trip or practice discipleship in some way, it's another step closer to God. At school, we were talking about how God is not a boss but more of a mentor and we're the apprentices. I really like that analogy. We are learning to be more like him when we live as missionary disciples.
"You can still be a cool teenager while attending Mass and other church events because you love God. How can that be a bad thing? People shouldn't see participation as weird or to be looked down upon. We should all strive to be better disciples and see it as something very important."